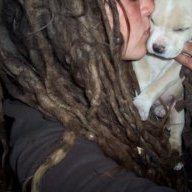 Joined

Jun 24, 2007
Messages

79
Website
I'm pretty shy and socially impaired and usually find it hard to even spange at all unless I'm drunk! I'd like to start trying to sell my paintings/drawings on the street as soon as I get enough stuff to set up.

just curious if anyone's done this, and if so any pointers?

do you think I could just make a sign or something saying like "starvin' artist" and sit there?
I've sat along the sidewalk and flown signs before whilst drawing/painting/whatever and it usually helps especially in hippie or artsy type towns.

I don't know, basically I'm wondering what I should say to people if anything, and also how much to sell shit for! I don't know if people'd actually pay much for some crap some bum was selling on the street but I also put a lot of time into what I do...