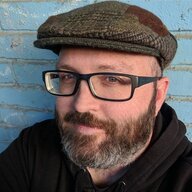 Nomadologist
Staff member
Admin
Joined

Aug 4, 2006
Messages

8,915
Current Location
Website
Hey folks, I'm finally looking at the end of the tunnel here at my time in Walla Walla, Washington, so I'm starting to make plans for my trip down the west coast.
My job ends at the end of August. I've built an itinerary of destinations that have been on my bucket list for quite some time, that I'm hoping to knock out through the month of September. This list is a combination of urban exploration (abandoned places), visiting natural wonders (parks, hiking, exploring wilderness), visiting a few bars/shops of interest, and stopping by some roadside attractions (namely, Area 51/Tikaboo peak in Nevada).
The shorthand of this route is Seattle > Portland > Ashland > Eureka > SF > Santa Cruz > Las Vegas > Rachel, NV (Area 51) > Los Angeles > Slab City.
Here's a link to my WIP google maps route:
You can click on most of the destinations to see a website link for more info on each spot.
I will be traveling in a 2008 Toyota Prius. I've converted this car so I can sleep in it (I have a bed in the back). There's not a ton of room, but I can definitely take one other person with me, and we can squeeze 2 people with packs if I pack the bed up into the trunk during the day.
The major drawback to this setup is that there's definitely not enough room to sleep everyone in the vehicle at night. In a pinch, someone can sleep in the front seat and one in the back, but ideally we'd be stopping at
free campsites
where we can get out and pitch a tent most of the time.
YOU DO NOT HAVE TO PITCH IN ON GAS! I mean, I certainly won't stop you, but I'd rather have the company of some fun/awesome people than your gas money. Plus, i probably still have some karmic debt to pay back for all my years of hitchhiking. My prius gets excellent gas mileage (40-50 mpg) so even though we're covering a ton of miles, I'm not expecting to pay more than $400 or so dollars on gas for the whole trip.
That said, if you can cover your food and whatnot (even if it's just food stamps) that would be all i need from you.
You should be a fun, adventurous individual that isn't afraid to occasionally do something illegal. Mostly I'm talking about trespassing when exploring abandoned locations. One destination on my list had previously evaded me because the friend i took with me backed out at the last minute due to being afraid of some previous warrants. So if you're not willing to take some (reasonable) risks to see some epic places, please don't apply. For those thinking I'm talking about Area 51, I'm not. I'm not stupid, that exploration is going to take place on Tikaboo peak which is the only public land remaining that you can still view the base from
Women and LGBTQ are especially encouraged to join me (I am a cis white male), especially if you have a hard time finding people to travel with safely. I will not creep on you and I will have your back as my travel partner if anything bad happens.
Pets might be okay depending on the type and their behavior; keep in mind it's a very small vehicle. I am
ridiculously
allergic to cats, so that's a no-go, not even in a carrier.
I will try to take whoever I can, but I'd like to talk with you a bit beforehand (since this IS three months away) to make sure we'd get along. Once we get to the Slabs it's your responsibility to get set up there or move on, depending on what you want to do; if you're sticking around I'll definitely help you find a place to get set up, I just can't 100% guarantee you'll have a place to crash with me when we get there.
So, I think that's it. Probably the longest road dog posting in StP history, so thanks for bearing with me. Let me know if you have any questions!
Last edited: