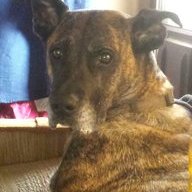 Joined

Sep 25, 2016
Messages

37
Age

58
Current Location
Traveling from

San Diego
Destination

Slab City, Vallejo Ca
I have to bail out to Vallejo on Tuesday or wed. I'm in Escondio area visiting friends; was waiting for Jamboree but have to go home. Willing to drop someone off at the slabs and offer a ride to the Bay Area from the Slabs. I have to be in Vallejo by fri. (I hate night driving).
About me:
I have a van (pic) I can take 2 or 3 people or dog (much prefered, so I favor dogs over people...what? now I'm a bigot?). I'm generally an agreeable person and am good with anyone who would choose peace over war i.e. if you don't like me walk away I'm not going to bother you. I smoke weed and shrooms. I dont subscribe to any religion but will talk and listen to spirituality for days. I'm ok with whatever your poison save hard drugs.
I'm leaving Tue 6th or Wed 7th (nothing set yet) I'm ok with meeting you somewhere for a pick up.
Picture attached, my profile is my old pet. Which I will be visiting her grave on the way out of the Slabs.
P.S.
Thank you
@Matt Derrick
for checking the auto save feature, my phone froze and I had to reboot, I was swearing (really only in my head) the whole time until I saw it had saved.