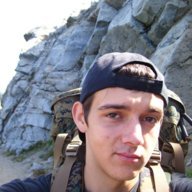 Joined

Dec 7, 2015
Messages

4
Reaction score

12
Homebase
I came to Washington for some temporary work, and decided to stay for the rainforests, islands, mountains, and rivers. That's the stuff I like most, so if I'm not out unicycling, I'm out exploring. Now I sleep on the couch of a relative in Olympia, and work part-time to pay off the car I arrived in. I take short wilderness trips when I have time, and cruise the internet for
travel stories
, bicycle touring tips, gear reviews, and survival guides.
I'm 21 now- I've done some jobs, I've done some college, and I've traveled, but I've never lived on the road. I'm stoked to do it, and I want to do it by bicycle first. Over the next month or two, I intend to put together a bike and trailer to head out on a slow ride down the coast toward So-Cal, then maybe east toward Texas, and possibly... Florida? It's open-ended. I want to put eyes on every beach, cave, abandoned factory, haunted canyon, ostrich farm, hot spring, Sasquatch hotspot, and all of the other intriguing crap around the western/lower US.
If you want to hang out around Olympia, or join up for the ride, hit me up! Most things are more fun with good company, yeah?
Short description of me: I try to be an ethical, creative, positive kind of guy. I like to study the radical and strange, I'm a vegetarian, I throw down on a street-unicycle, I like punk stuff, I know loads about Star Wars, I revere the natural world, I'm shy for a weirdo, I am not very proud, I think helping out other people is cool, I smoke lotsa pot but hardly drink, and I like to carboload.
So, to whoever reads this: Hi, and happy travels.