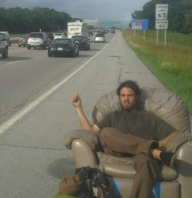 I'm a d-bag and got banned.
Banned
Joined

Dec 15, 2013
Messages

438
Age

30
Location
Anyone ever gone out to sabatoge hunts? People bowhunt even on the grounds of my university leaving dead deer parts anywhere. They only ever take the head and backstraps, and male deer never live longer than a couple years here. Likewise young deer here never have father figures around. These people need to be called out for what they are - pure sociopaths.
"While a lot of folks are pretty unsympathetic about things that don't directly affect them, hunters (like serial killers) take it a step further, by
making
bad shit happen to others." - Exposing the Big Game.
The whole culture is sick. The way they glorify brutal images of arrows piercing the innocent, just to excite them for their next murder. The way they collect trophies from their hunt in true serial killer fashion and leave local animal populations decimated. Just as the first humans drove all the magnificent Pleistocene mammals to extinction this small percentage of our populating continues to remove native species and replace them with ones that can withstand hunting pressures.
If you are bent up about it too, here is a guide to sabotaging hunter activities in your area. The Field Guide to Anti-Hunting:
https://theanarchistlibrary.org/library/anonymous-the-field-guide-to-anti-hunting
Has anyone here used these methods?