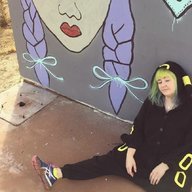 Joined

May 19, 2018
Threads

1
Messages

3
Reactions

2
Age

31
Current Location
Departing from:
Roseville
Destination:
Los Angeles
Date range:
now (& again sometime soon)
I'm terrible at planning so this is a super last minute notice. Leaving within the next few hours. But I also do this drive a lot so if you live along the 5 or 99 and want to go north or south let me know and I'll hit you up next time I'm passing through. I drive between San Diego, Los Angeles and Roseville frequently.
This is also my first time posting on STP. So if I formatted this wrong or commit some social faux pas, please go easy on me.
About me: 30 year old queer. My car is fun and full of stickers. Not sure what else to say? Ask me questions if you have any.