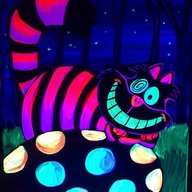 Sometimes traveler is traveling.
Staff member
Moderator
Joined

Jul 28, 2011
Messages

4,213
Age

61
Current Location
Ha - and they joked that I had a room in there where I stashed stp people who visited Rochester ... MWAHAHAHA1
Anyway - cool we did the whole thing - I had heard before that there was a wood board flooring that went over the river and was rotted so I always stopped after a bit - but there was no problem at all. There were people down there - they must have gotten through the other side of the new fence built up in there. About 6 people sitting there huddled around a small laptop when we went in, on the way out there was just one sitting in a sleeping bag.
This pic goofed up - big camera was screwing up atm
But anyway - Preacher and son, Wolfs paw.
Some weird white stuff dripping off a pipe. There was a lot of dripping stuff out of the walls at different areas actually, footing was ok, but little iffy at times - they've been doing some construction down there and all of a sudden you come across an exposed manhole kind of thing that is like 2" high - good tripping material! and some chunky rocks too --- really glad I re-upped the mag-lite batteries!
The biggest love letter I ever read - this was just one panel.
This was a new find for me -- narrow stepped stairway up to a closed off section - with definite bedding at the top.
Last edited: