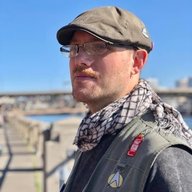 Joined

Jul 22, 2015
Messages

15
Reaction score

12
Location
https://sites.google.com/site/robertbrucefacer/
He Dances Standing Still
by Deb Cole
His purple plant-like hair rippled earthquakes when he shrugged his shoulders. "That's not hair! she cried. "It's a living organism!" He froze mid-step and stared beyond the storefronts, out to Resurrection Bay, layered holes through the claustrophobic mountains.


Past the Sound he pierced his attention. His thought patterns beamed off the ocean's waves.
His dog whined gently at his feet - wanting to go forward in the direction of his step. He sniffed the air to determine the break of his rhythm.
Sensing no danger he laid at his master's feet like a hairy rug, the magic carpet he might ride to the moon and back, waiting for his return from a place so deep.
His feet like swollen lobsters, blackened toes and chipped soles, barefoot in winter.
Unable and unwilling to bind his feet in boots or shoes, needing to transmit the delicate impulses of his heart through the bottoms of his feet.
There's a lot of coming and going, transmitting and receiving in his frozen stance.
His stillness is as lively as a jungle.
Like his hair, he dances standing still.
____________________________________
Hi I'm one of the mods here and I wasn't sure what to direct with this (preferable to have not just a link posted with no verbage, etc), BUT
but I went and searched on this person
you posted - what a cool thing!!!
And a great read as well. And so I'm going to toss in the info I found as well. Good stuff!!!!! And thank you for bringing it to what we see! Thanks!!!
-Tude
http://www.montereyherald.com/20120505/a-life-spent-with-nature-ends
_____________________
A life spent with nature ends
1/4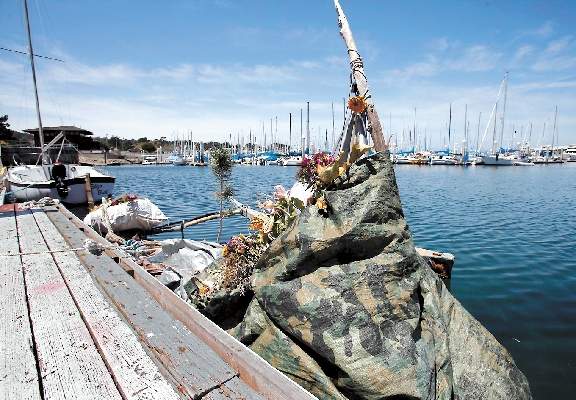 The kayak belonging to Robert Bruce Facer is tied up in Monterey Harbor on April 30.
0 COMMENTS
Robert Bruce Facer walked through life one barefoot step at a time, entirely at his own pace.
That life ended after 65 years on April 15 in Monterey, the final stop of a journey worthy of poets and mythologists.
Facer was a raggedy man who was homeless by choice, not circumstance. His floppy hat, tattered clothes and ever-shoeless feet attracted strange looks wherever he wandered — and it's hard to imagine anyone ever wandered farther. Between 1984 and 2012, Facer traveled more than 4,000 miles, from Alaska to Monterey, exclusively by foot and kayak. He lived a humble but amazing life, leaving in his wake a lot more friends and admirers than he probably realized.
"I wouldn't describe him as a unique child — not at all. I'd say he was very run-of-the-mill," says his sister, Mary Beth Nowinski, who lives in Maryland. "He began to change, I think, in the '60s, when young people were experimenting and dropping out. That's when he started making different choices in his life."
The son of a U.S. Navy pilot, Facer graduated from high school in Hawaii, then spent a short time at Claremont College before wanderlust took him to Seward, Alaska, two hours north of Anchorage by car.
Facer became so enamoured with nature in Alaska that he tore down a wall of his home — the entire wall — to allow wildlife to roam through.
He became a fixture and well-known character in the small community, where people called him "Spaceman Bruce" and local police often arrested him for his own well-being for refusing to wear shoes in temperatures that often dropped below zero.
In the mid-1980s he told friends he planned to venture south, to California. By then, Facer was referring to himself as an Amish minister, and, in accordance with the religious convictions of the Amish, he no longer traveled by any kind of motorized vehicle — cars, planes, trains or mechanically powered boats. So he walked.
"He walked into the interior of Alaska and the Yukon Territory without shoes in the depth of winter," writes Steve Conway, a friend from Seward, on a website dedicated to Facer's memory. "He also said he would not use any bridges to cross a river. He planned to (ford) every stream and river."
Facer traveled more than 500 miles by foot to the Canadian border, where, because of a marijuana conviction, lack of money and no identification, he was turned away. So he walked back to Alaska, where he found work on the Exxon Valdez cleanup. He spent those earnings on a kayak for another journey to the U.S. mainland by water.
Facer's 4,000-mile journey by foot and kayak took 19 years — a series of 200- to 350-mile treks, with season-long camping and fishing breaks when the weather was intolerable. His primary food was salmon, berries and whatever he could get from the wild.
Though he traveled almost entirely alone, paranoia was his companion as he kayaked into Canada, where he feared being arrested by the Canadian Coast Guard or Royal Canadian Mounted Police. He eventually paddled into Washington, where he began to suffer from a congenital heart condition that he treated with herbs and diet.
Facer nearly drowned when his kayak became swamped as he crossed the mouth of the Columbia River. He barely made it to shore on the Oregon side, then walked the shoreline to the southern part of the state, where he found another kayak.
When that boat broke apart in California, the sojourner built himself a third vessel from fiberglass, Styrofoam, PVC pipe and metal — parts he'd found in Sebastopol — and took to the water again.
"The first time I ever saw him was in Berkeley, near People's Park, where I was working with an outreach team," says homeless advocate Ronee Curry of Aptos, who became one of Facer's closest friends. "He was so unique-looking that I reached out and grabbed him by the arm. That freaked him out, but I just wanted to know who he was."
They chatted. He reluctantly permitted her to take his picture. In 2007 he paddled from Marin County to Santa Cruz and wandered into an Episcopal church, where he asked to use a bathroom. Curry happened to be running a youth coffeehouse there at the time, and recruited him to help out in the kitchen.
"I found him to be a very articulate person, but he didn't think the way we think. He looked at life in a very different way from the rest of us," she says.
Acceptance came reluctantly from the Episcopalian community, she says, and Facer, feeling rejected, disappeared. Curry says she went before the church vestry on Facer's behalf.
"They really weren't used to having homeless people around, especially somebody as different as Robert," she says. "But after that, they actually went out and found him, brought him back, gave him keys and allowed him to hang out at the church."
On Easter 2011, he allowed himself to be baptized in the church, though Curry theorizes he did it more for the church than out of a desire to become Episcopalian. "He was a person who just wanted to be liked," she says. "He'd do things to please other people, not for himself."
Facer's relationship with the church was a major inspiration for a nightly dinner there that nowadays feeds 180 homeless people every night, she says.
Known in Santa Cruz as "Blind Bear" or "Featherhat," Facer became regular among the locals who gather downtown to participate in a drum circle. He moved into the Occupy Santa Cruz camp, constructing a large teepee among the tents that he christened as a Mosaic temple. Though he never slept there himself, Facer selflessly offered the structure to others in need of shelter. But when the Occupiers began to clash with authorities, and his teepee was destroyed, he went back to the water.
His attempt to paddle from Santa Cruz to Monterey last October was detoured when high winds blew him ashore in Moss Landing. Alarmed by his unusual appearance, locals called the police.
"The cops came, spoke to him for a few minutes and allowed him to dock there," Curry says. "They recognized that he was such a gentle person and let him stay."
He moved again in February, this time paddling across the bay into Monterey Harbor, where harbor personnel were equally accommodating.
"Robert was a free spirit, a breed of a different sort," says Scott Pryor, marine operations supervisor at Monterey Harbor. "He was a very pleasant person to talk to — a very quiet, humble, soft-spoken man who didn't drink, didn't do drugs, didn't bother a soul."
Facer was permitted to park his dilapidated, homemade kayak in the harbor. He preferred to sleep on the beach. He spent his days walking barefoot around Monterey, toting 93 pounds of belongings, sunbathing on the beach, sometimes bodysurfing in the freezing water wearing only shorts.
On April 14, certified nursing assistant Debbie Pryor, Scott's wife, noticed him hunched over on a bench near the wharf.
"He looked like he wasn't feeling very well, so I stopped to talk to him," she says. "He said, 'I think I'm having a heart attack.'"
Pryor called 911, but Facer, consistent with his Amish beliefs, was reluctant to go to the hospital, especially via ambulance. Eventually he relented and was taken to Community Hospital of the Monterey Peninsula, where he died the following day.
"I was at his bedside when he passed away," Curry says. "They gave him the option of surgery — a heart valve was malfunctioning, causing his lungs to fill up — but he said he didn't want to be cut open like a fish."
Before he died, he gave Curry his hat. She also kept some of his ashes — the rest was sent to his family — along with his 93 pounds of belongings.
In addition to his sister, Mary Beth, Facer is survived by his 92-year-old father, Gordon, and another sister, Patricia Icke, who lives in Virginia
Last edited by a moderator: