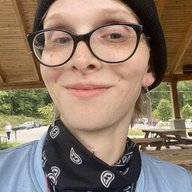 Joined

Jun 17, 2019
Messages

12
Current Location
In reading threads on spanging, begging, flying a sign, etc. I come to realize a few things. First, that anything someone gives me is a sacrifice on their part. Even the current charity I give to others is a number in my budget. How impactful that sacrifice is varies, although often it is those equally in poverty that give the most.
Second, that the push to work as able is desirable and in reflection I see my chronic pain and general weakness as a hindrance to labor creating resources for travel. My last physical job at Starbucks killed me to the point of growing concern amongst my doctors. My current job is much less physical yet still leaves me with frequent head and backaches. So it seems the often available one-day manual labor isn't a particularly feasible option given the already existent physical pressure of travel. I'd fall apart more than I did as a barista, which among physical labor jobs is rather low on the totem pole. This doesn't rule out labor altogether as certainly there are some short jobs which are less physically demanding. I've seen some helpful suggestions for finding work that isn't back-breaking (or just getting more support from organizations with money).
The second connects to the third in the need to be reciprocal to those who give to me. Traditionally in the Buddhist context, this is done by the teaching of the Dhamma (teachings of the Buddha) and the opportunity for great merit (positive kamma/karma) by giving to renunciants. The first requires me to study and practice more, as while I am at a point to describe many points of philosophy and practice, I don't want anyone looking to me as a teacher in a serious way. I don't feel ready for that yet. The second requires me to actually be someone worth giving to, this is largely covered within the practice itself by abstention from killing, lying, theft, sexual misconduct, intoxicants and many other shitty behaviors as well as the implementation of many positive behaviors like compassion, equanimity, perseverance, and more.
I do also know that when you walk around in a robe (it me), people talk to you. They ask questions and want real answers. I have a strong background in mental health care (my current job) both as a patient and a care-giver (in both professional and peer spaces). Such that I do feel qualified right now to give some measure of counseling to those around me. This is another thing I can give to others as recompense for the support given to me.
I don't think I would've seriously considered these things if not for StP, for which I am grateful. It reminds me of this monk who wanders New England and whose practice I take as inspiration.
Do y'all have any thoughts on ethical spanging?
Or the religious tradition of seeking alms?