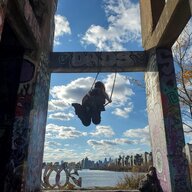 Joined

Aug 24, 2017
Messages

387
Reaction score

2,789
Homebase
Lesson of the year: No one can love, help, or hurt me the way I can love, help, or hurt myself.
This year I had my dog stolen, hastily jumped into a
relationship
, ignored my gut, fed codependency, saw hella new states, went cross country like 5 times, got a guitar, got another pup, entertained the idea of monogamy, became a better vandal, became a worse- yet more knowledgeable- train rider, started eating meat regularly for the first time in 10 years, became bum rich, took way too many ubers to the hop out, argued, neglected my needs, ignored my morals, skinned a raccoon head, went to
Mexico
, drank too often, started raising another puppy with my partner, lost said puppy and my partner...
Then new years hit.
What a stereotypical time to be in a transition period... I'm not into the new years resolutions and all that shit. I don't see a date as a reason for things to change. But here we are. It's just the second day into the new year and I'm starting a new chapter.
Sorry this is gonna get dark...
The last few days I've been almost praying that something will just take me out. If I didn't have my dog, I'd be walking too close to traffic on purpose, climbing on top of train cars, getting drunk enough to hopefully fall between them and die. I'm too much of a pussy to kill myself, I think. Plus if it's some accident then my dad, brothers, and friends won't have to wonder what they could have done differently. I feel like saying I want to die keeps me from doing it. They say ppl who talk about suicide are not the ones who follow thru.
It feels like I've taken the progress I'd made in the two years before this one and shit all over it. Discarded the lessons I thought I'd learned. How to be alone. No serious relationships. No spending 24/7 with anyone. Taking solo time when I am traveling w someone. Being extra careful to be discrete on trains. Take ur meds. Don't do drugs u find and justify it by saying u didn't go looking for them. Stop sleeping w someone once u feel like they don't respect u. BE YOUR OWN HOME. BE YOUR OWN BEST FRIEND.
I feel brainwashed and small and pathetic. Like I've failed myself.
Then there's these brief bursts of hope, motivation to move forward n achieve goals.
Then it's gone.
U know how when ur depressed u stop caring? Like about everything, no matter how much u love that thing. I don't feel like I love anything rn. I know logically that behind this cloud of depression, I do love my friends, my close family, my dog, trains, trees, the sun, music. But I don't feel it. I don't feel much other than sinking, nauseating pain right now.
I've got goals. Plans for a winter home base. Plans for new states in the spring. But I can't feel excited or good about any of it. I feel scared and tired.
Traveling saved my life and now that I know how to do it, how to get anywhere... It feels unfulfilling and almost like there's nowhere I want to go. I have the country at my finger tips and a phone that tells me everything there is in each place I could go. And I don't care any more. I don't enjoy anything any more. There's nowhere I'd want to live stationary either. And I think that would make it worse anyway.
A good friend's advice to me recently was to find good community. But it feels nearly impossible to find other people who like trains, dumpsters, sleeping outside, AND take care of themselves. I wondered how hard it would be to keep sober or nearly sober company on the road before traveling nd now I can say from experience it's fucking hard. Nearly impossible. I have one friend, out of many, who eats healthy n uses substances to a very moderate level and exercises. It feels like everyone is numbing w drinking n other drugs and ODing and giving up. When I do meet healthy ppl on the road they're usually traveling solo and are far more motivated than I am. It feels unattainable. Idk how they do it and maintain it.
One of my more casual friends from my home town, an ex coworker, just died from cancer the day after me n my now ex broke up. She's been fighting it for years so it's good that she's out of her pain now... But she was one of those people who always put others first. Always said hello and smiled at everyone. Loved life and didn't let shit get her down. She's like my friend, Breezy, I wrote an obit for on StP in 2018: Sunshine. She just made the world seem bright and life beautiful. After a year of covid and isolation and relapses and overdoses... One of the brightest people I've ever met is gone. And she left slowly and painfully, but never gave up hope. Her last wish was the wedding of her dreams. She never got that and never will. She loved life and wanted to live so badly. And I can't trade places w her and give her the life that I want to end. But I wish I could. And feel like a spoiled rich kid who doesn't care about the iPod his parents got him for christmas.
When I started writing this I was thinking it might turn hopeful. But I'm just tired. So fucking tired. And I wish I could donate my able body and life to someone who would appreciate it bc I surely don't.
The world feels like it's gotten darker and darker. And even tho I know this is a down and things will go back up, there's always another down after that. And idk how many more downs I can take.
Happy new year.