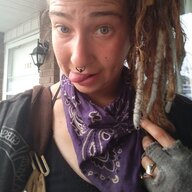 Joined

Nov 17, 2020
Messages

46
Reaction score

58
Location
Hi friends
after a ton of research and videos and guidance from a friend who's also on stp, I hopped my first train last month. That friend helped me get on but it was a solo ride from halifax to moncton. My mistake here was getting off a little bit too soon. I threw my pack off and watched for the barrel rolls but my pack sucks and I'm experimenting a lot with weight distribution.. anyway my pack kind of nose dived where I threw it, figured I was good to go. While judging, I started worrying way too much about being spotted. I was wearing improper footwear, good boots but they were a touch too big. When when I did jump, I instinctually used my arm to protect a couple of items that were in the front pocket of my jacket. This caused my posture to be thrown off and sent me down straight onto the shoulder of the arm that I had used for protection .. and hard. Really hard. I'll tell anyone who's new, wrap up your important stuff and put it somewhere where you dont have to worry about it.... make sure you have solid shoes and just wait for the right moment with a clear head... dont start getting worried or anxious or thinking about anything other than what you are doing.
Now I've just come back to halifax and well, it's been a little different than last time. An area that was very safe last time had become unsafe with new people in the area and i was feeling a little cocky from knowing people and areas around here from the last time. This time , I had gotten a ride directly to halifax but it was a late one and I pulled an all nighter... but I really need my sleep. Being that overtired contributed to my decision making. Well when I did lie down for about an hour, I crashed WAY too hard.... ive never crashed that hard on the streets
. Again I started worrying about all the wrong things, was having a little rat fiasco that I was using my cell flashlight for and blah blah... anyway I ended up falling asleep with a few of my things outside my sleeping bag
someone did come.over and take both my phones my smokes my lighter and even my water bottle
stupid stupid. And the worst part is the people who did it like helped me look around the area. How dumb of me.righr ?!?! Anyway in my case I got extremely lucky and a friend went to di some.detective work and ended up finding my phones for me ... but that's not usually how these things end. I was a dumbass !!! But I'll tell ya I'll never sleep with my shit out again, or be that overtired intentionally because apparently I need my sleep!!!!
And the last thing. I got these rats. I wanted a dog but I wanted more travel experience before I took that plunge. I heard rats were easy and after a ton of research, I decided I could handle it. Guys I love my rats Pinky and Brain. I love them and I love that I'm not totally alone .... but pinky is a huge fuck around. If I could redo it I would.choose boys because the girls are so so energetic and active and that's what I got
they are SO MUCH FUN .... BUT!! I have zero rest experience. Only readings. I thought I would get used to them.and stop worrying but I am constantly worrying about them fucking off ... I was trying to train them to sleep in my sleeping bag with me but I think one of my girls just loves being a hobo soooo much. This girl is going to turn all of my hair white guys I swear shes nuts and has taken off on me 4 times now. The last time was in the night I got robbed which is why my phones were even out... my other flashlight isnt the best. She was gone for three days but again if I wasnt so effin tired that night I would have put her in her box !!!!! She just loves to explore and them once shes had enough she comes back but it's ridiculous, one of these incidents like she just hopped off my arm into a giant pile of sticks IN THE WOODS!!!! Bitch lol. Anyway I'm gonna keep her as secure as possible and take some time before trying the sleeping bag again with that one.. her sister is so easy and chill but when pinky gets antsy shes like really set on going for a mission. I'm still dead set on having them sleep in my bag with me but they're so little right now and I'm honestly hoping so much that when they are bigger this wont be such a major stress in my life lol. I love my rats I'm so glad I got them... but honestly everyone says it's so easy and I'm here to tell you if you're a new rat owner it can be pretty hectic .... I will update on how it goes and what ends up working and if it's any easier when they are bigger
Thanks a lot fam, sending love n good vibes to all