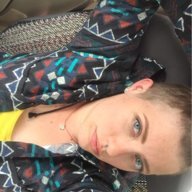 Joined

Feb 16, 2015
Messages

26
Location
Website
Sorry for the rant. It's just getting bad again. I feel like the only thing to fix it is to leave. My original plan was to wait till March but i honestly dont think i can make it. Im having slight suicidal thoughts waiting around in this meaningless boring life. I know that vagabonding is no peaches and cream but honestly i dont fucking care . I fear being bored in this society more than being in danger in the wild. Since I was a child i knew i was not meant to live a boring life. Does anyone else have friends that know you have had mental issues for years but yet never ask how you are doing? Why does nobody ask or talk about these things?

I swear to god if someone tells me to stay , see a therapist, or get some meds im going to loose it. Ive done that already and none of it worked because i was still living the same life. The one that so many of us feel we should be living . Go to school get a degree ( something that makes money of course) get a job that you hate, get married to someone you'll eventually hate, have kids that will eventually hate you, buy a house next to other houses and fill it with shit you dont need. I do not want this life.

I want work to be enjoyable, i want a meaningful love that last, i want to be a good role model for kids, and i want a small home surrounded by nature with just the few things we need. I want to be like the sun that brings brightness and warmth to others.