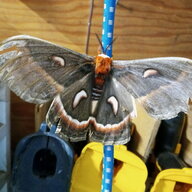 Joined

Jan 7, 2017
Messages

512
Reaction score

1,703
Homebase
Website
Here's a question for those that have hopped trains with a dog long-term.
I know that many railroad workers are prone to hearing loss.. and I know for a fact, that I definitely have grown to like riding freight with ear plugs in. So, why wouldn't I try the same for my pooch?
Out of all of the dogs I've ridden trains with, I've never had anyone of their humans talk of hearing loss that has occurred.

Thoughts??
I've wanted to invest in some kind of "doggy ear muffs" or something. Just to try out.. the only ones I've ever really seen have been for pilots looking to take their dogs on planes, and are wicked expensive. I tried using gauze wraps, but that stuff just doesn't stick well on fur.