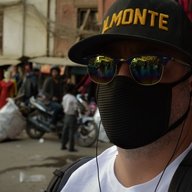 Joined

Jan 4, 2009
Messages

1,621
Location
One step closer to Minority report. We ain't there yet, but we are definitely on our way:
http://www.technologyreview.com/news/428354/la-cops-embrace-crime-predicting-algorithm/
L.A. Cops Embrace Crime-Predicting Algorithm
Burglary reports dropped after officers began taking patrol orders from computers.
PredPol
, based in Santa Cruz, California, and builds on computer science and anthropological research carried out at Santa Clara University and the University of California, Los Angeles.
The inputs are straightforward: previous crime reports, which include the time and location of a crime. The software is informed by sociological studies of criminal behavior, which include the insight that burglars often ply the same area.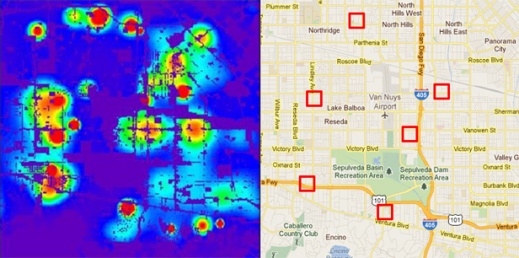 The system produces, for each patrol shift, printed maps speckled with red boxes, 500 feet on each side, suggesting where property crimes—specifically, burglaries and car break-ins and thefts—are statistically more likely to happen. Patterns detected over a period of several years—as well as recent clusters—figure in the algorithm, and the boxes are re-calibrated for each patrol shift based on the timeliest data.
"The challenge, and what is really hard from the point of view of the crime analyst, is how do you balance crime patterns on different time scales. That's where the algorithm has the edge, sifting through years of data," says
Jeff Brantingham
, a company cofounder and UCLA anthropologist.
Proving that the algorithm really helped reduce property crime by 25 percent in Foothill is a difficult task. Police officers could, for example, know that stopping burglaries is a management priority, and shift resources and their attentions accordingly, regardless of the red boxes.
The company tested on previous data whether crimes occurred more frequently in the areas identified by the software, compared to boxes sketched by crime analysts. Between November 2011 and April 2012, in the crime-plagued Foothill district, the software predicted crime six times better than randomly placed boxes. Human crime analysts' boxes were only three times better than the random boxes, according to Brantingham.
But whether the algorithm is right or wrong, it tends to reduce bureaucratic procedures and thus keep officers on the street, which by itself helps. Where police used to sit in daily meetings to plan where to patrol, they can now spend more time actually out on patrol, since the computer's doing the planning. And if they do spook a would-be burglar into abandoning his plan, it means even more time on patrol, because the officer doesn't have to leave his beat to process the suspect. "I don't have them back writing a burglary report. I can have them have more minutes out on the mission. It is what we see happening," Malinowski said.
The technology was previously tested in Santa Cruz, California. It has now been expanded to six Los Angeles areas inhabited by 1.1 million people, and is being expanded to other cities.
______________________________________________________________________
I'll include the radio show I was listening to today which talked about it in more depth. They also mention a new app call
ALIBI APP
which constantly records audio on your phone discreetly which could be used against bad cops and so forth: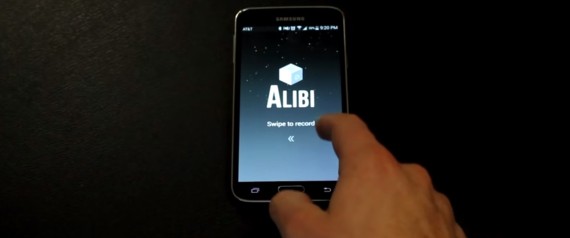 Radio link:
http://www.cbc.ca/radio/popup/audio/player.html?autoPlay=true&clipIds=2670519472
For those who like to read:
http://www.huffingtonpost.ca/2015/06/26/alibi-app-lets-smartphone_n_7674264.html
Alibi App Lets Smartphones Record Video, Audio, Location 24/7
CBC
Posted: 06/26/2015 2:32 pm EDT Updated: 06/26/2015 5:59 pm EDT

It could be an argument with a friend over what was said, an uncomfortable interaction with a co-worker or a routine police stop that turns sour. These are the kinds of situations that leave people wishing they could hit rewind on their lives and re-watch the situation to prove they were in the right.
A new smartphone app could be that reliable witness. Alibi works in the background to record audio, video and location 24 hours a day, seven days a week, to document what really happened when there are conflicting accounts.
"So many of us — you know, even myself — are constantly in situations where we wish we had been recording and didn't have the wherewithal to pull out our phone or ... a recording device at the time," said the app's co-founder, Ryan Saleh, in an upcoming interview with Nora Young on CBC Radio's Spark.
"The point of Alibi is to kind of make that a thing of the past, so that you're always recording."
Saleh recalls a time police officers pulled him over in New York City while he was talking on his cellphone and driving. The first officer asked for Saleh's licence and registration, while the second officer asked him to roll down his window. Saleh complied, and the officer peered into his vehicle with a flashlight.
Two weeks later, Saleh learned from a relative who is a civil rights attorney that the officers acted beyond the scope of their authority. If Saleh had some record of the situation, the relative informed him, he could have filed a complaint.
His creation, Alibi, could have provided that proof. It's "a DVR for your life," he said.
Users download the app onto their smartphones. They only have to start it up once and Alibi will continuously work in the background to record audio, video and location.
After the app records for one hour all of the data is automatically deleted. None of the recordings are stored by the company.
If someone finds themselves in a situation where they want the data saved after an encounter, users can open the app and hit save. Alibi will save the last hour of recordings and hide the file on the person's phone so it can not be tampered with by anyone else.
"I use it at work. I use it in business meetings. Things like that," Saleh said. "It's proved useful on a couple of occasions."
At first, he was a bit worried about how he was acting and what he was saying when he knew Alibi was constantly recording his interactions. But, within a week, he warmed to the idea and his concerns eased. Now, he doesn't think twice about the app's surveillance.
Saleh believes people have changed how they view privacy, which makes them more comfortable using these kinds of technologies.
"I would say there's no question that our perception of privacy has changed over the past 20, 30, 40 years," he said.
Protests, police interactions
When Saleh created the app last year, he had various altercations in mind that it could be useful for: traffic accidents, harassment, bullying, spats between friends.Throughout the app's development, the news continued to highlight police killings of black men like Eric Garner; mass protests in Ukraine, Hong Kong and the Middle East; and the case of Adnan Syed, which was popularized by the podcast Serial.
Since it launched, Saleh said a lot of users have told him they find the app helpful during protests and police interactions. He believes the app's surreptitious recording prevents people from escalating a situation, which they might do if they whip out a smartphone to openly record a police interaction.
Privacy concerns
In the U.S., people are generally free to record a conversation in public without letting other people know, Saleh said, so long as they are a part of the conversation.
It's a similar situation in Canada, said Steven Penney, a University of Alberta law professor. If someone secretly records a conversation they're involved in, Penny said, they won't run afoul of the law.The same rules apply when someone wants to record the police, he said.
"In many sensitive or difficult situations, the police might not wish to be recorded," said Penney. "But they really don't have a right not to permit people to record them when they're operating in public spaces."