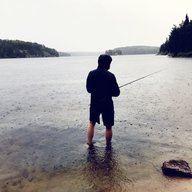 PilgrimAflame
StP Supporter
Joined

May 31, 2009
Messages

439
Reaction score

97
Homebase
I have hitched and hopped freights before, so know I have enough experiential knowledge to know what I want in a pack. I just retired an old pack with several broken zippers, and am looking to buy a new hiking-style
backpack
(def. not an Alice pack). My catch is that I seem to want a very unique set of features in a combination that does not exist (less than 50 liters, with sleeping back compartment, a few external additional space for organization), and that I am technically wanting a pack that will satisfy two different needs: train-hopping/urban/rural & winter wilderness
camping
. I am starting to realize this is a lot of needs to fulfill ideally with one pack, simply because I'm looking at two sizes.
So I recently bought the MEC IBEX 65 Liter (
http://www.mec.ca/product/5011-458/mec-ibex-65-backpack/?f=10&q=ibex
) in hopes that simply making a decision would end my indecision. I just can't get over how large it looks in the mirror, quite a bit larger then my previous 64 Liter. It would do well for winter camping, but it seems excessive for train-hopping and 3 days in the woods. So I'm back to the drawing board with a (slightly) more refined purpose for the pack.
I ask not what is the
right
priorities for trainhopping+3-day wilderness camping, but what are the priorities of the features you value.
In terms of making a decision, I feel like I need to prioritize what I want from it. For example, my main priority is low-snag and low-visibility. I am not so worried about weight, as I am about size and sleekness, since I hate having to struggle to haul a pack out of a grainer when its large, or having shit hanging off snag me on a ladder. A darker color is also important to me, but I can always change the color with dye or paint.
I also prioritize a quick escape. I like the idea of having a bottom
sleeping bag
pocket for those times when you wake up to a yardie shouting "show yourself, i know you're around here somewhere" and need to pack up in a JIFF and GTFO without messing around with bedrolls and cinch straps, etc. I rode with a friend who was super sprawly with his gear and I usually had to be on his case about packing his stuff up half an hour (if we had that luxury) before arrival because it was a struggle to repack each time.
Then I prioritize quick access, namely to pens/paper/maps/radio/knife stored in a few different pockets.
So basically I want it all, (don't we all?), in a relatively small pack. Even if the sleeping bag pocket took up 20L from a 50 litre pack, I'd be good. But I just have not seen it. That 65 L IBEX is the smallest such I've seen at MEC. And getting/modifying a small pack for strapping stuff externally seems like a good way to get snagged and or get caught red handed while trying to scram without leaving your gear behind. My previous pack was hard to pack efficiently, plus it was bulky and annoying.
I don't think pack decision-making gets easier the more experience you have, one just get's more anal about balancing the features properly. Oh to be ignorant about it all again, and thereby just excited by the prospect of travel.