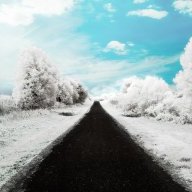 Joined

Sep 4, 2014
Messages

26
My whole life fell apart a little over 2 years ago, and I've been trying to get my shit together for a while, but recently I've actually made some progress. I have a job and have gotten a few raises, signed up for some college classes, and landed a new job at the school driving buses (they're going to pay for me to get a B class license). Mainstream society would say that I should be excited about all of this, but honestly today, and a lot of other days recently, I've really wanted to bail on all of it and disappear into the night with my pack. I tell myself that getting a degree will allow me to do work that will hopefully help make life a little bit better for other people, but I don't know if I even believe that. Plus, I'd rather spend my nights sitting by campfires with friends than studying for exams...

"I can always take classes next year."

"I can always travel if classes don't work out/after I get a degree."

I don't know if I'm just scared of failing or if I'm just not suited for mainstream life. There is a fork in my road and I don't know which path to take.

It's just been one of those days.