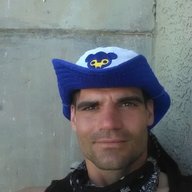 Joined

Aug 15, 2018
Messages

108
Reaction score

169
Location
Hey nomads!
I bought a used Trek 7000 that's pushing 20 years old for $250. I got a new seat, new tires (Schwalbe Marathons), and a Garmin 350 Edge, plus some lights and minimalist tool kit. All-in-all, I've got a great set-up for less than $700! I'm currently in Berea, KY after leaving Hamilton, OH a few days ago...According to the Garmin I've been in the saddle for 19 hours and traveled 190 miles. Not gonna lie, these hills are absolute murder and are wrecking my average speed but it's been a great ride regardless. My original goal was Fort Benning, GA where I went to basic & airborne school (Once upon a time, a long time ago, I was a paratrooper), but then I found a white water raft guide gig (free training!) in Tennessee so I'm gonna detour that way, possibly for the summer. The people at the white water place haven't gotten back to me yet, but it's only slightly out of the way and it'll be a pretty route regardless.
Aside from having to mace a pack of dogs (That made me feel bad...I'd rather pepper-spray the irresponsible owners) and nearly getting creamed against a guard rail in Boonesborough State Park, it's been AMAZING! I haven't traveled in a few years and it's been getting to me--I'm sure all of you understand--and this is my first bike expedition. I don't know if it's my preferred mode of travel just yet, or if I even have one, but it's been great so far and I love how easy it is to change plans on a whim.
If you're on the fence about doing a bike tour, I highly recommend giving it a shot! The first couple days are sorta brutal, but your body adapts quickly and--so long as you give yourself a break every 2 to 3 days--you'll be fine
This has been a great way to get back into the swing of things so far as travel is concerned, and I hope anyone who's never done anything like it gives it a try at least once. Hills suck going up, but flying down is nothing short of incredible. The interaction you get with your environment is second to none, and the ability to adapt to new plans is second to none. I miss hitchhiking and trainhopping, but this is equally great in it's own way and I hope everyone gets to experience it for themselves at least once.