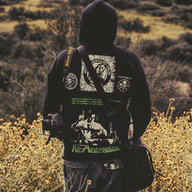 Joined

Nov 13, 2014
Messages

13
Location
Website
Got info on this place from a fellow explorer,so being a good 20 mins or so from me I headed out to Fontana,Ca and eye balled the place out to see who was around.
While waiting for about 10 mins to make a run to the entrance I noticed a board start moving and out came a few folks that had been squatting inside,as they proceeded to leave and im assuming head out for the day, they blocked the entrance with boards and some random trash and off they went.I grabbed my gear and headed to the front door moved the wood board and in I was.
(Living facility & to the far right the hospital)
As I entered I wasnt expecting much then a old shell of a building but I was surprised to see alot left behind.
Walking through the first hallways trying to stay quite as not to disturb anyone who may still be inside or surprised by a pipe to the face by some freaked out person I turned into the 1st room I seen and it was a kitchen with alot of pans and plates left behind.
After the kitchen I headed into the next room with what looks like upside down tables which were used for people with wheelchairs
Next I checked out the many other rooms which held offices and medical devices and rooms with beds and personal belongings left behind,by this point I swore I heard foot steps and whispering,I knew I had been to quite for people to know I was there.....
(office)
After room and room of nothing but beds and a chair here and there I was about ready to call it a day but i went on
Heading down the far end of the building there seem to be alot less light in the rooms and I was abit on edge as I heard the crunch of glass a few times as if someone was walking near by. So I proceeded with caution and went on peering into dark room after dark room only seeing slightly silhouetted items left behind.
Next I ended walked into a area that looked more like a old motel of sorts with rooms with numbers and a community room, some of which had rope attached to them as a locking mechanism. This side felt more homely and abit on the sad side.
(Left-Photos that looked like the might be from the 70s early 80s Right-Chairs)
After walking into the last room I came to a door and stood quite and heard whispers seen a few trash bags with old food wrappings and bottles and new I found whom may of been walking about and whispering.
(I never take anything from places but I really wanted this picture ....)
So I didnt wanna over stay my welcome so headed out, a day or too later my bud went to check the place out and met the guy who was squatting there and said he called himself the unofficial caretaker of the home and said he would ward off all who would be destructive to the property and try and vandalize the property with graffiti.He also mentioned that he was in the process of roping all the doorknobs together so no one could enter the rooms,he then stated that he would try and follow people to see what they were doing and if they were just checking out the place he would leave them be...​