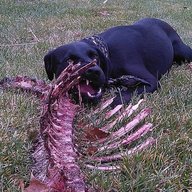 Joined

Feb 14, 2012
Messages

131
Location
I already know what yr going to say. Bad fucking idea.

Background: She's 8 years old and a total house dog. She currently has a bad foot (swollen and vet can't figure it out) and limps because of it. She does have some dog aggression issues but has been doing A LOT better since I've started working with her. We have this incredible bond and it breaks my heart thinking about having to leave her behind. I try to convince myself that I can make it work but it's just going to be absolute hell for her and I refuse to do that to her. I know I can't take her.

For those of you that knew me for a while or will dig in my previous posts: My family has a total of 3 dogs, including the one I am talking about. My mom bought her to be a family dog, but she bonded to me so she is technically 'mine'. The thing is I was ten when we brought her home, so it wasn't my decision or my responsibility. I just grew up with her. My mum decided to keep the one who got run over by a car on both feet (as I mentioned in another thread). I did get a puppy a while ago but the owners asked for her back a week later. They made a decision too quick or their situation changed or something like that and felt bad / were missing her and whatnot.

I really do care for my dogs and only want the best for them. But the thing that is killing me is that I am deaf and I really, really, really would like to hit the road with a dog so they can be my ears for me. I will be training it to act as my hearing service dog of sorts. To alert me of approaching folks, trains and whatnot. Direction of sounds too. I need someone to do that for me and humans aren't really reliable. I know it's harder with a dog, but I actually have a 'disability' (hate that word with a passion) and really could use a dog on the road with me. Pros outweigh the cons by far with having a dog on the road, in my case that is.

The thought that I would be replacing my current lady makes me feel like absolutely fucking shit. She's my fucking baby. But I can't give her what she needs. A home-like environment. I am not mentally / emotionally able to hold down a job for long to pay off an apartment / be a slave to society. I'm choosing the road for a reason not because it seems 'cool' or whatever. It's a lifestyle that seems to suit my needs / wants. I'm going to ask my mom if she would be willing to take her in / my dad if she can kick back at his auto shop as a dog guard of sorts. I have a good feeling they will say no. And I am not dropping her off at a shelter. Hell, fucking no. I could kick back somewhere and search for someone else who I absolutely positively know and trust to take good care of her, but owners like that are far and few unfortunately. I'd much rather leave her with my family so I can come back every now and then and see her. And know that she is actually being cared for.

Does anyone have any thoughts / ideas / options that I may have overlooked? Sorry I am rambling so much, I've just been thinking myself into a rut and need a fresh breath on this.