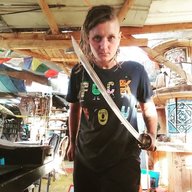 Chaos Magician
Jambo Organizer
Joined

Sep 25, 2015
Messages

301
Current Location
For the past four years, we've been meeting up in Slab City, California for our annual gathering of travelers from the online community
Squat the Planet
. This year we are breaking with tradition slightly with a pre-jambo meet-up at Slab City Library, taking a stop at another meet-up point in Joshua Tree (probably The Saloon), where we'll have a meal before we caravan to a secret location on the outskirts of Joshua Tree National Park to begin our crazy weekend. From there we will be setting out on a group expedition to explore some abandoned mines and hopefully locate a 100+ year old ghost-town deep in the desert.
People interested in attending should meet up at Slab City Library over the week leading up to and by the morning of
November 9th, 2019
. From there we will pile into my school bus (and hopefully a few other vehicles) and drive to the second rendezvous point, picking up any stragglers along the way, and then to the chosen location. This location will not be published here, so if you want to attend, make sure to get to one of the two meet-up points by November 9th or if you are showing up later that weekend, just get to Joshua Tree and you will be able to get directions from us then.
We will have some supplies available (whatever community food we can all muster, booze, a finite amount of water, etc), but you are expected to bring enough supplies to sustain yourself for the weekend. This includes water (2 gallons per day is safe enough), food, and any camping supplies you might need. This is going to be a rather rugged excursion. We also will organize supply runs as needed. Standard travel gear and flashlights should be sufficient, but keep in mind you'll be in the middle of the goddamn desert, so having some survival gear doesn't hurt as well as some electrolyte drink mixes, a shawl or hat to keep the sun off, and some emergency camping rations!
Afterwards, we will return to the library where some of us will be staying for the winter. You're welcome to return and hang out after the Jambo, but you're not guaranteed a crew position and should be prepared to find a place to establish your own camp outside the library grounds (we can help you find a good spot).
Awesome! How do I get there?
Here's a map to Slabs and The Library!
(Meet-up between beginning of November to the morning of the 9th)
And here's a map to Joshua Tree Saloon!
(Meet-up evening of November 9th)
The closest town to Slab City is
Niland
, which is on the 111 highway, approximately 36 miles north of El Centro, California. Niland is a three mile walk from the Slabs. It's not difficult, and 90% of the time if somebody sees you walking along the road
and they have room
, you'll get picked up. I've almost never had to walk the whole three miles.
By Car:
If you're coming via San Diego or from the East, you should take the I-8 freeway to El Centro, then head north on the 111 highway. If you're coming from Los Angeles, you should take the I-10 freeway east to the 111 south. Northeast, you should come via highway 78.
By Bus:
The closest you can get to Slab City via Greyhound is El Centro. El Centro actually has a daily metro bus that goes to Niland for the amazing price of $1. So if you're hitching, that dollar will save you quite a bit of distance. Unfortunately it only leaves once every few hours between 5:45am and 8:45pm.
By Train:
A north/south bound UP train actually goes right through Niland, but almost 90% of the time it doesn't stop there or anywhere near it, it just goes right through. Best bet would be to make your way to Indio, hop off there and hitch the remaining distance to Niland. If someone can provide more detail on this, please let us know.
What do I need to bring?
The usual travel gear, pack, sleeping bag, etc...
A tent and tarp will probably be extremely useful.
Water! Bring at least two gallons with you to start. You can refill at the Library for 25 cents a gallon and/or for some elbow grease but once we're in the actual wasteland, we'll be on whatever reserves we can manage to haul out.
Food! So you don't starve. Obviously you're going to want non-perishable, highly nutritious survival food. If you're not sure what that means, do a little research please.
Toilet paper and a small shovel. We will be nowhere near toilets.
Where can I get supplies?
The nearest grocery store is in Niland (a three mile walk from the slabs).
The easiest water source in town is at the Niland grocery store, where you can buy filtered water for $0.30/gal (bring a container).
What else should I know?
If you want to get a better idea of what Slab City is, check out my youtube channel
Cornelius Vango - https://www.youtube.com/channel/UCh3SpI_QxJvaPb9S2IiU0JQ
Since we're announcing this so early we're still working everything out. If you have any ideas, suggestions, or questions, post them here and we'll address them the best we can. Now go tell your friends!
StP Dirty Scouts Jamboree - https://squattheplanet.com/fest/
If you're attending, please RSVP with a comment below so we can get an idea of how many people to expect!
Last edited by a moderator: