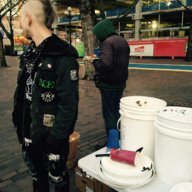 Joined

Jan 2, 2016
Messages

15
Location
I've lived in my 2006 corolla S on and off, but it's about time I get something more comfortable for full timing. I can't get a whole lot out of my current car since it's a rebuilt title with problems. I've been saving up and I would like to spend between 5 -10 grand on a reliable van that will last me a long time (however cheaper is always better if it's quality).

I'd like to eventually add solar and get a good PC gaming type station going on in there. Stealth is very important. Front or all wheel drive for the roads off the grid, I am not closed off to RWD, but FWD or all is preferred. Short body is important, it's just me in there (5'10" male) and I am already living out of one bag except for my pc, so I don't need much space. I'm an ecofreak and something clean or fuel efficient would make me feel less guilty, if it's affordable.

Astro cargo vans, ecolines, and ford transits are the main ones I'm looking at now. My heart wants a westafalia, but I don't like that they are primarily rwd and it would be a hassle with repairs and stealth once I left the Pacific northwest.

So what do you all think? Does anyone have a preference? Also what are your guys's thoughts on disel vs gas?