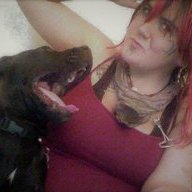 Joined

Apr 22, 2018
Messages

1
Likes

0
Current Location
Departing from:
Olympia, WA
Destination:
Bellingham, WA
Date range:
Soon
My dog is still young, and can't calm down enough to pass as a service dog on buses. Especially not long rides. He gets the excitement shits and has to stop and go out after about 20 minutes in a vehicle. So I'm stuck in my home town near Olympia, WA. I've never actually tried to internet hitch hike, but I've been trying to leave this hell hole for months now, and can only ever get to the next town over, and after walking 20 miles in the rain, tend to just hitch back and give up. I'm pretty fuckin' over it.
I'm just trying to get to Bellingham to home bum it in an area where I might be able to get some labor work and have a place for my dog to stay while I do it. No specific time or date, really. Just like... soon.
I'd like to fuck around and stop along the way there, and fly a sign for some cash and whatever. Dog is friendly, no fleas or anything.
I smoke, and I'm an alcoholic. But I hardly drink anymore, because taking the two days of shaking and vomiting to death before I can move again isn't exactly the best way to be effective. So I drink, but try not to chug 211 like I used to.