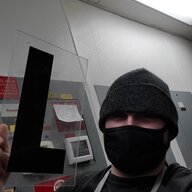 Joined

Mar 2, 2021
Messages

8
Reaction score

12
Homebase
A few years ago my dad and I were walking back from Main Event after a night of pool and some drinks and we passed storage units that were still being built and I floated the idea of exploring it, and to my surprise he agreed. We stop by his apartment so he can grab some proper adventuring shoes along with some beers and joints.

After that we head back out and he suggests exploring the apartment complex (owned by the same company as his apartment) across the street that's sill being built and I was totally down, bigger place = more fun stuff to see. So we find a gap in the fence and go into the main lobby (not much interesting in there) then we venture off to the actual hallways where the apartments are (our Xbox gamertags are carved into a closet somewhere) and that's when the expedition got a little interesting.

We're on the first floor, and we hear footsteps so we go up a flight because running into people in places you're already not supposed to be is bad news. We make it upstairs and find this big dark room with scaffolding on the outside and we were just going to wait for them to pass whoever they were. Few minutes go by then we hear a loud crash so my dad and I decide to dip out the window down the scaffolding and across the street (still in the complex) and get on top of a shipping container, crack open a beer, and light up some of that jazz cabbage.

Feeling refreshed we climb off the shipping container and dad runs across the street... all good. I run across the street... security car pulls around the corner and the second he saw me he sped up and started honking at me. We both ran as quick as we could into the building and hid in a room where we could see him walking around with his flashlight, and once he went to look elsewhere we started to make our escape.

So just to lay out what I was working with here. We both had had a few pints before the trip, a few cans during the trip, and quite a lot of jazz cabbage. We were lost as a bitch. We somehow make our way to this little gazebo where all the mailboxes are and across the road there's apartments with glass sliding doors, I ran up to one to see we could go through there just to not be out in the open. I ran up to one and it was locked, so I signaled to my dad to stay put... he comes over anyways. And as soon as he gets over the apartment our little friend the security gaurd pulls around the corner. We. Are. Fucked. Plain and simple. Two big guys standing infront of a glass door. Then the moment I needed it the most pothead ingenuity came out of nowhere and I lay down behind a potted plant and told my dad to lay on top of me. And by the grace of Talos he just drove right on past.

After that close encounter we went back inside the main apartment building and snuck around on the second floor looking out the windows for the fence then made a swift escape.

Also we are both pretty sure that the people we hid from at first were copper strippers because when we passed back through on the way out a huge spool of copper that was on top of something was on the ground, And that explains the loud ass crash.