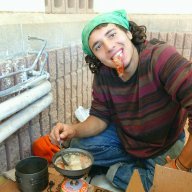 Joined

Sep 22, 2015
Messages

29
Age

115
Yes, it's exactly what it sounds like; a journey to Mexico to trip on some magical mushrooms! I plan to start somewhere North of the U.S.A; maybe even Canada and go down to Oaxaca Mexico to trip on some shrooms and record the whole process!
Now some of you guys might ask: "Why are you going all the way to Mexico to trip on some shrooms when you can get them here in the U.S.A? Well let me tell you - I've been thinking allot about this ever since i saw this video from Vice:
. This video is about a couple of dudes in Mexico tripping on some shrooms in this place where its famous for people tripping on shrooms. Tripping on the mushrooms is really not that important to me what i'm really after is
the journey
.
I also want to make the video a certain style a like these videos:
where these two Asian dudes hitchhike across America (how to hitchhike across America) and have a blast doing it. If you haven't seen it i highly suggest that you do so you can get an idea of what i'm trying to do and it's pretty entertaining to watch anyway
. I also like the their style that they shoot it in; where they have lots of variety and different environments that they go through and not just the same shot of them walking on the highway the whole video or interviewing their driver for most of the video and then you get bored watching halfway through it like some videos on youtube.
I want to make this journey as interesting as possible!
Preperation:
As of right now I am roaming through the North part of the U.S hitting up the walmarts and other stores and asking people for their monies. I am trying to save up for better gear and a couple of cam
eras
.
The Journey:
Now here's where it gets
CRAZY
!
I
plan to start somewhere up North where it's cold and still snowy hopefully with a buddy and travel south via train hopping, hitchhiking and any other types of exciting transportation. I am going to make it as interesting and diverse as possible. So a single ride on a train or car will not do! I'm going to mix it up by one state: train another state: hitchhike.

Traveling buddy/partner:
Now i could do this all by myself but it would take allot of time so i'm looking for someone to help me ease the load and to have fun with along the way. Im open to 3 people all together but no more than that and preferably all guys too.

Partner:
This is what i want in a person that wants to join me and help me with this project:
-Someone who knows how to use a camera and takes the time and energy to get good shots.
-Someone who's in relatively good shape and has lots of energy and that can pull their own weight.
I am not looking for someone who is drunk all the time or asking for cigarettes every half an hour!
-Someone who is adventurous, tough and is not afraid to get dirty or take risks like hopping the border or riding freight trains.
-Someone who is experienced in staying outside and someone who can a keep an optimistic attitude if we get stuck in a bad situation.
*If you're my partner i will do my best to make sure you are happy and well taken care of. I will cook delicious healthy food for you and try to keep you warm if you are cold and i won't downgrade you or condescend you.

What i need:
Now i plan to have my own cameras and gear but if you would like to donate or lend me some gear it would be much appreciated. Things i'm mostly looking for are SD cards since i think i'm going to need a bunch of them (like 10 or more and lots of storage too like 32-64 gb). I plan to record with a gopro hero 4 and a DSLR camera, so fast speed reading and writing SD cards would be useful. Now if you're my partner and you have your own camera that you would like to bring that would be great but i don't want to be responsible for your camera if it gets lost or stolen so take at your own risk!!! I will however take responsibility for the stuff that people lend me if they choose to do so. If anyone can think of anything else that might help me please feel free to donate it, it will be appreciated.
Community insights:
If you guys have any helpful information you would like to add i would appreciate it. I dont need any useless/obvious questions or comments
like "arent you scared of the cartels"? or "thats dangerous". I have my mind made up so clear and non judgmental information would help allot like what i should look out for where and when or good routes to take. And lastly, if you have any other ideas that you think would help make the video more interesting I would like to hear them.

Peace yall <3
EDIT: As for making money I'm also doing small local jobs and helping people out wherever I fly a sign. And most of my signs that i fly are creative and funny; they make people laugh. I'm trying to bring people happyness and not make them more depressed.
I just thought I'd let you know that cuz some people here are being judgemental pricks.
Last edited: