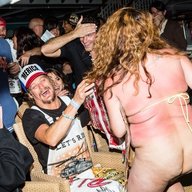 Joined

Oct 23, 2006
Messages

791
Current Location
Website
Th Hutterites are a quasi-Amish sect with communities in Alberta, Saskatchewan, Manitoba, Montana (Harlem, among other towns) and the Dakotas, here's a wiki on the if you're interested
http://en.wikipedia.org/wiki/Hutterite
I never knew about this before last week, but apparently it's totally common knowledge that they will pay you 50 bucks to bone one of their ladies. Different people have told me different things, you may have to get a DNA test before you get hired as a stud, there may be an "elder' watching to make sure you only do it missionary position, you may have to hang around until your lady misses her period, I am not sure if any of these are true or of the entire deal.
At first I was real skeptical of this, it sounded like rape to me, until a kid who had lived with them explained it to me that they only ever have sex to procreate and no other times, so most Hutterite ladies are super starved for sex, espcecially with a different guy. I suppose if she's not into you you could just walk out and turn down the deal.
The reason they want you is because they are super inbred from living in small communities, unlike other cults they have some common sense as far as inbreeding goes.