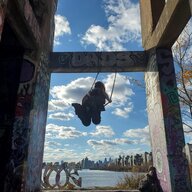 Joined

Aug 24, 2017
Messages

202
Current Location
Website
Large white dude. Brown dread hawk. Dots tattooed near his (I think right) eye.
Met him in Richmond and decided to road dog it thru VA about 2 weeks ago. He said he wanted to travel with me to try to be healthier (drink less) and make more miles. We came to my friends house to crash for a couple days and things were cool for a while until yesterday when I told him (calmly and respectfully) I wanted to go separate ways bc I needed space from him.
He went out to spange and came home with a bottle after days of weaning down with beer. I figured it wouldn't be good but whatever, he's an adult. I told him my friend we were staying with is in recovery and she's cool with being around drinking but to handle himself and be respectful of her, don't yell, don't break shit, etc. He proceeds to get sloppy drunk, yelling, slamming doors, almost broke her fucking TV.
This morning I tried to be like "dude, you were wicked disrespectful and belligerent last night." He tells me he "doesn't remember" but also "didn't do any of that" and "isn't sorry" because he "didn't mean to".
I was like "okay well I need u to pack your stuff and leave. My friend gave us a place to stay, fed us tons of food, did everything to accommodate us and you can't treat her like that."
He tells me he's gonna take his time packing up and leave when he's ready. Then hurls a ton of bullshit insults at me and WOULD NOT LEAVE. I had to fucking trick him into going out to smoke a cigarette so I could grab his shit and throw it out the front door and lock it. And he still wouldn't fucking leave for like a half hour. Stood at the door knocking and telling me I'm a shitty person and will never make it on the rails. Legit thought I might have to stoop to calling the cops bc I'm 100 fucking lbs 5'5 and he's like 200 lbs 6" and there's no way I can make him leave and don't know anyone here to call for help.
Fucking radical way to end a friendship.
I'm sure he like "means well" but steer the fuck clear if you don't want this type of belligerent, entitled bullshit in your life.
Edit: he also stole my fucking money off the table on his way out.
Last edited: