Joined

Jun 19, 2021
Messages

58
Reaction score

143
Homebase
Website
My mom was wondering what happened to me so I may as well write what's up!
(First, for those arriving late, I made an index on Google docs to link to all the preceding posts/threads on this particular trip:
bit.ly/2021cpl
. I did this because links that I can view that show all the threads i started aren't viewable to anyone else, especially to those who don't have an STP account.)
I returned to paradise. There was to be fair maybe four days of gray skies and another rain storm. And some intense wind on the day i arrived in Marseille. But aside from that. . . Perfection.
The main dent to paradise, and a significant one, is the diesel-powered transportation fleet of cars and mopeds. Let's just say my brain is significantly more rotted than it was a few weeks ago, from getting into, spending time in, and getting out of the area from Marseille to Toulon. I think things will be bad in this department until I get out of northern Italy. Recently there's been a rail trail and somewhat sparser traffic offering opportunities for repreive.
Here's the story in photos:
(This is one of the ports to the west of Méjean, Calanque Madrague de Gignac, and the first clear bright sunny day in a while.)
Here's my shelter during the storm (I mean I could only show you photos from sunny days. . .) I think i stayed there two nights. Saw no one.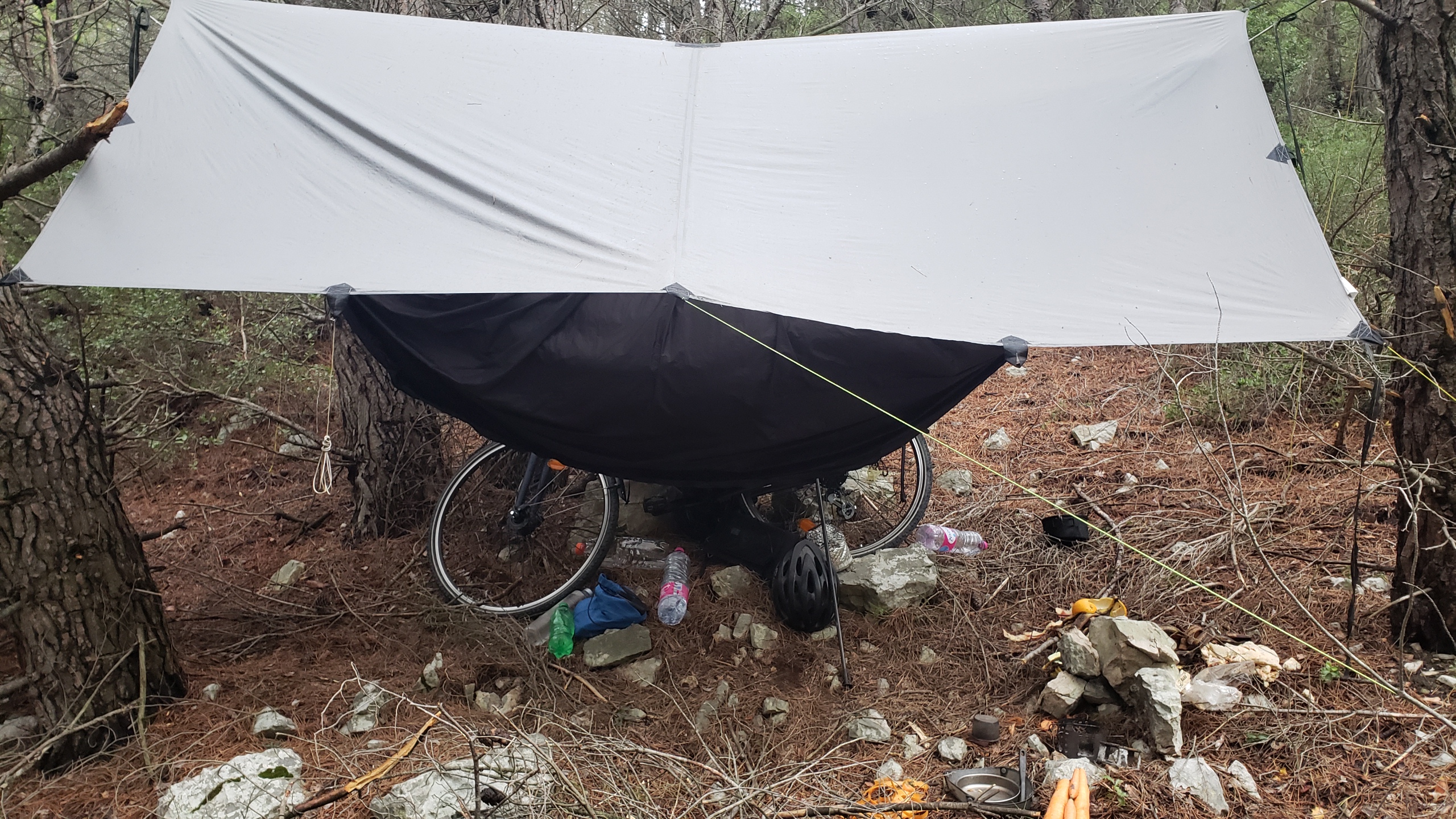 And in case you've forgotten what I look like: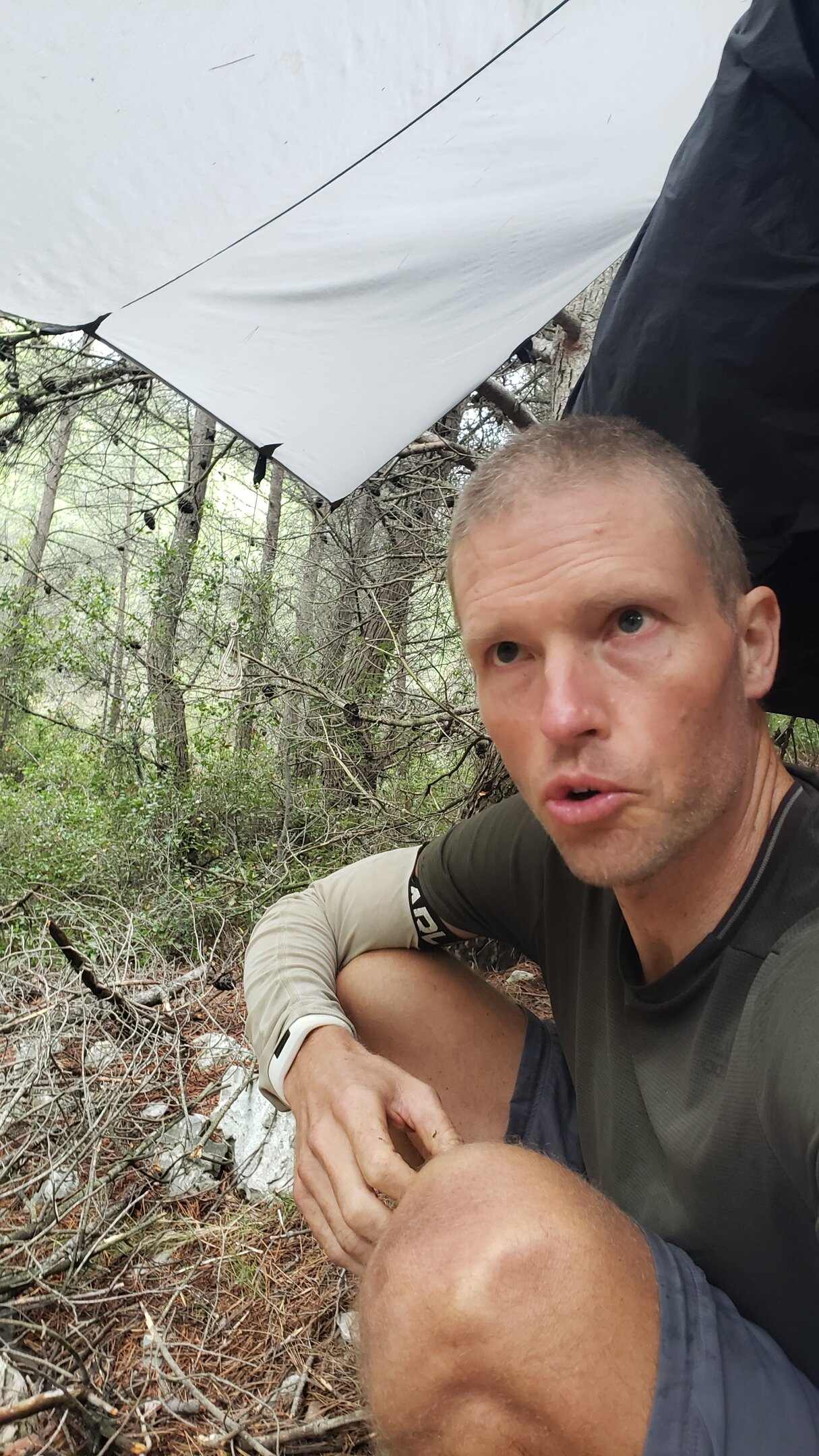 Now back to the main sunny story. Calanque La Redonne is what I came back for. I was hanging out with Victor, Luyen, and Thomas from the mountains the first time i was there and didn't feel like taking pictures. At that time many people were out sunbathing on this concrete waterfront plaza.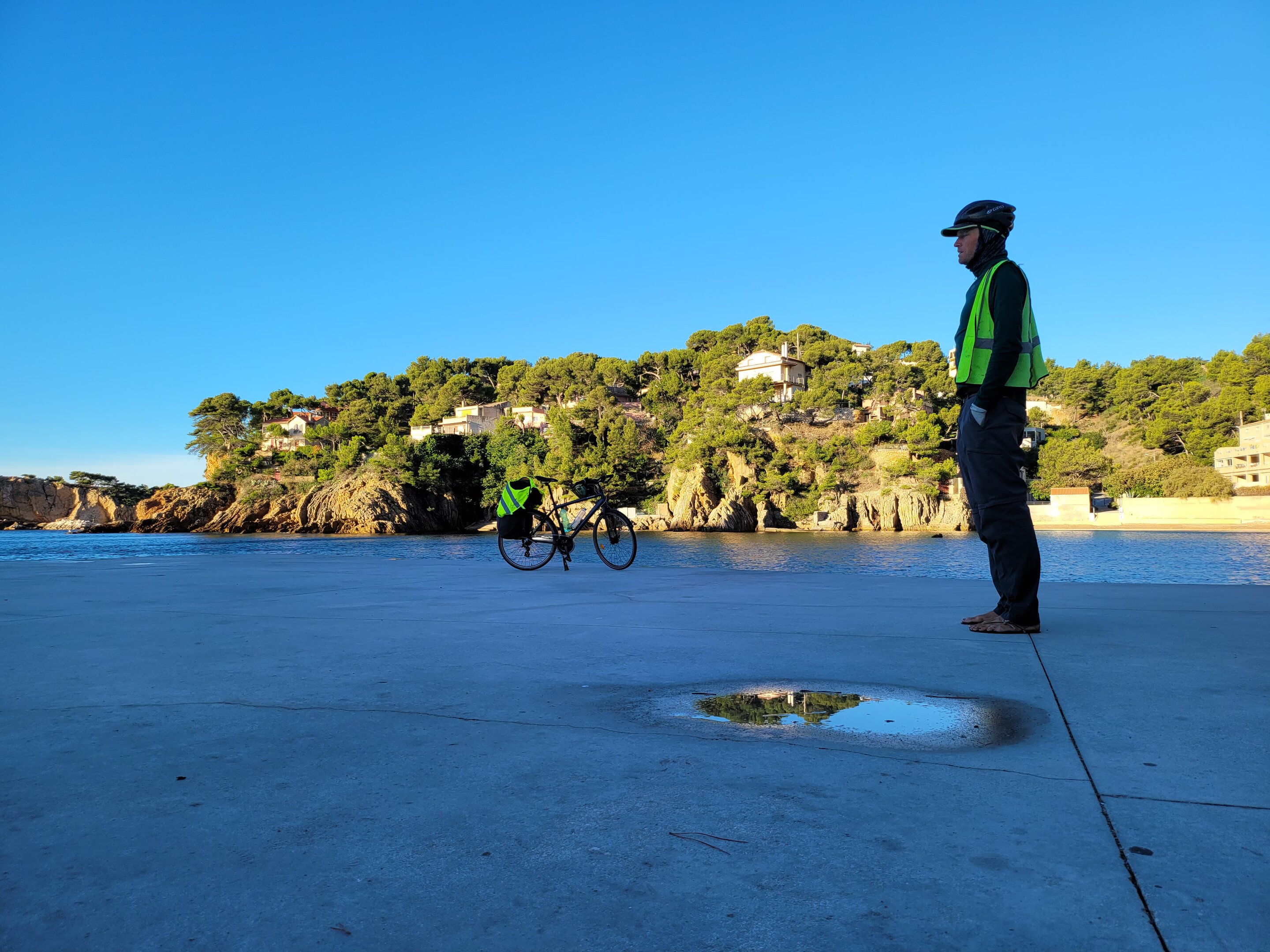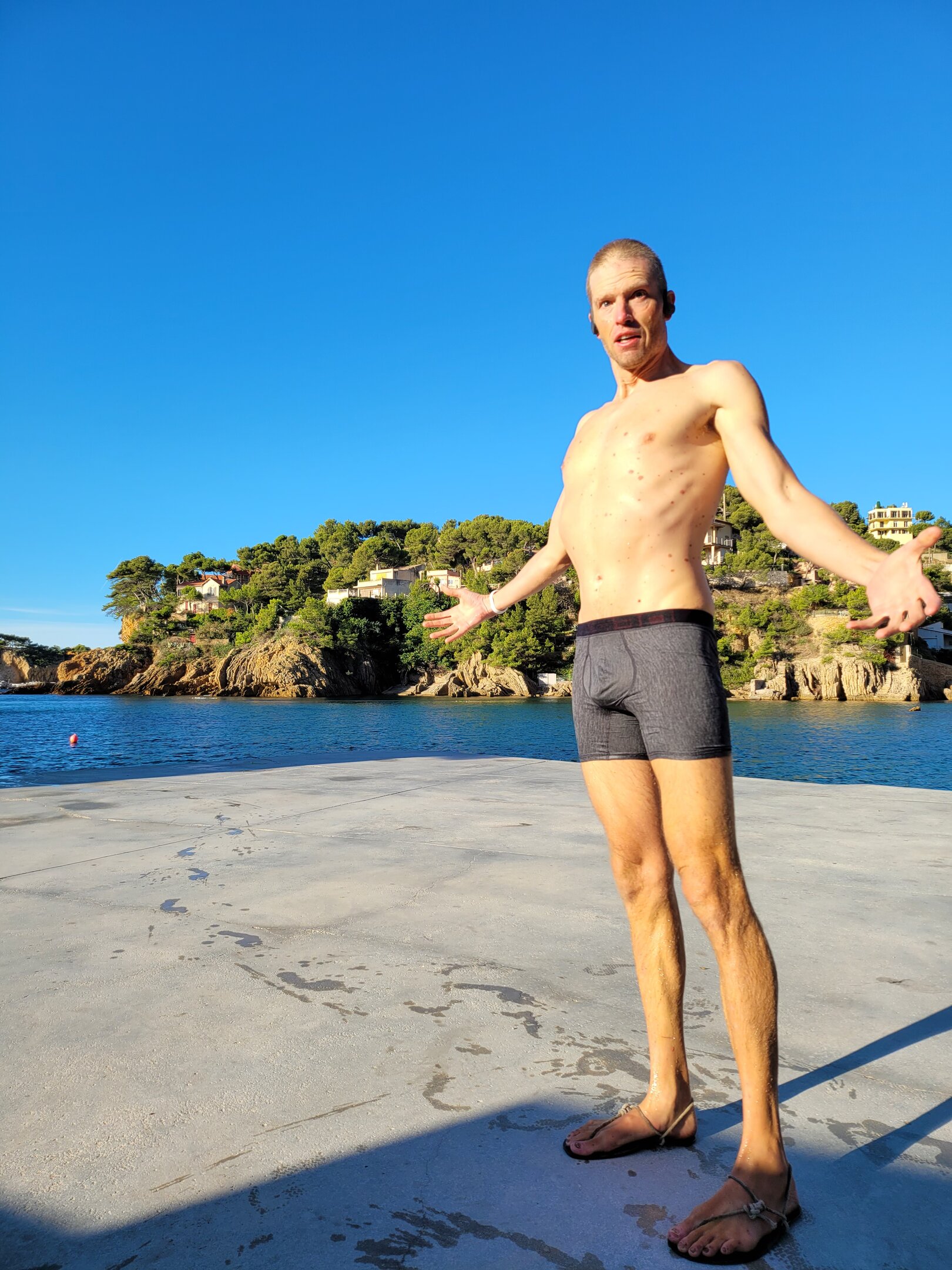 Still listening to _Coyote America_.

Ok, then i head into Marseille where I got an Airbnb for $33/night for a week. Why? A voice in my head told me to. And I was hoping to meet some people. Which would be easier with a place. Sometimes (no, often) I do things that seem foolish and wasteful just because I feel like it. Anyways, I was curious to see what would happen if I had an indoor space that i did not have to leave and did not have to interact with anyone to stay in.
No surprise really. I didn't come out for a day and half (two nights and most of the second day) until it was time to meet my date from OkCupid.
Here's the tiny garret room on the fourth (fifth American) floor.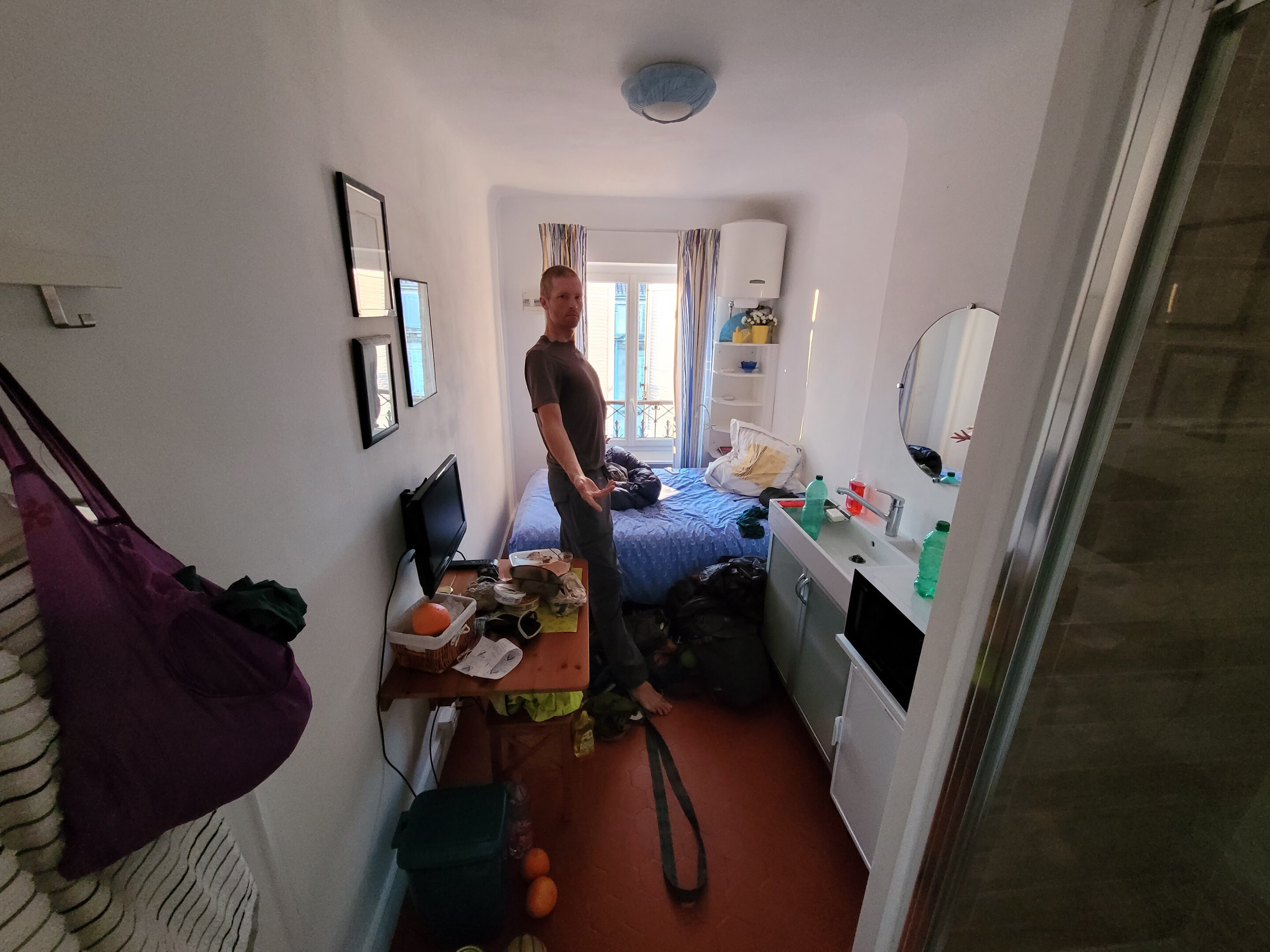 Here's the view: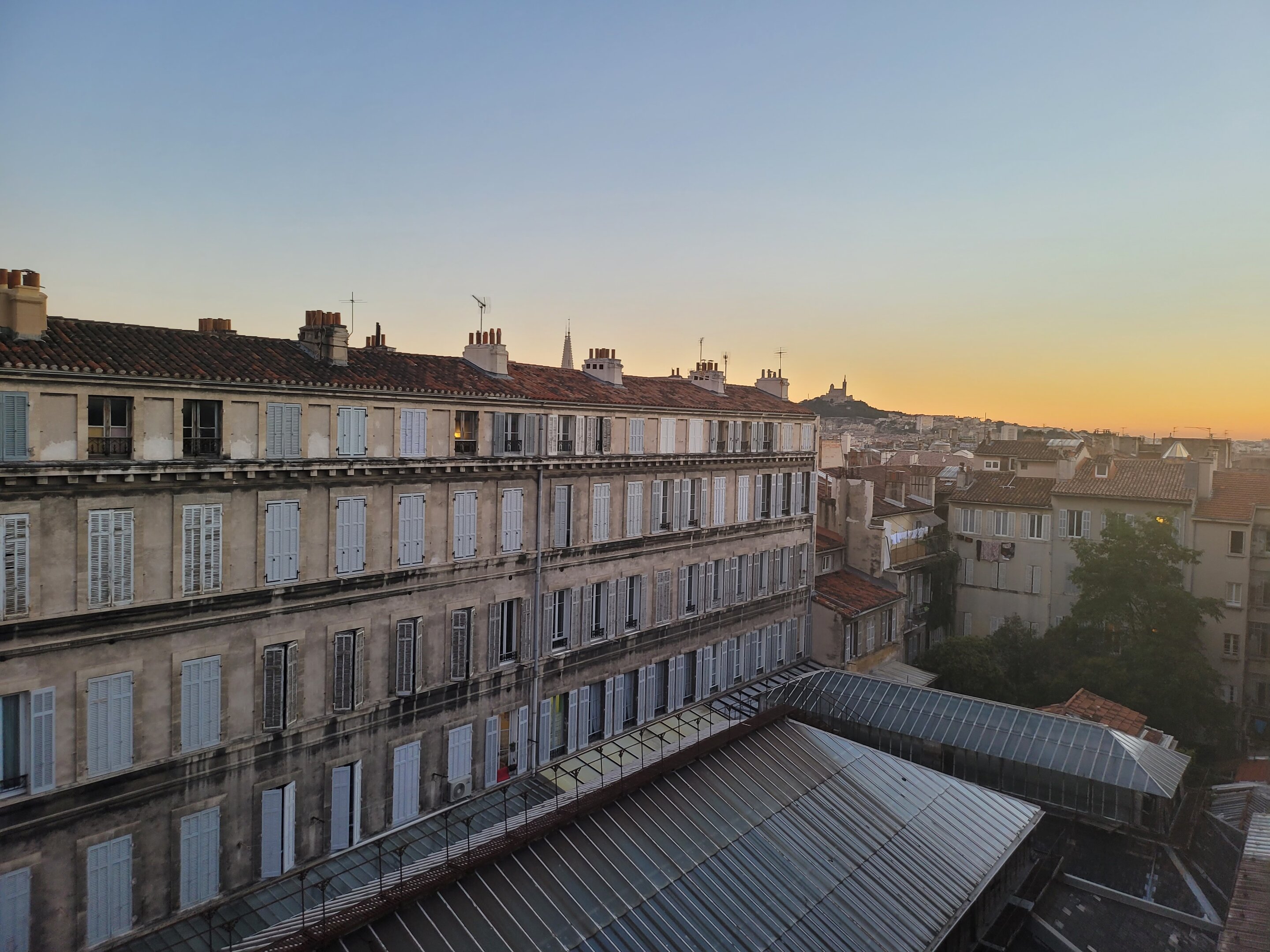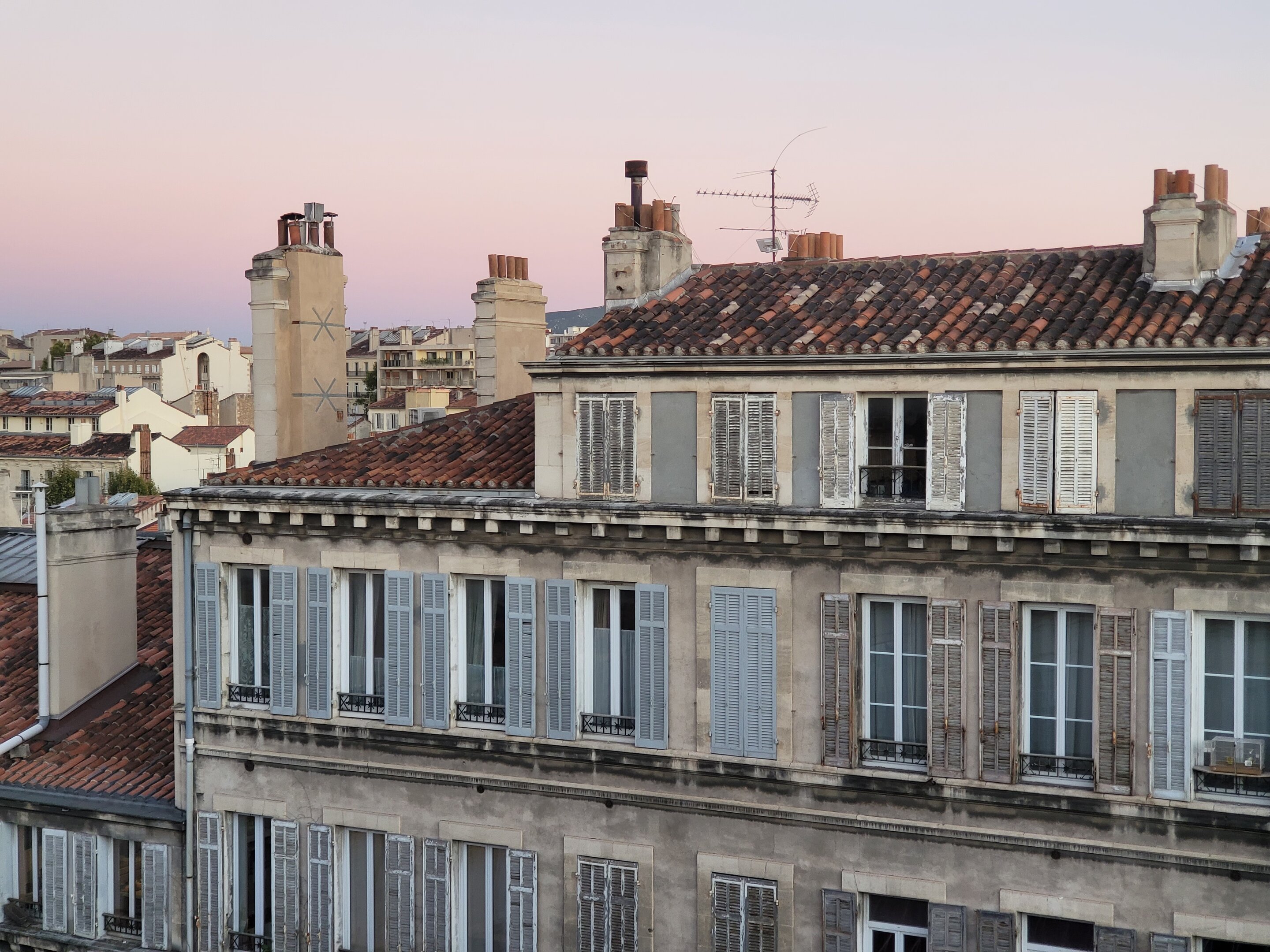 As for what the big glass house in the courtyard was for (it appeared to be unused and abandoned), curiosity did not kill this cat in that respect. . . My new friend wanted to know as well. But my communication abilities continue to be limited and from that perspective the less said to Francois, my host, the simpler and calmer my existence.
There was a small room with toilet and sink just outside in the hallway. Pretty much no one came up to that floor except one guy sorting through stuff he had stored in one of those rooms.
I went to
Longchamp Palace
to meet my date: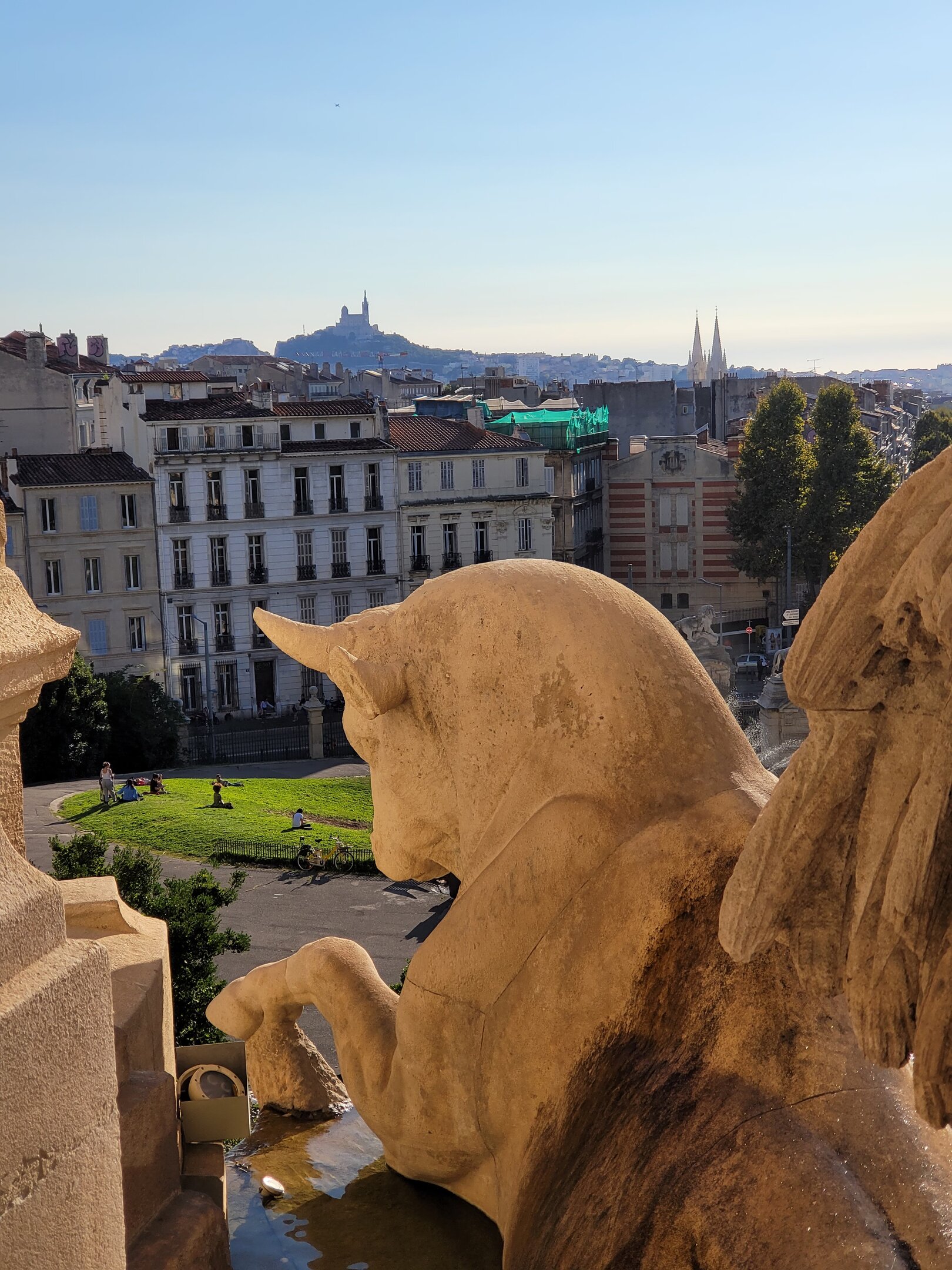 Which would be quite spectacular to find anywhere in the US. It was made to celebrate a canal bringing fresh water to Marseille being completed. Which project was funded after cholera outbreaks had been debilitating the city.
The palace/park grounds closed at 7, so my new friend to be and I met outside the gates.
The next day I rested in a park along the coast in the morning and we went to near the Calanques (coves) in the afternoon and swam.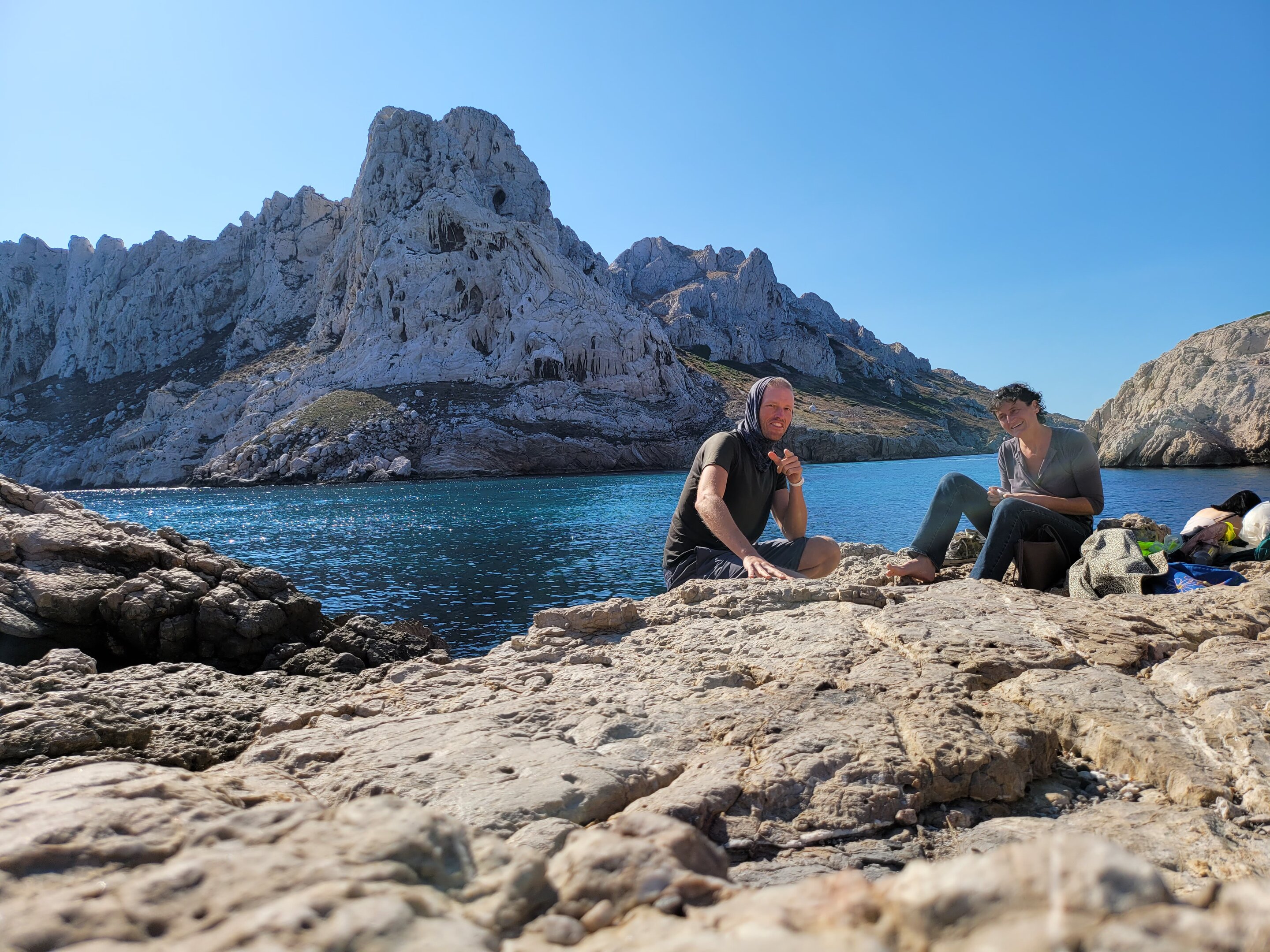 The morning after that we went to a
gong bath
:
And then went to the campus of the
nearby university
(near a main entrance to the Calanques national park) for a picnic.
My friend left and I continued to explore.
Graffiti on the University watertower: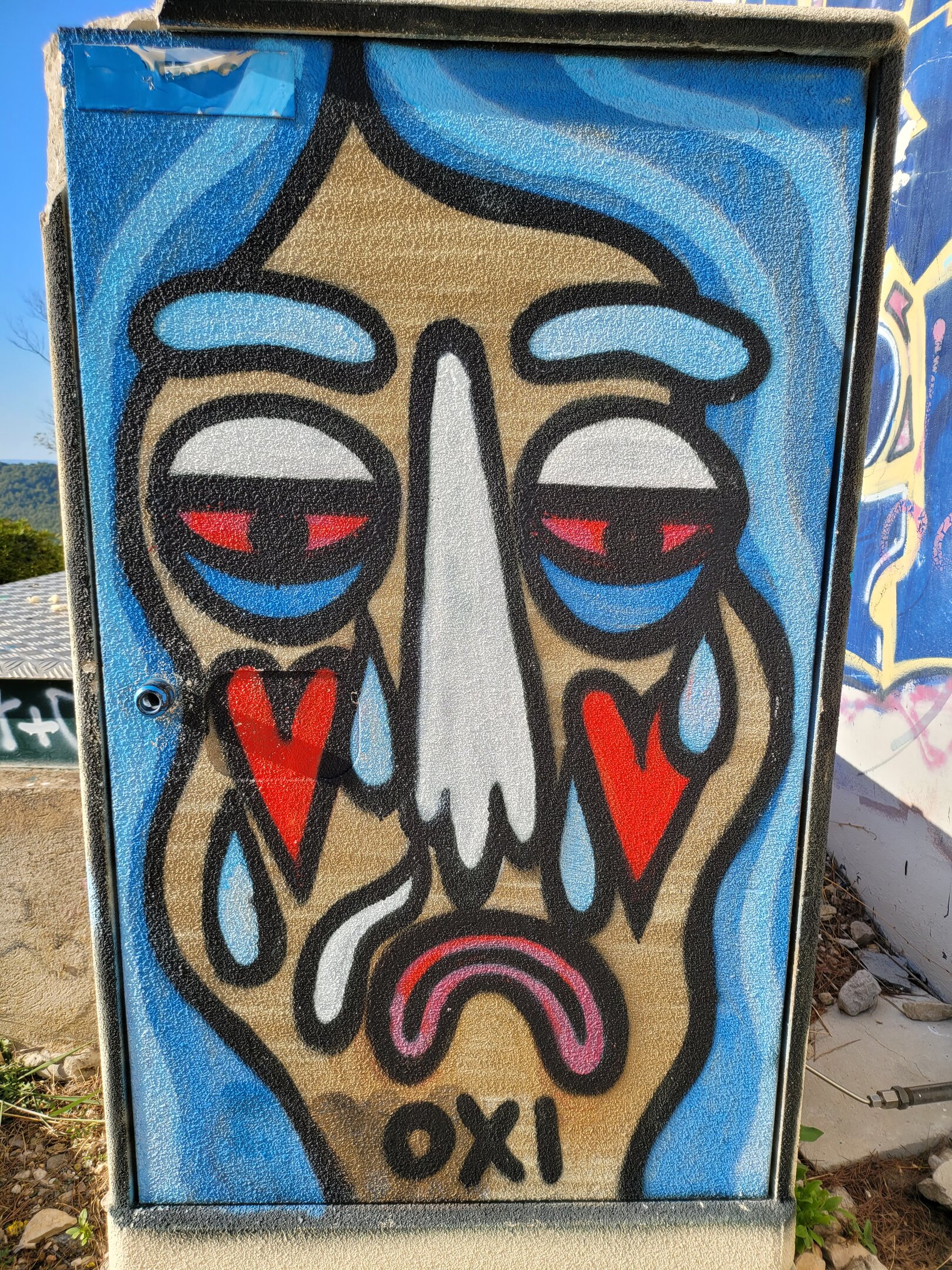 A view of a ridgeline path in the Calanques national park: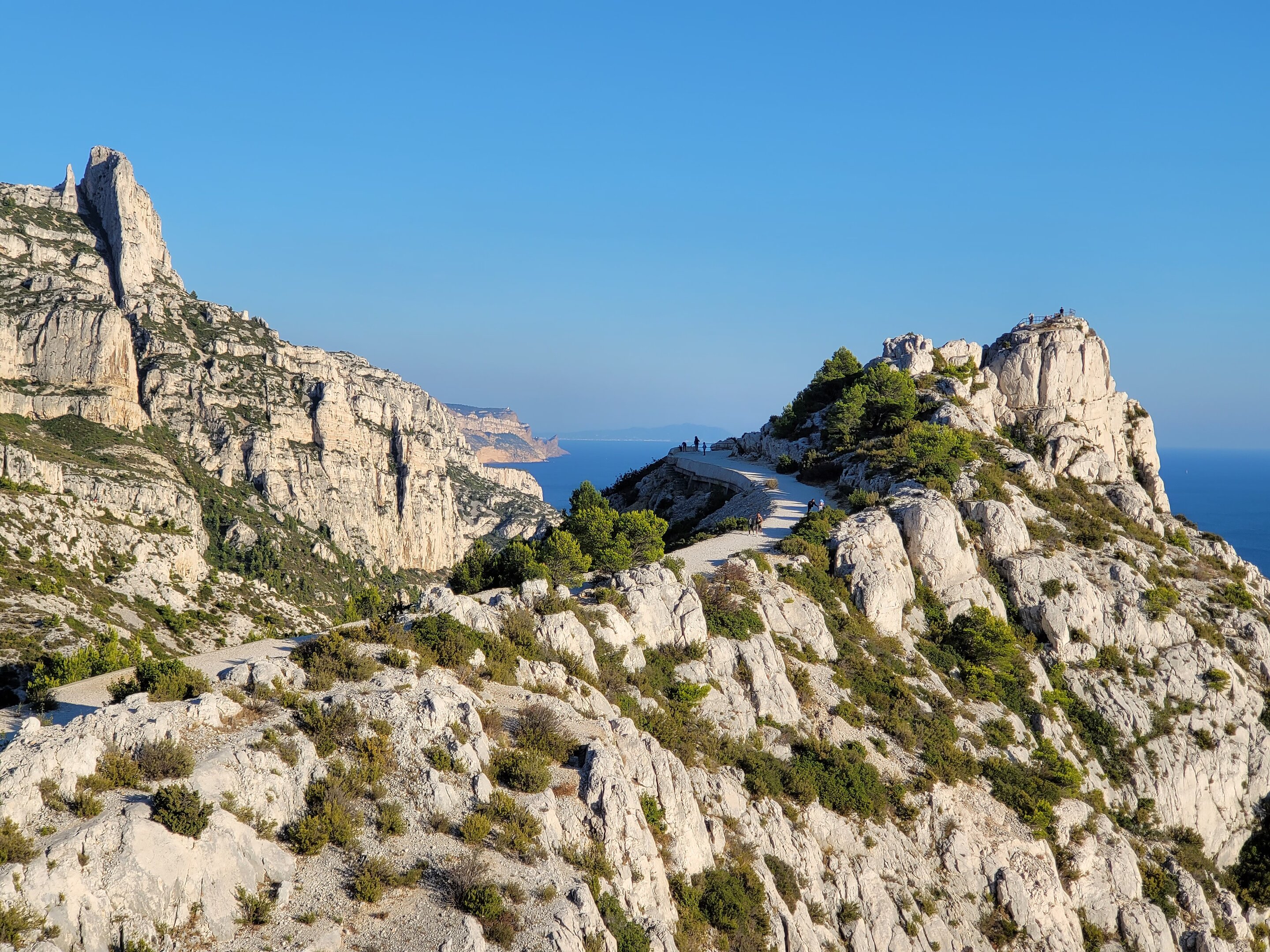 On the way back Google bicycle directions pleasantly surprises me by taking me along a long back alley way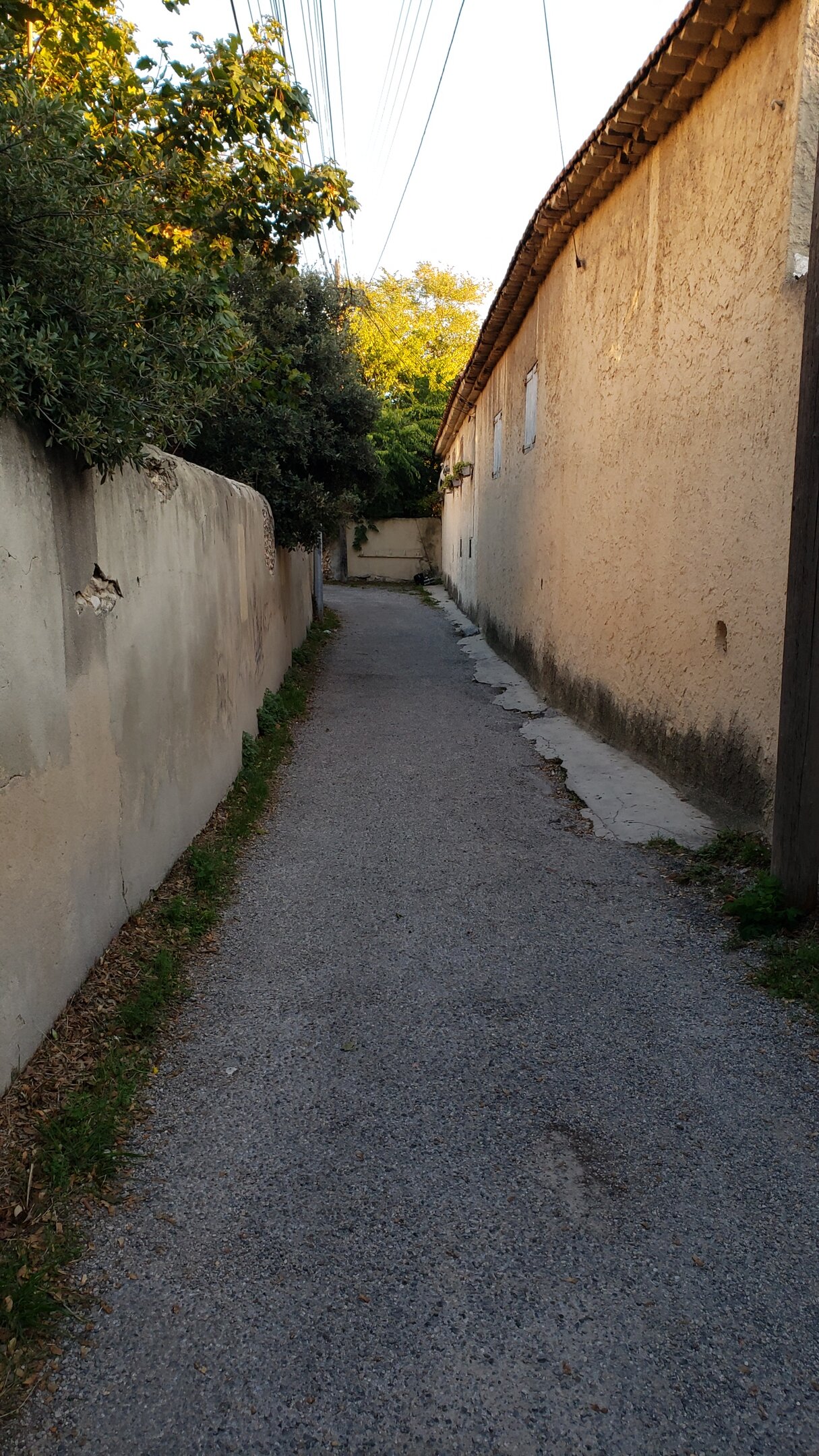 where i get to relax and escape diesel spewing cars and two-stroke mopeds, and which takes me right into the gate of beautiful
parc borély
.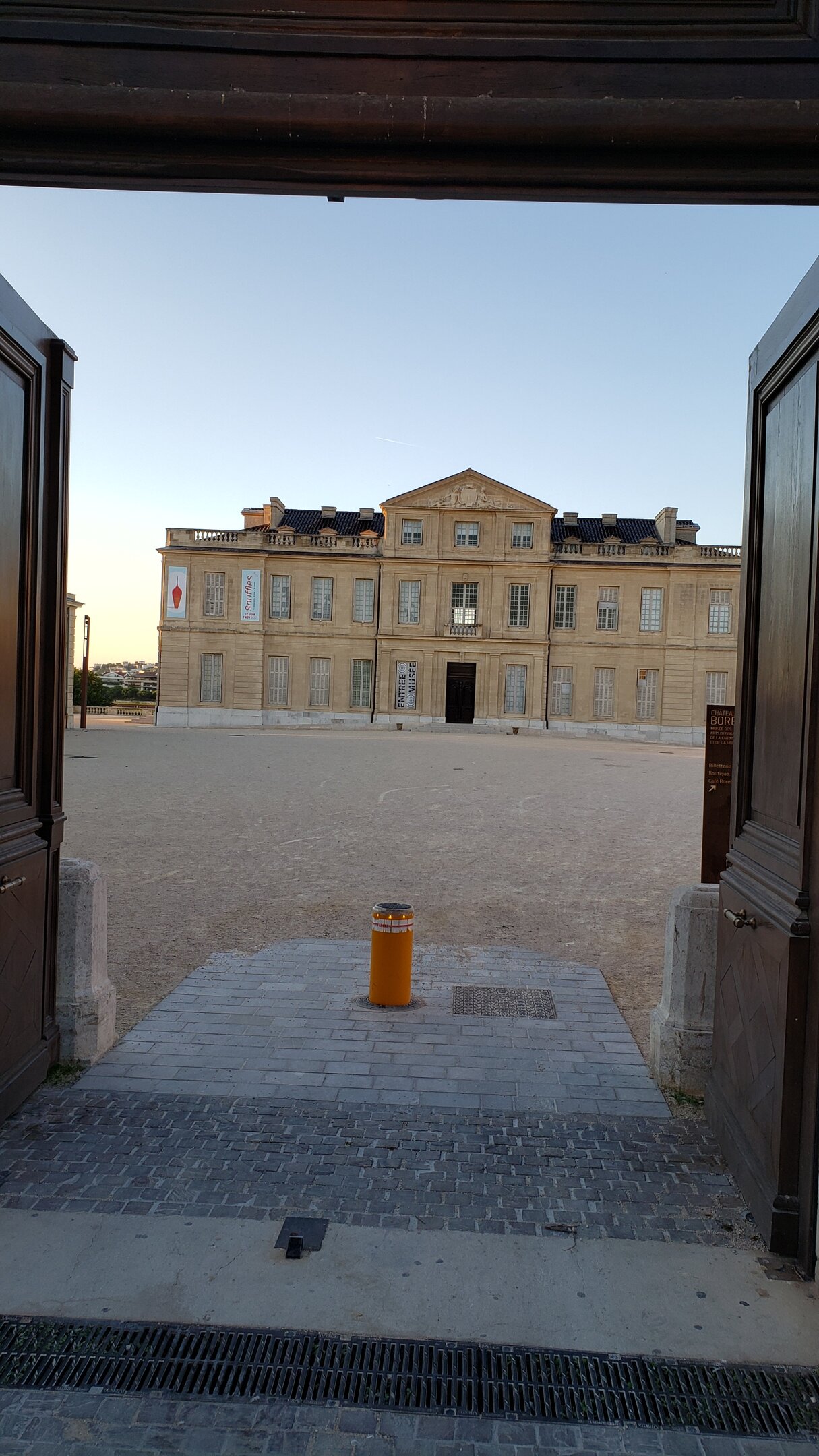 Where i see windsurfers racing off in the distance as the sun sets.
Which i then go watch/video for a while (
Snippet on YouTube
since stp did not consider the mp4 file to be a video for some reason.)
A view from an old home only accessible via narrow alleyways near the coast. It's curious to see what happens when coastlines get built up like this over years. Apparently this was once an undesirable area because polluted water from the city drained into the ocean right here. Eventually the coast road and viaducts were built. And more and more people packed in and built up on the surrounding land. So much of urban
Europe
seems to me like an MC Escher artwork with tunnels, walkways, waterways, tramways and so on all weaving around and through each other.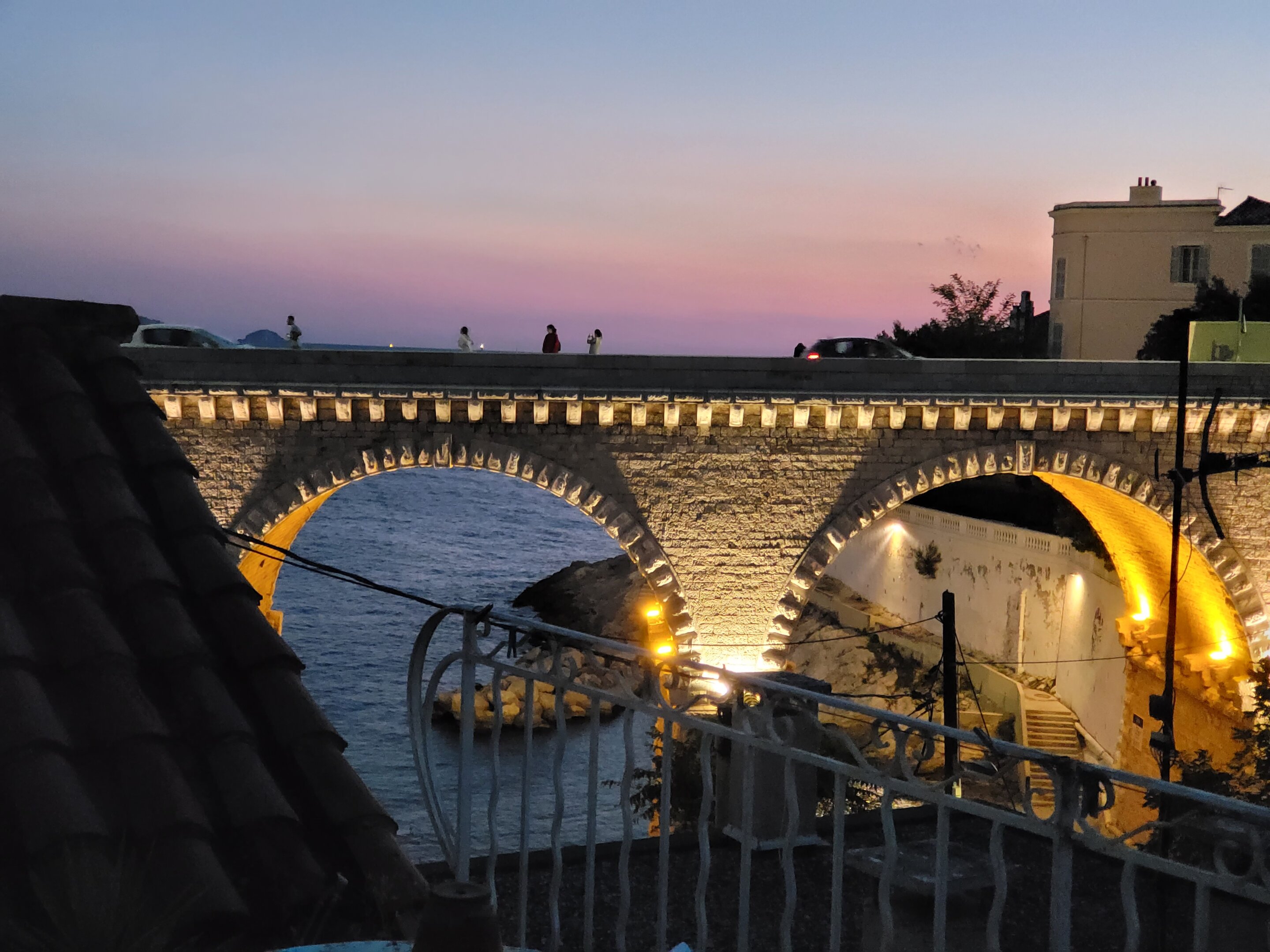 If you escape the car-infested coastal road, there are many little pathways that give you access to relatively peaceful and calm beaches and coves (this one had posted warnings to beware of pickpockets if you left your belongings on the shore and went swimming however--though i swam several times, usually early, in various places, with no problems.).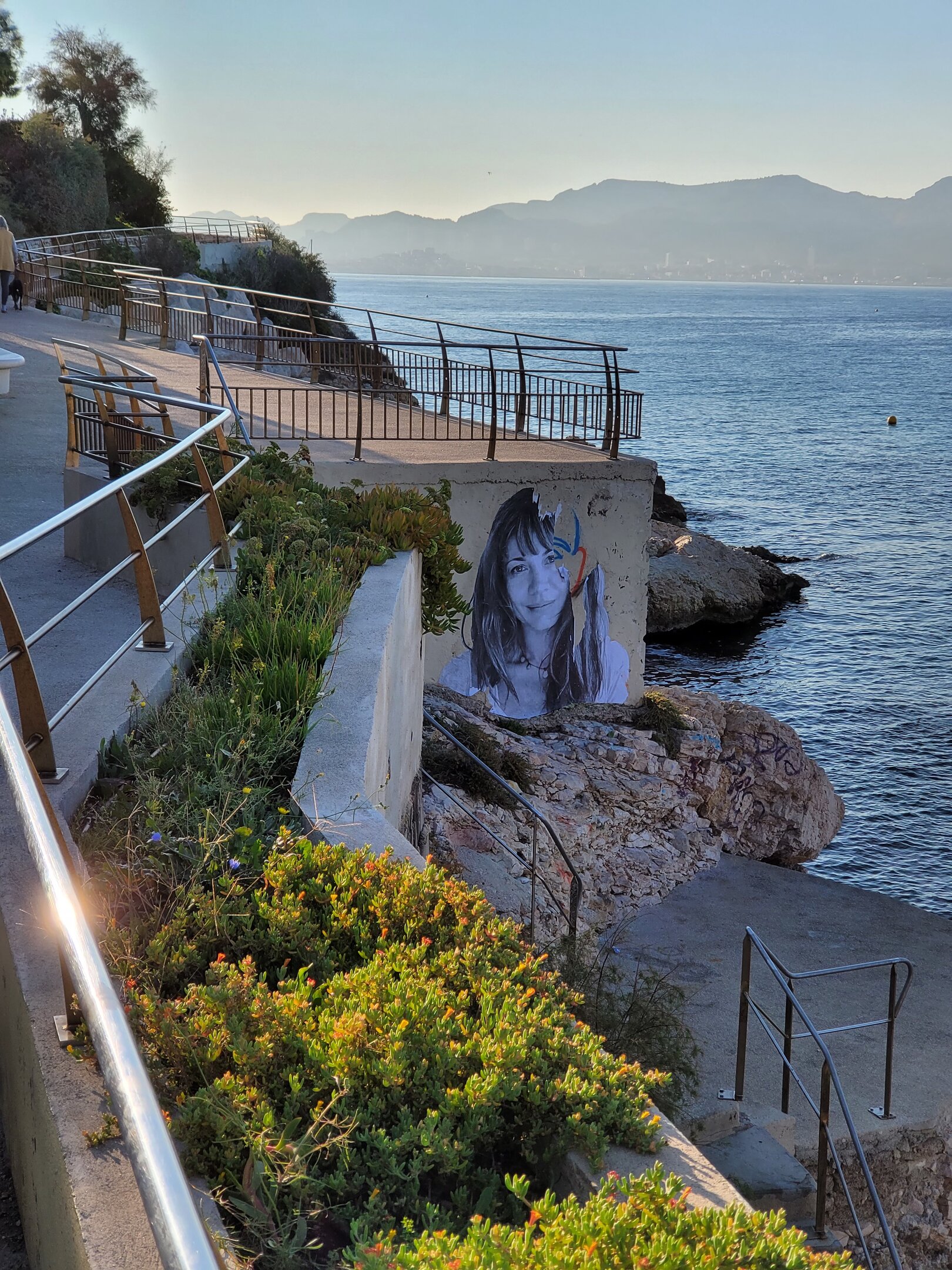 Here you can see what Méjean might have become if it were closer to Marseille!
So, on my list of things to do in the big city was go to museums and a church/ cathedral. Here I do both. Partly out of duty rather than enthusiasm but it was interesting. First, I visit the museum bookstore unsure whether I'll pay for a ticket. There's usually interesting things to be seen there.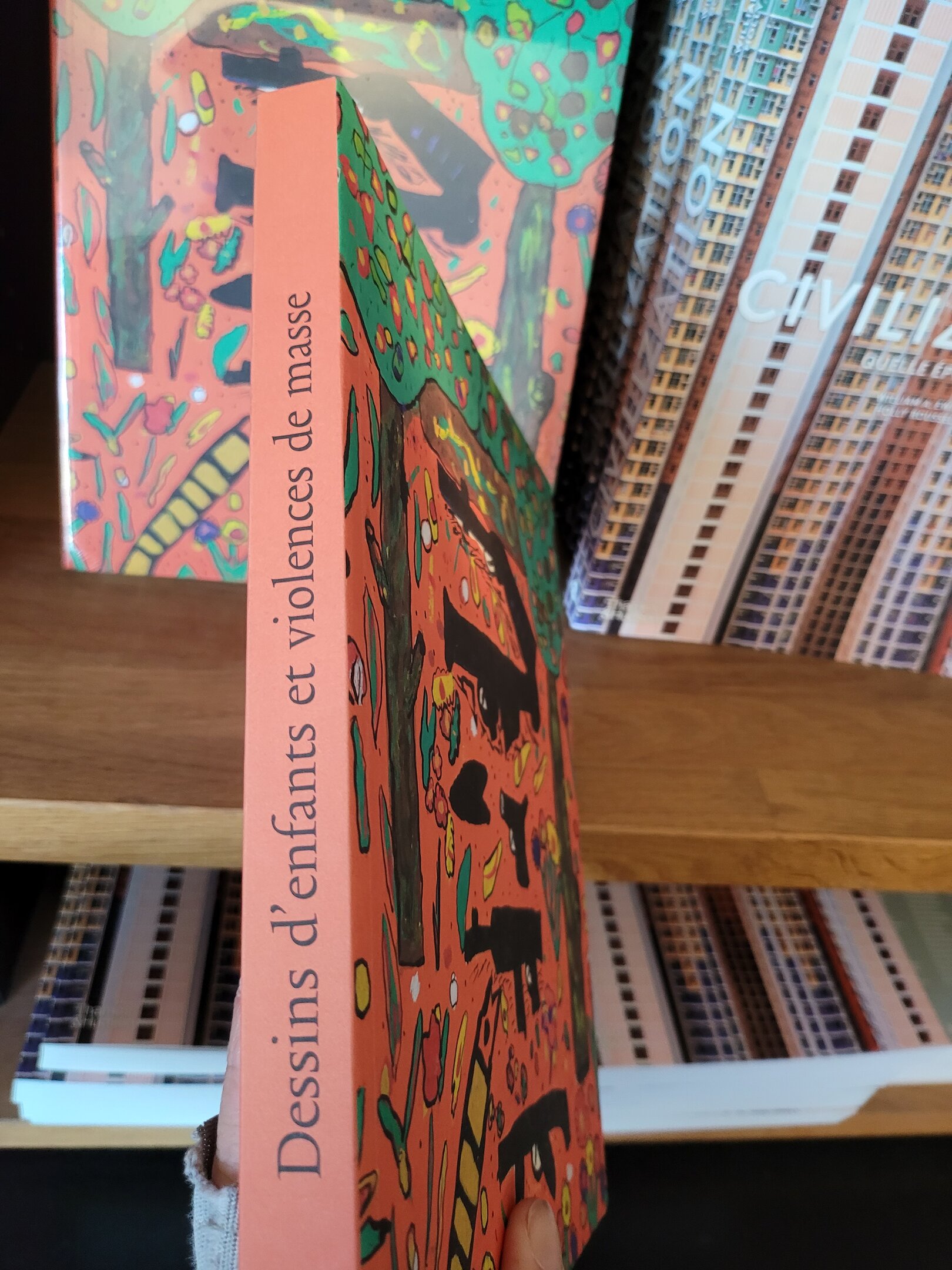 You may have heard of this collection of children's drawings from those who lived through war/genocide.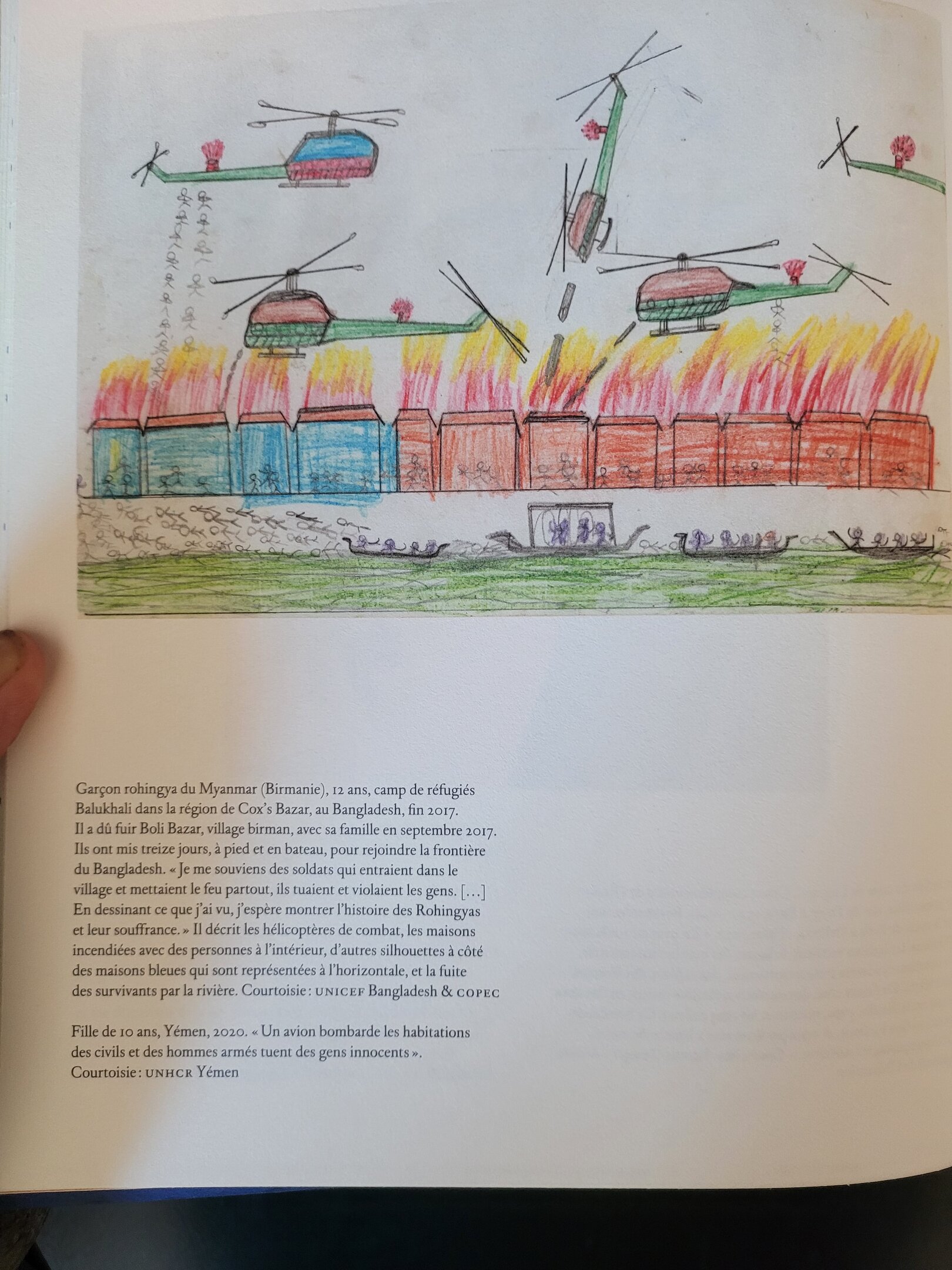 (
Rohingyas
being killed).
Eventually i leave and explore the museum which has MC Escher like stairs around the outside and walkways connecting the new museum
(Mucem)
to the old
fort Saint-Jean
.
I decide to buy a ticket, since why not see a
Jeff Koons
up close?
But first I go to learn about how Marseille got started. Years ago it used to look like this: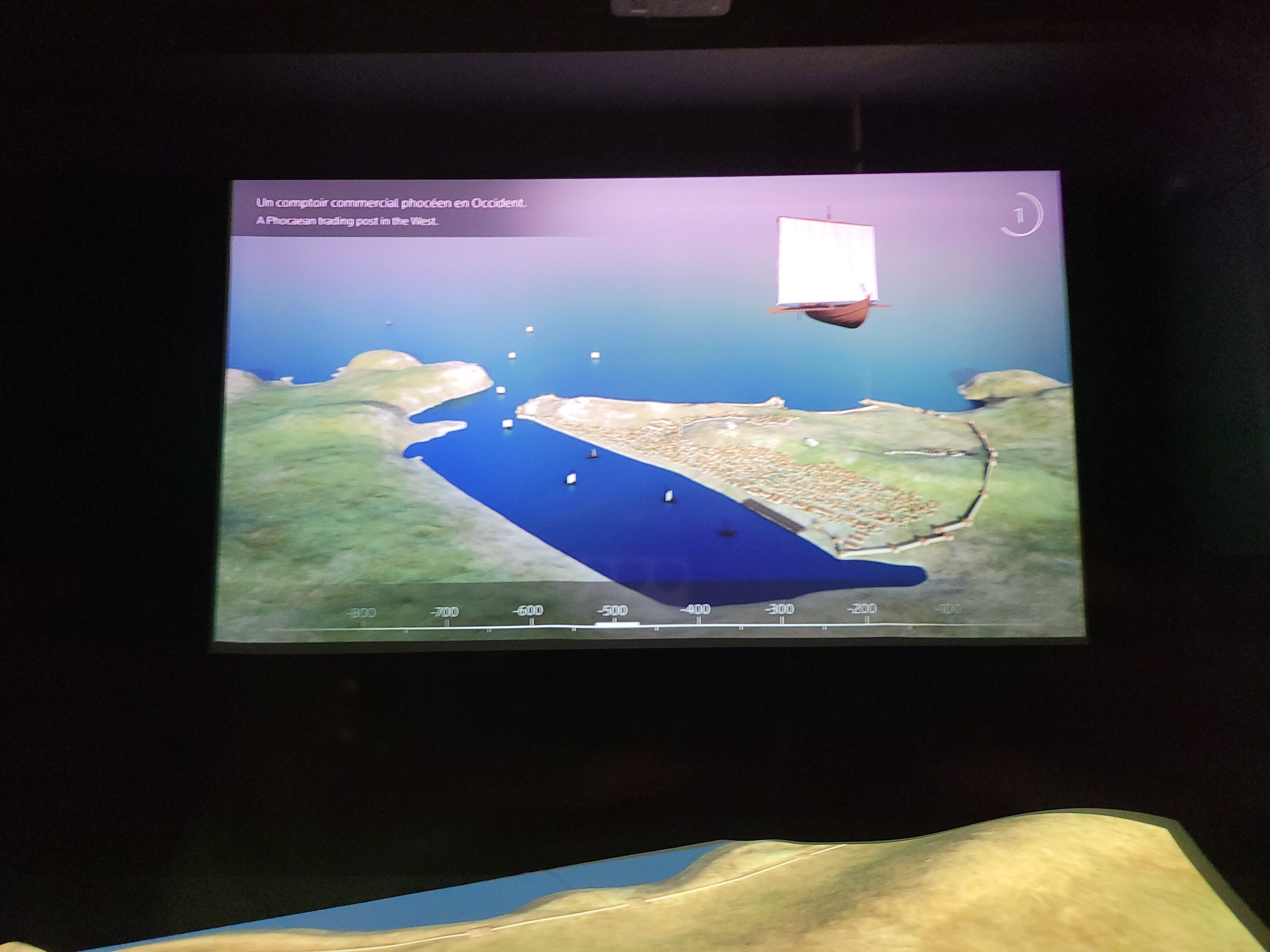 The blue area is now filled by the
old Port
.
Fortunately, I got to listen to jeff Koons himself describe his intentions for the exhibit which combined his work with selections from the Mucem collection that somehow related in his mind.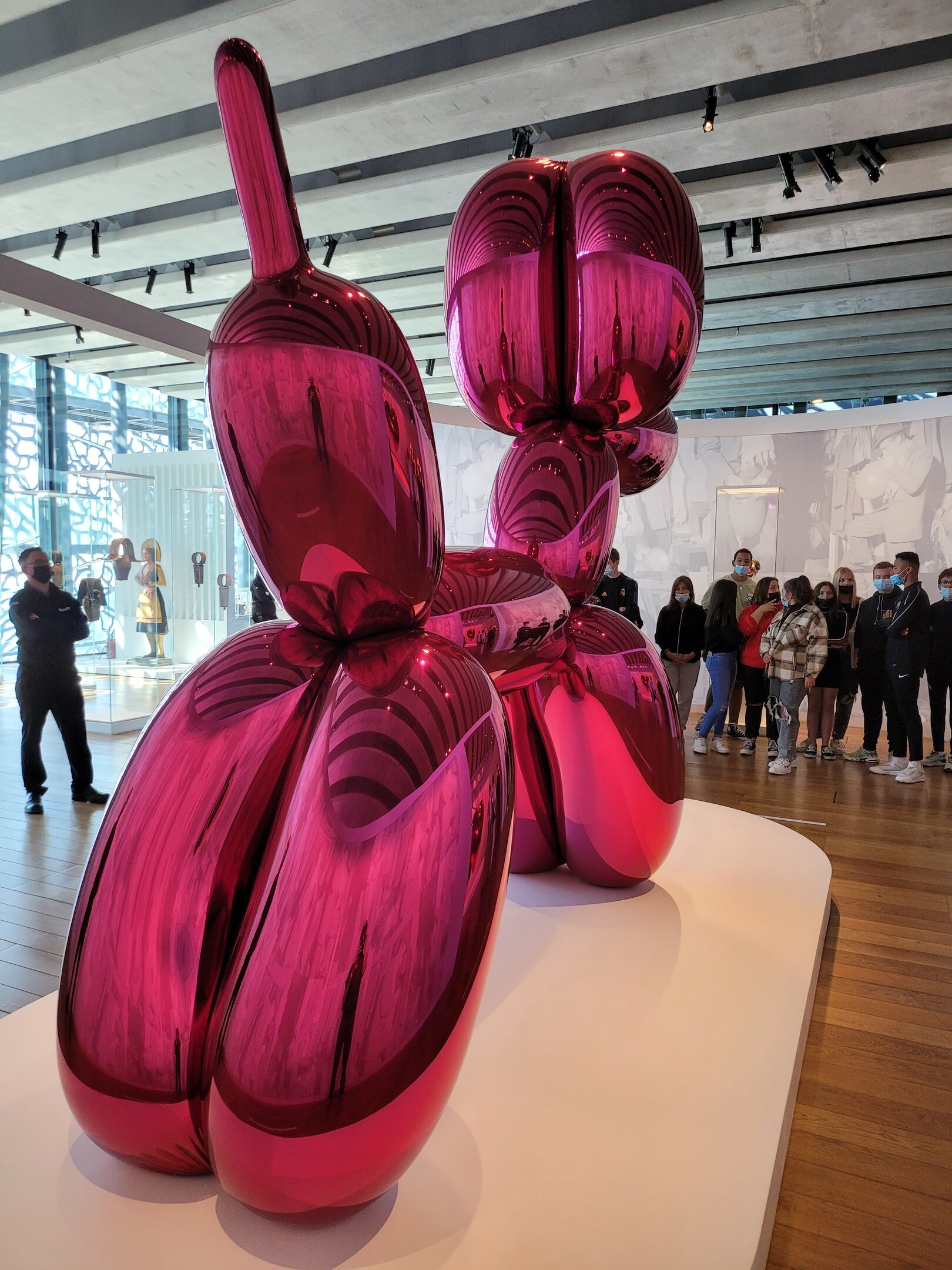 He actually has fairly playful and uplifting messages about what's going on here.
He likes mentioning that because it's reflective, the viewer feels included and accepted by the artwork just as they are, wrinkles and all (he emphasizes this in particular with his found/ready made pieces such as a vacuum cleaner, new, never used, under store florescent lights. . . But if you look close you can see cracks and signs of age even though it's never once vacuumed anything.)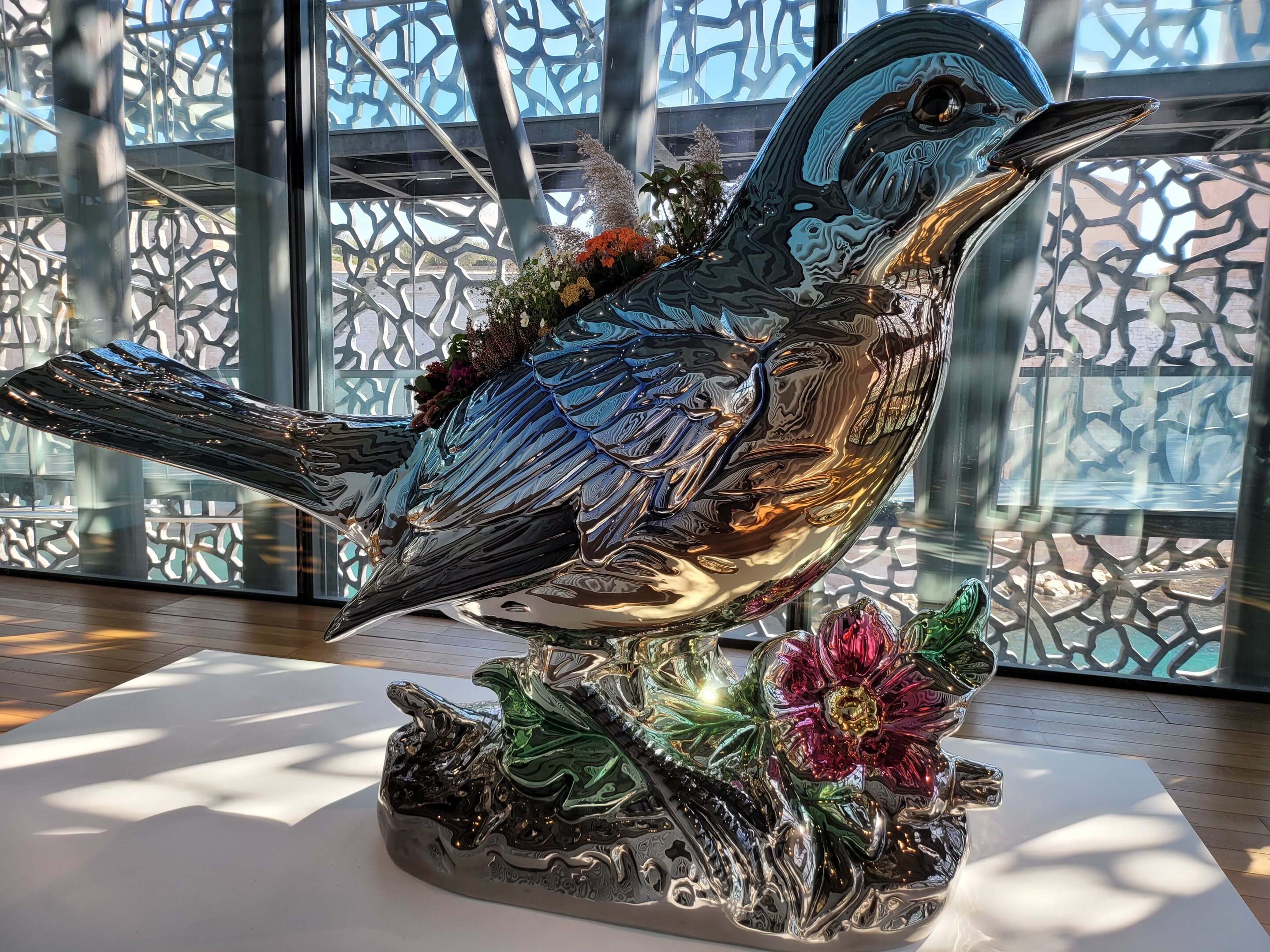 Now what do these huge balloon sculptures feel like? Apparently they're cast metal, aluminum and steel. So they're hard to the touch. Though i can't say from personal experience.
I went to an exhibit on the Mediterranean diet and agricultural practices. . . Tons of pesticides and fertilizers are used in Europe in some of the industrial production was one thing I heard from one of the videos playing.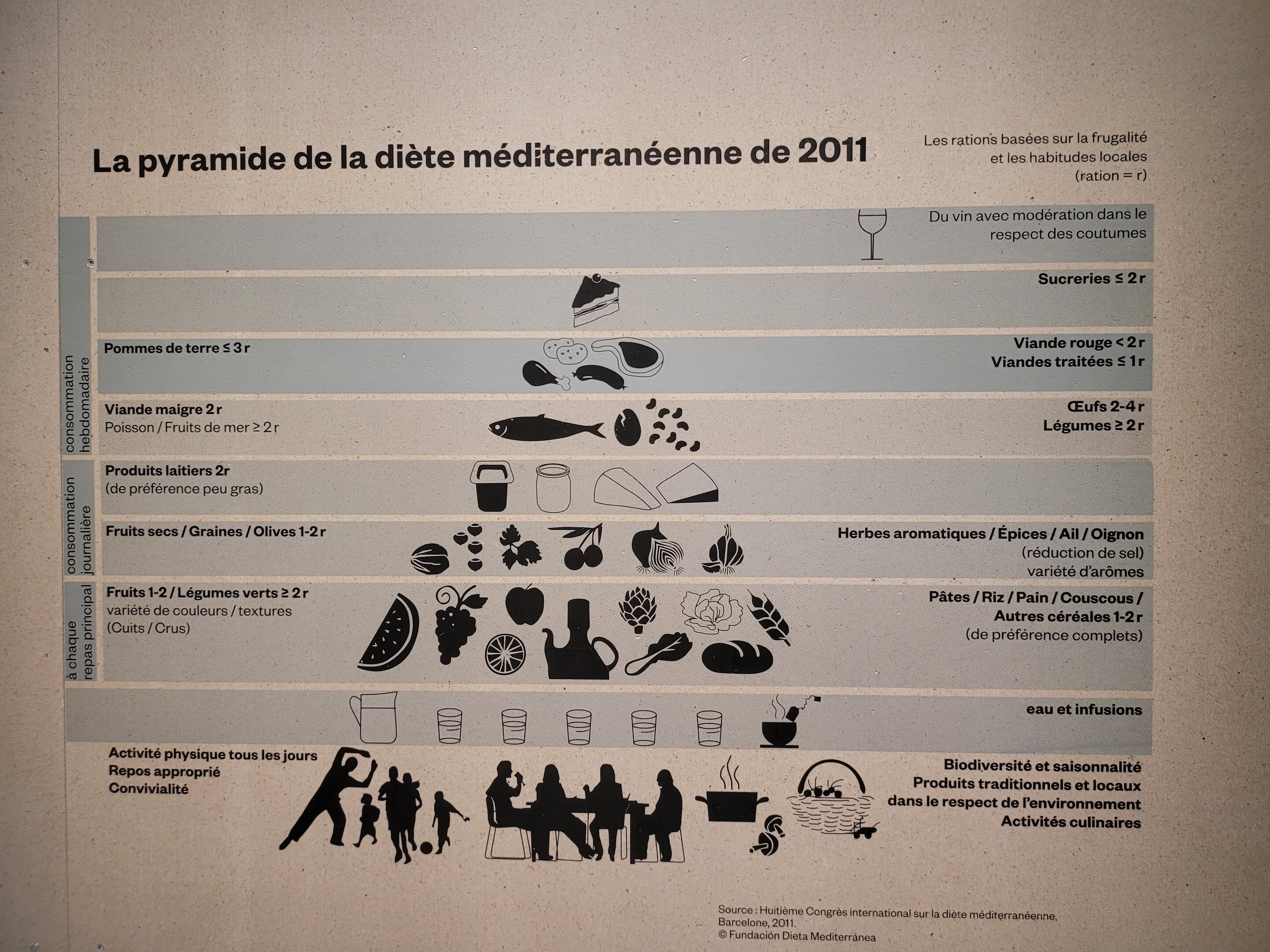 Outside i went into a
nearby cathedral
.
Not too special as European cathedrals go. . . And more deserted and less venerated than those in Spain and eastern Europe. But still a nice space nonetheless (and would be amazing to find in the US).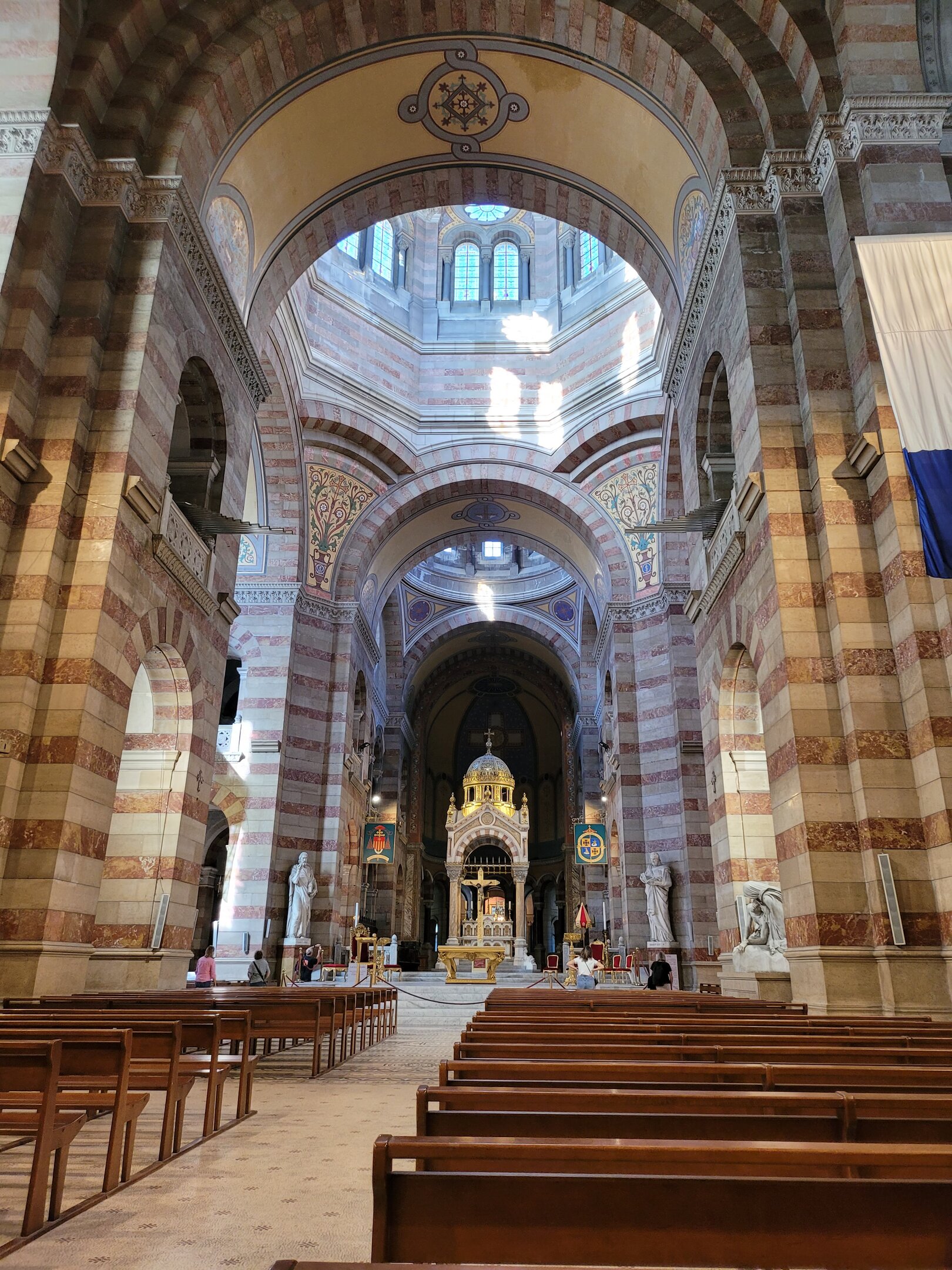 From the Wikipedia links, it looks like the
basilica on the hill
would have had more atmosphere inside.
The next day I rested in my garret and in the afternoon visited the natural history museum in the Palais Longchamp (a 15 min walk away). It was free, and why not?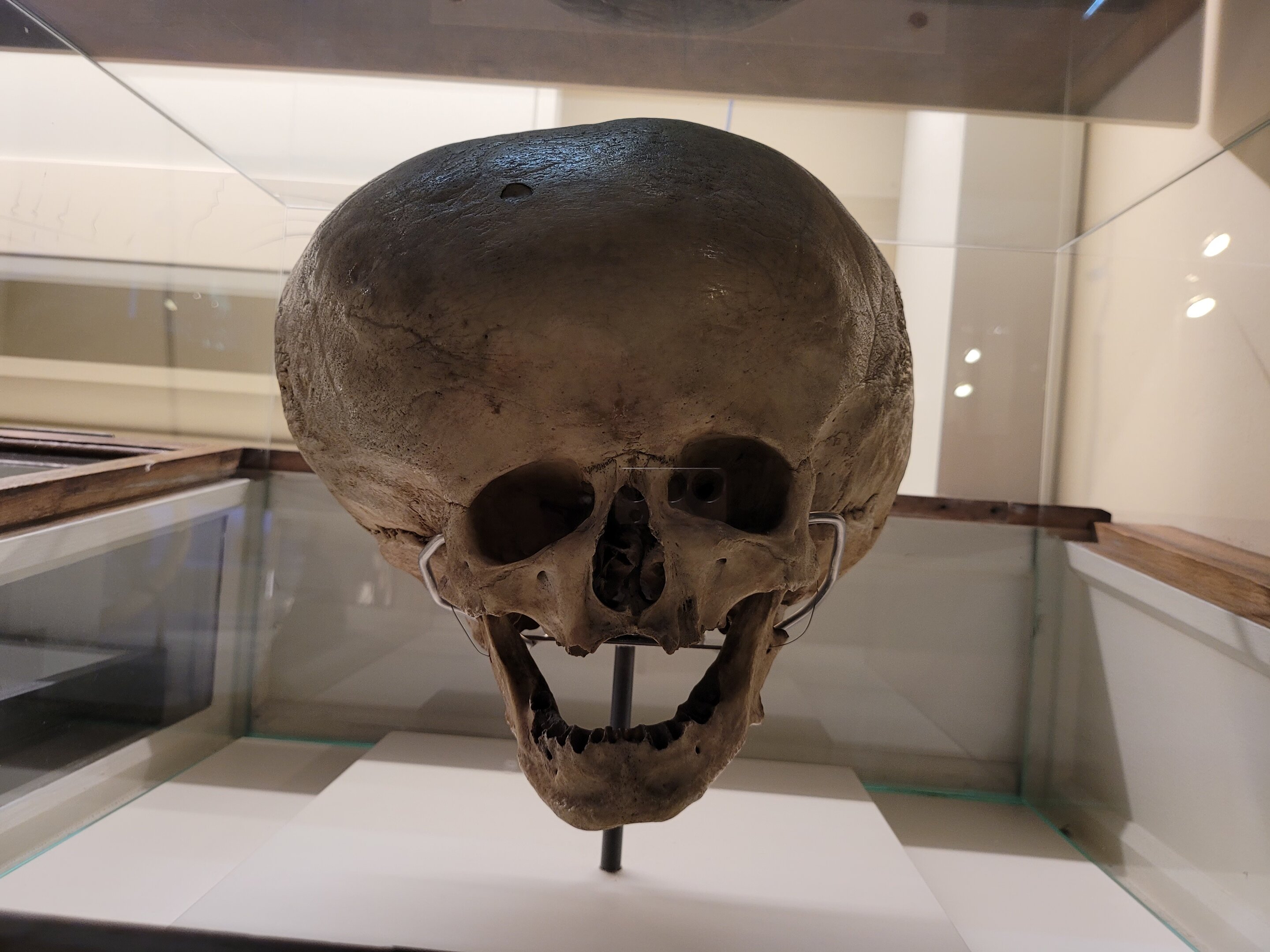 This famous Marseillan got his skull put on display. It's
Mr Bordini
who suffered from hydrocephalus, but still managed to live 50 years, dying in 1616. He inspired a saying "you're making less sense than Bordini."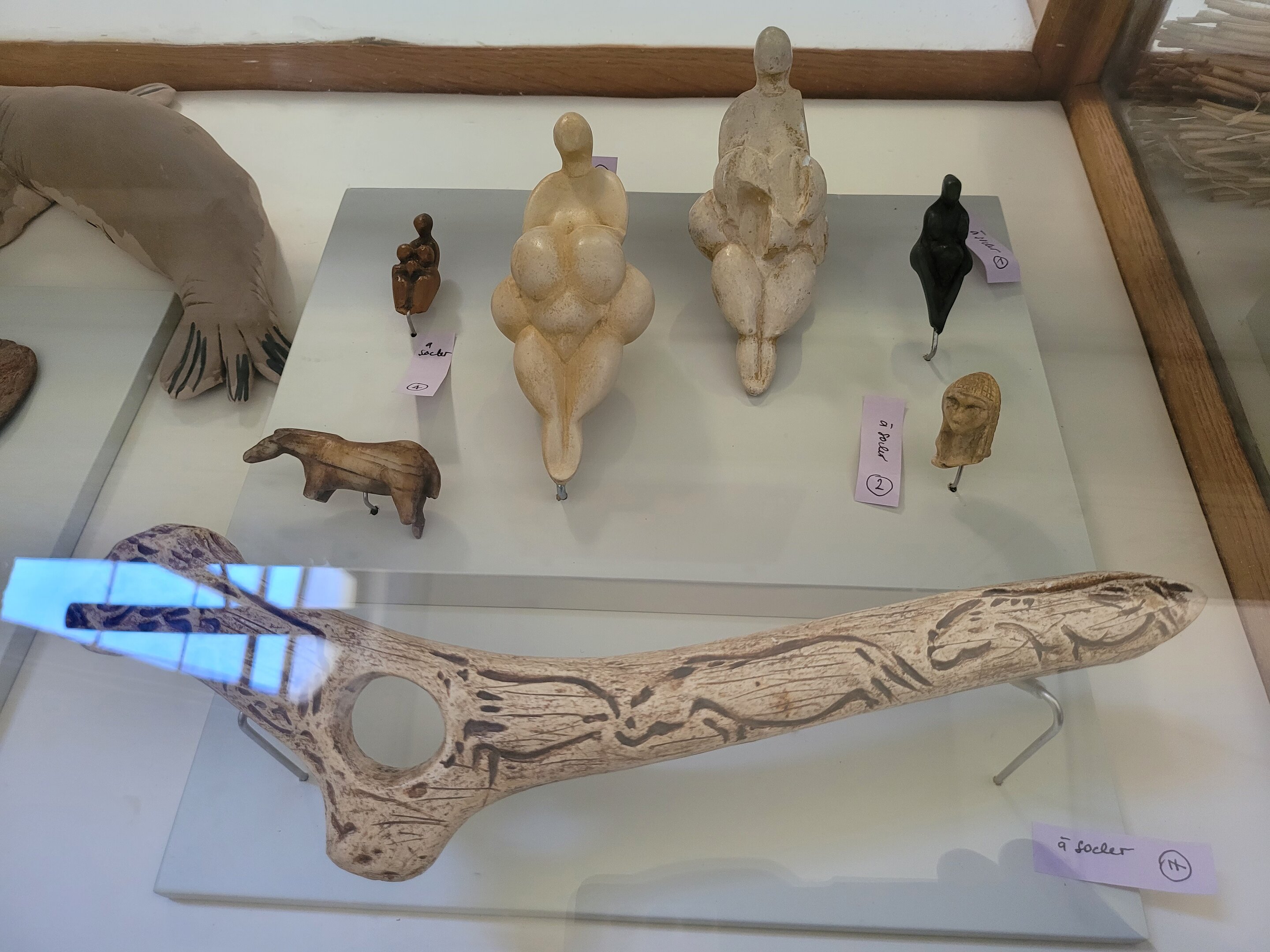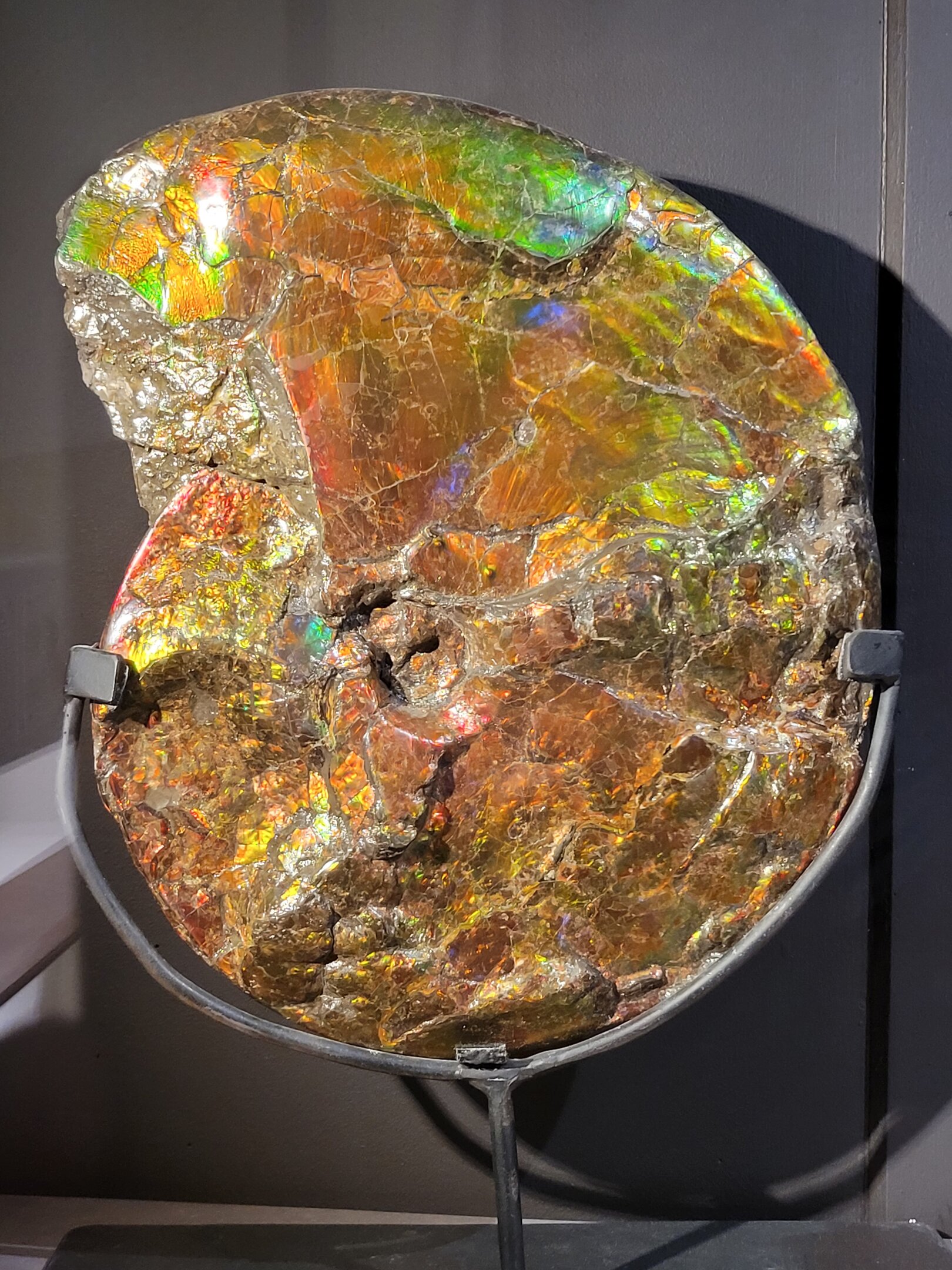 The next morning I go swim again in the nice waterfront park,
Parc balnéaire du Prado
, still listening to _coyote America_.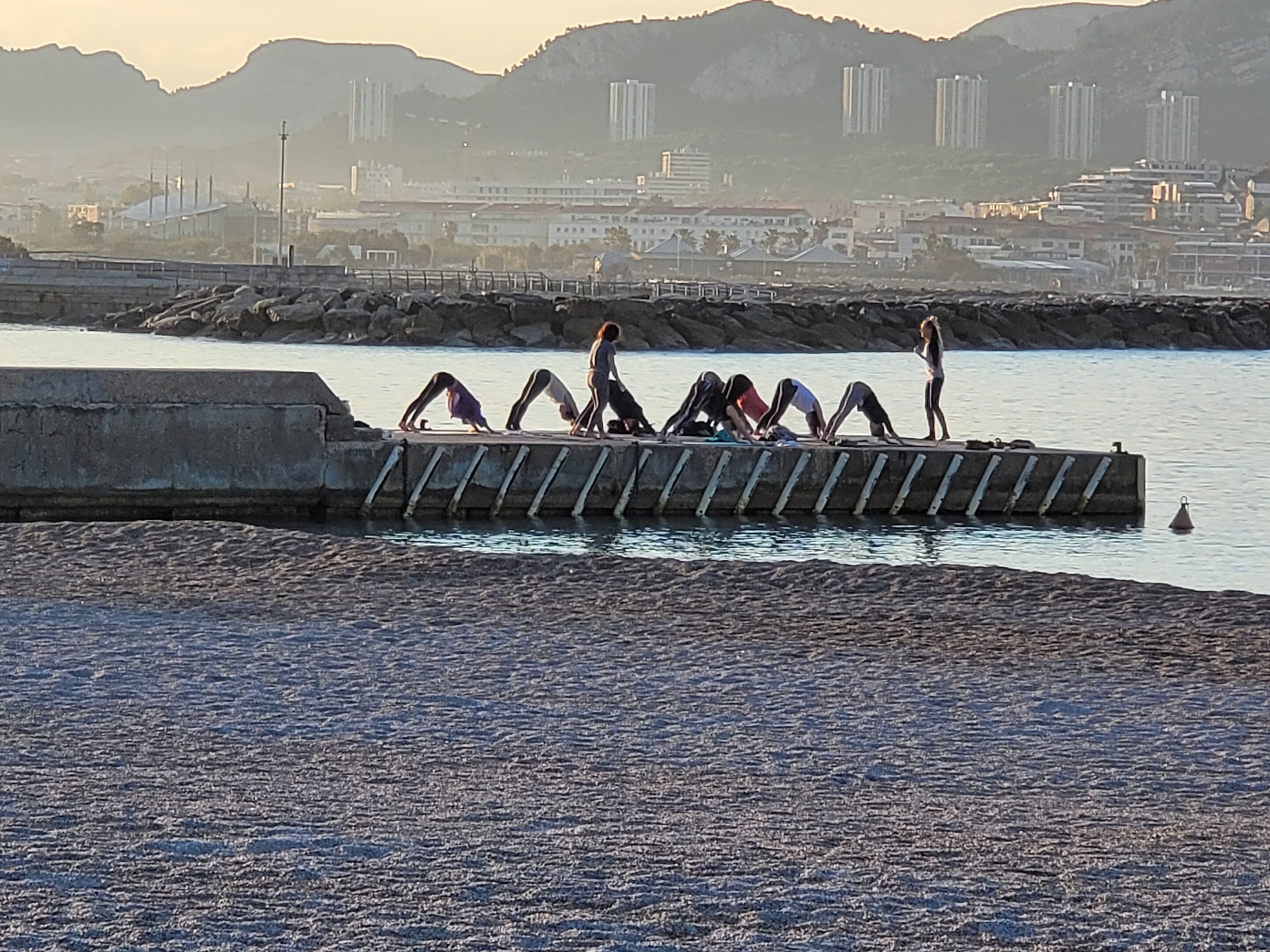 And then i bike out of town.
It's relatively brutal. I huff a lot of diesel for a long while. I probably should have stuck to the coast instead of trying to go out the back. But eventually i find a place in the woods to hide near a pretty enclave,
Cassis
.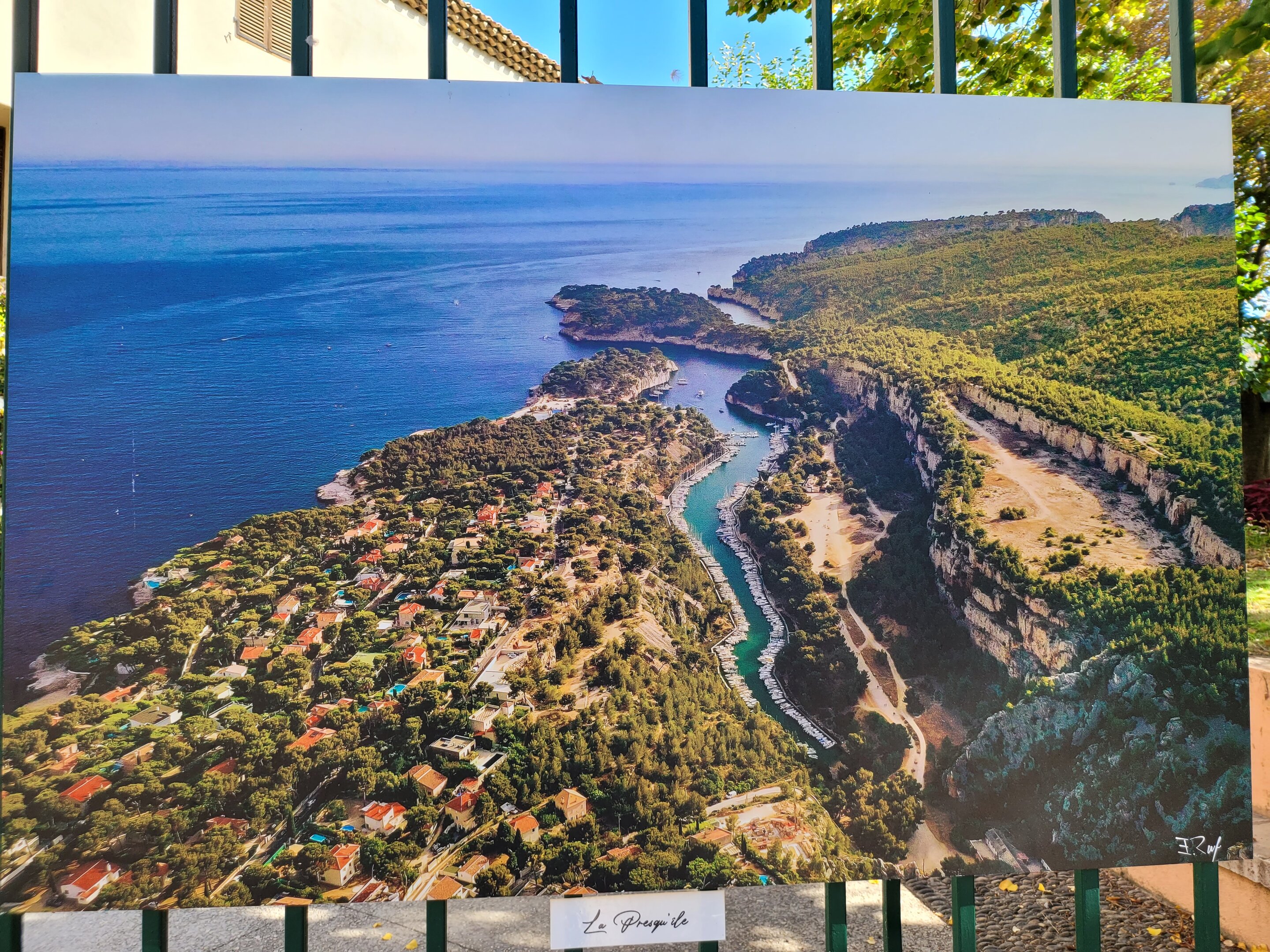 That night i watch
My summer in provence
. Which isn't bad and helps me appreciate the local culture slightly better. And it reminds me of the dominance of American pop culture. I generally watch french language movies to escape from English, but much of the music and singing in this movie is in English.
And i still needed subtitles to understand most of it.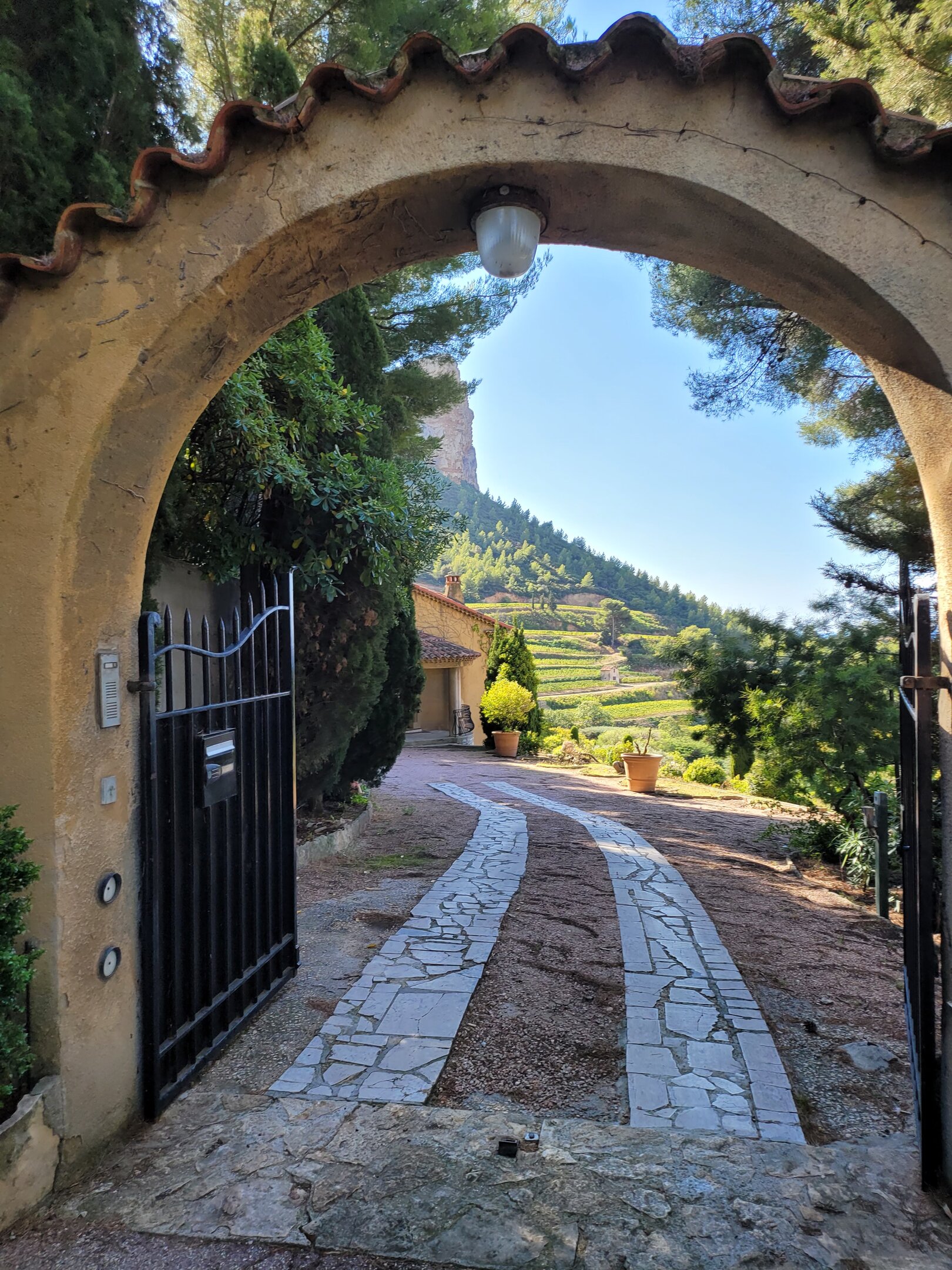 And from there, things are generally getting better (less traffic, found a rail trail along the coast near Saint Tropez).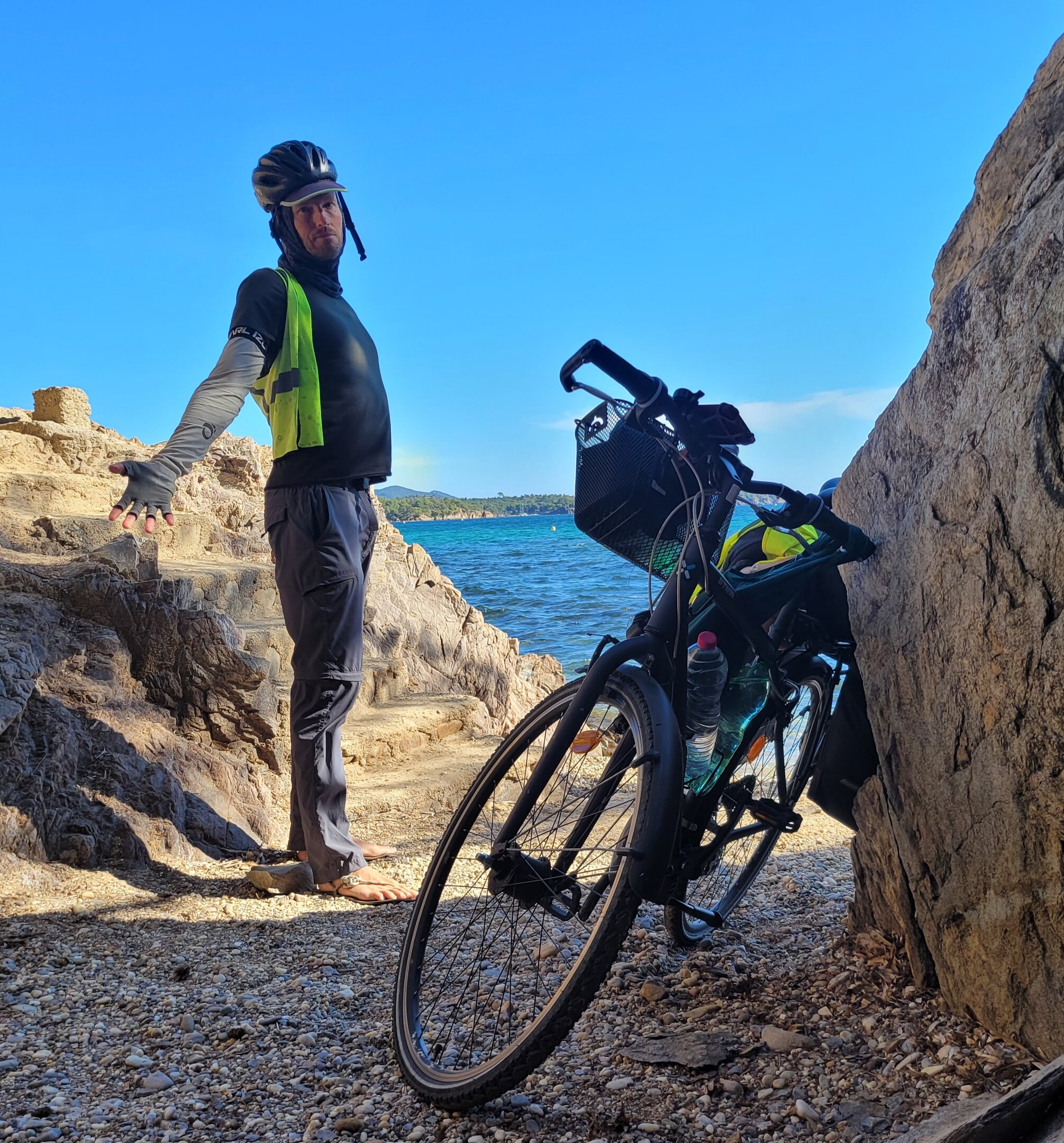 That's partway through schlepping my bike on the coastal trail to
plage de pellegrin
.
So, I'm still alive, not in Italy yet.
So far so good. I have a friend to visit in Masa Marittima, Italy, if i can get there in 10 days. Which may not happen.
I've been daydreaming of going to Israel after December 19, not Dubai.
As for loneliness. . . It was good to make a new friend in Marseille. I had one more video call with someone from the far eastern corner of Brazil from fairytrail app, which was nice.
So at the moment I'm not feeling too needy that way yet.
Loving, for the most part, living my hobo life which is a bit difficult to share with others except by writing here I suppose.
Twenty years ago (2001) I was in Italy to help teach English in Italian summer camps. I worked for a month, maybe a month and a half, got fired actually, and then rode my lowrider Reynolds weld lab recumbent from San Remo, through Monaco (where I spent one night trying to sleep at the edge of the highway where it comes out from one of those tunnels through Monaco), through Cannes to Frejus.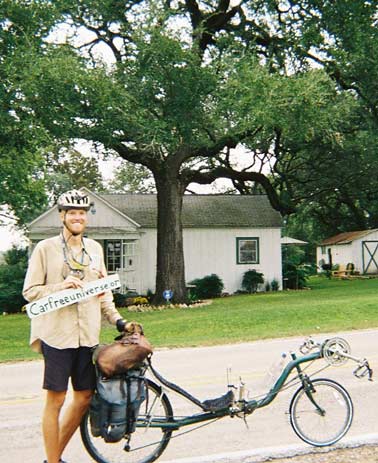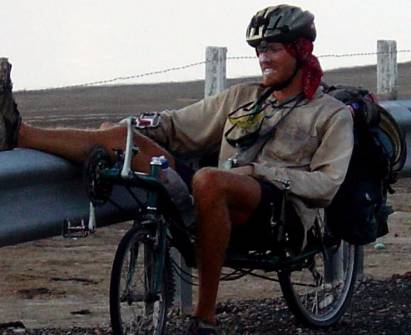 (That's the bike but the pictures are from a ride across the US and north
Mexico
in 2003.)
By that point I'd decided to go to the mountains and go north. It was too hot along the coast. I rode to Draguignan, then Grenoble. Then Paris, though i may have taken a train part way. Then Calais, then went to London, then Reading, then to Dieppe, then Denmark, Christiania. I managed to visit Joel Crawford of
Carfree.com
in Amsterdam. Then briefly went to Sweden, not even one night, before flying to (and moving to) NYC from Copenhagen in August 2001. I'd left from Monterey, CA. And was attempting to move to NYC, if i didn't like any of the European cities better, but support myself with a job other than writing the software programs that install programs.
I ended up working on
experienceart
for a month. Then 9/11 happened. The day after, I called my first temp company. I worked temp jobs for a while. Then got a long-term part-time job working for a research scientist at SUNY College of Optometry. Which I did for about two years?
So, not sure what the point of that was, but i have some brief history here.
And that 2001 trip was my first time to Europe and outside of North America/ Hawaii.
The company i worked for appears to still exist:
acle.org
. though i could swear their name at the time was Associazione Culturale Linguistica Educazionale, or something like that. We started off and trained in San Remo, where their headquarters still appears to be. And where i hope to pass through soon. I think there was only one other American in my group, and for the first time I realized how many varieties of English there were.
Last edited: