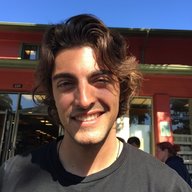 Joined

Jul 17, 2018
Threads

3
Messages

25
Reactions

25
Current Location
Hey everyone. I thought I'd make a post here about myself. I'm looking to meet up with potential travelling partners, or, "road dogs" (new word for me) around the Southern California area. I'm open to a great many things, but right now I'd really like to meet some folks in the area who are down with the same or similar lifestyle. So, I thought I'd answer the questions listed on the sticky. They do seem to be a good set of questions to start off with.
What are you goals for travel?
I mainly want to see things in a way that isn't restricted by the constraints that seem to be implicit to how the majority of society believes one must live their life. I enjoy travelling, camping out, finding weird places to stay or unorthodox ways of getting from point A to B. But I really like doing these things together with others, so I think a site like this might be a good portal for me to meet other cool folks.
What travel experience do you have?
Some backpacking, some hitchhiking, some of both, quite a bit of driving, and not a whole lot of travelling with friends. But that's mostly because I haven't yet had a chance to meet many people who are interested in travelling in the same way to the same place at the same time as I am. Plus, I've just began to become ready for more serious travel and exploring it as a lifestyle.
Where do you want to go and how do you want to get there?
The place to go is not as important as how I get there. Also, who I go with will make or break the journey just as much as what I see.
How do you fund your travels?
I work odd jobs at times when I am in one place for a while. Also, I look to pay no or very little in rent, utilize work trades, etc. These are a description of intentions rather than of history, but I believe i can get it done. Eventually, I'd like to earn a modest independent income through the internet or in some other community-focused way.
What do you do for food and shelter?
I'd be cool with dumpster diving but haven't learned how to do it effectively yet. Thus, finding food-drops are also ideal, but I end up buying a lot of food at grocery stores and then doing some home cooking. I'm looking for ways to change this, however.
Do you drink or use drugs?
Occasionally I'll have a beer or whiskey. Very rarely I'll actually get drunk, but when I do it's fun. I don't smoke weed on account of asthma, and I have never done any hard drugs. I used to be afraid of them, but probably not now. I just don't like the hangover one gets after artificial excess, usually the kinds of stuff that most drugs give you. I might enjoy trying some hallucinogens at some point, though.
Do you carry a weapon when you travel?
No, I don't. That's one of the reasons for travelling with others being a good idea - safety. But I am probably going to get a walking stick on account of a knee injury that I've had for a long time. That would probably double as my impromptu weapon.
Do you have any health issue or needs that may affect you on the road?
Like I said, asthma and a old knee injury. Asthma will likely mean that I can't be around certain cats or dogs, and the knee injury will end up hurting a bit after walking for a while. But both of these, I believe, can be controlled for. They shouldn't limit me too much, I hope.
That's it. Any other questions leave them in the comments or just send me a message. Looking forward to connecting~
Tyler