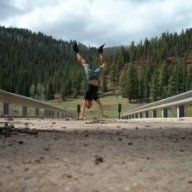 Joined

Apr 18, 2010
Messages

158
Current Location
My boss just gave me a green light i can take a month off after the second week of january to go on a trainhop adventure again..
thinking to fly to Boston or NYC and start from there going south to Miami, then over New Orleans, Texas, Salt Lake City to Southern California..
got friends around the country to crash at. usually i am camping outside but once in a while i dont mind spending money on a motel to shower and get a good nights rest.
i got some money saved up so i can explore breweries and see live music wherever i end up. but also into hiking and exploring nature. (i know, its winter. but i got some good gear and the southern part of the country should be ok during winter. (i hope)
if somebody is down to tag along for a a while hit me up. i know its still a few months from now..
@Thewalkindude
.. see you soon buddy