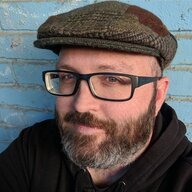 Permanent Wanderer
Staff member
Joined

Aug 4, 2006
Messages

10,293
Reaction score

13,494
Location
Website
What if we just did a really informal show-and-tell type thing? Like instead of a scheduled workshop on one topic we just set aside an hour or two for people to present what they want. Could be tips on how to do something, or a demonstration of how to use certain gear or even just a story from the road. That way if anyone has something they want to teach they can, otherwise it's just a fun story-sharing thing.
Well, there definitely was interest in doing a performance night, so we could adapt that to be a show and tell, open-mic kinda time, you can play music, tell a story, read a poem or something, do tricks, yeah, we can do a talent show...

Also, my kendo sticks are up for use, and I can do a kendo lesson, and set up some matches.

There's also DnD shit here, if anyone wants to run a campaign.

We can just do what comes naturally.
i like both those ideas, that way there's still a time to do workshoppy things without the pressure of doing a scheduled presentation.
i've had this idea for a long time that i would like to make happen this year, which is a late night campfire story telliing session, where people share their best stories. i'm working on puttting together some unique prizes for the best stories, and i think it would be a lot of fun especially once everyone's all good and boozed up