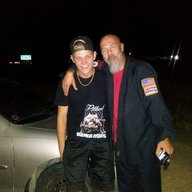 Joined

Jun 5, 2019
Messages

208
Age

45
Location
I've only been in 3 relationships. The first one was with my sons mother. But it was over before they were born. And once they were born, she split and hooked up with some guy then like 2 months later she was going to prison for burglary.
The second relationship. She was very possessive. I would go to work, she'd call and make sure I was there. She would time me getting off work and making it home. Very jealous of my kids. That was her downfall. The day she told me that I need to track down their mother and send them to her because she wanted to start a better life for me and her. She gone! I'm not saying my kids are perfect. But they were only 6. Kids are obnoxious not to mention I have twin boys.
My third relationship was the worst. At first it was great. Dated for 2 years then she convinced me to give up my apartment and move in with her. Then she changed. For a full year She wanted to keep an argument going all the time. If she didn't have anything to argue about, she would look for something to argue about. Always threatening me that if I didn't change the ways she wanted, she was leaving. It was always over shit that shouldn't even matter. There at the end, she wanted to argue over toothpaste. Said the way I roll the end of the toothpaste tube looked very tacky. I had to hear her bitch about it for 3 days.
In the mornings she was always up and gone for work before me. But she always left a song play on the stereo for me on repeat. It was usually Meatloaf's song Anything For Love. The night before I left, I kept thinking that if we are arguing over Toothpaste and the way I hold my dinner fork, shit ain't gonna get any better. I woke up the next morning. I listened to the song she had playing for me. Knowing I hate fucking country music. It was Blackhawk's GOODBYE SAYS IT ALL Packed my clothes, took her red lipstick and in big letters wrote GOODBYE on her wall. Before I left I put her a song on the radio on repeat.