me, hellarity, oak, ca. about 2006
Joined

Oct 12, 2017
Messages

298
Location
https://www.pbs.org/newshour/amp/sh...nk-rockers-embrace-their-unconventional-hobby
PBS NewsHour Logo: Home
MenuShare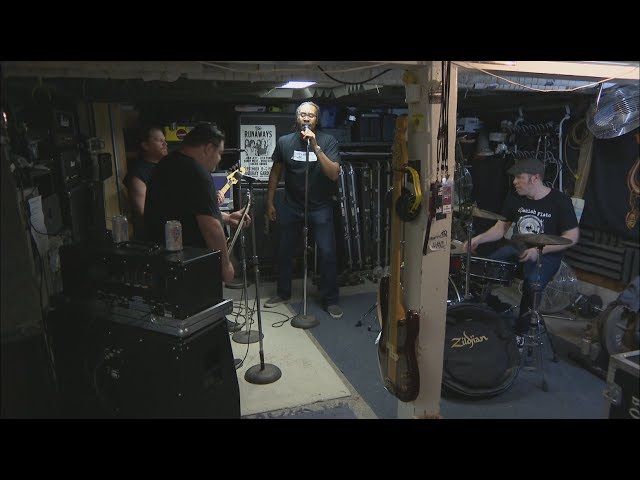 For decades, Chicago punk rockers embrace their unconventional hobby
Arts
Dec 15, 2018 05:10 PM EST
By —
Jay Shefsky, WTTW
Transcript
In Chicago, members of a punk rock band called The Bollweevils have been balancing their conventional day jobs -- as a physician, a principal, an electrician and a college administrator -- with their unconventional hobby for more than two decades. Reporter Jay Shefsky from Chicago PBS Station WTTW has their story.
Read the Full Transcript
HARI SREENIVASAN:
Not every musician makes a living solely from playing music. In Chicago, a punk rock band called The Bollweevils has been balancing their conventional day jobs with their unconventional hobby for over two decades.
Reporter Jay Shefsky from Chicago PBS Station WTTW has their story.
—
JAY SHEFSKY:
Most Wednesday nights, a longtime Chicago punk band called The Bollweevils rehearses in a northwest side basement.
Punk Rock is fast and loud — with often angry and rebellious lyrics.
But rebellion can take many forms.
For The Bollweevils, you could say it's also in how they live the rest of their lives.
Like lead singer Daryl Wilson — Doctor Daryl Wilson.
He's an ER physician at a suburban Chicago hospital.
DARYL WILSON:
If you think about, emergency medicine is kind of a punk rocky kind of thing. It's kinda real, it's raw. And, I think, punk rock is raw too, it's something that, you know, hits you in the face.
JAY SHEFSKY:
At first, his colleagues were a little surprised.
DARYL WILSON:
They'd look at it and go "you don't have a hobby like just playing squash or tennis or something like that?" and it's like, "No, I jump off of stages."
JAY SHEFSKY:
Daryl says he started listening to punk rock in middle school when his parents' marriage broke up.
DARYL WILSON:
But I found the aggressive nature of the music was a good way to release energy in a way that wasn't dangerous. You could, you know, kinda slam dance and, you know, pretend you're fighting with people that you weren't fighting. And the music was cool. I liked the music; it had a message behind it, too. A lot of it was political, so I liked it.
JAY SHEFSKY:
At first, Daryl was just a fan going to concerts. Then guitarist Ken Fitzner recruited him in 1989. The Bollweevils were just getting started.
KEN FITZNER:
We just thought he looked cool at the show, and we had just gone to a bunch of shows with him so it was like "all right, do you want to be in our band? Here's our tape, we practice next Sunday." And that was it.
JAY SHEFSKY:
Wait, so you liked his look? Did you ask him if he could sing?
JAY SHEFSKY:
No.
KEN FITZNER:
No, I had no idea if he could sing whatsoever. Not at all!
JAY SHEFSKY:
Some of the other Bollweevils also have jobs that might surprise you.
JAY SHEFSKY:
Drummer Pete Mumford is a college administrator. Bassist Pete Mittler is an electrician and Ken Fitzner? He's a Chicago Public School principal.
KEN FITZNER:
My passion is being a principal. That is really my passion. It gives me such satisfaction. And where the punk rock comes in, is that becomes an outlet and a place for me to be a little bit more crazy … a little bit different.
JAY SHEFSKY:
He says he used to hide it at work. But, now, he sees it as setting a valuable example.
KEN FITZNER:
My life growing up in the city was tough as well, much like these kids' are here. And I think it's really important that they have something that lets them express themselves. Having that outlet is probably one of the best things that's ever happened to me.
JAY SHEFSKY:
But when your music is all about rebellion and you've got a successful mainstream job, are you still a rebel? Daryl Wilson says it's all about being true to yourself.
JAY SHEFSKY:
I mean, I'm a 6 foot 4″, 230-pound guy with dreadlocks who walks into a room and says "I'm your physician." People have this kind of staunch stereotype of what a physician is, too, and you know, or what a person who looks like me is. And that's the whole point. I wanted to do all those things. I wanted to be a punk rock singer. I wanted to be a physician. I think that I was just rebelling against the idea of people trying to put labels on me.
JAY SHEFSKY:
The Bollweevils may practice in a basement, but they're a pretty big deal in the Chicago punk scene.
Lots of records, national tours. Recently, they played at a festival in England.
DARYL WILSON:
The bottom line is, just, to be happy you've got to do what you want. I mean, that's the thing. It's like, I'm here with my best friends and this is one of the things, like you know, if we played in front of five people or 500 people or 5,000 people, I still have my best friends.
KEN FITZNER:
Just for the record, even though it's all cool to be with friends, I would prefer to play for 5,000 people.
AWatch the Full Episode
PBS NewsHour from Dec 15, 2018
For decades, Chicago punk rockers embrace their unconventional hobby
first appeared on the
PBS NewsHour
website