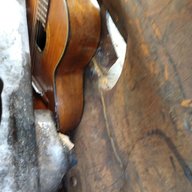 Joined

Aug 9, 2011
Messages

163
Age

32
Location
My unemployment riches just dropped in my bank account and with that plus some weed money ill hsve coming to me im looking at the most money ive ever had. I have nothing to do all summer so I thought id learn to sail, which is something ive wanted to do since childhood.

Should i get a cheap cruiser and learn to sail it over the summer, then sell it and buy something bigger (on the east coast)?
Or would it be smarter to get a small dinghy or something that i can store in a friends backyard just to learn on this summer? I wouldnt even know how to back out of the slip with the outboard right now, so that would make me feel a little better, especially considering i got no clue what to look for in a boat.

Is it possible to learn to sail a 26' boat alone and without a teacher? I found a decent one that includes two months moorage i could live on but wondering if thats smart at this stage.

Would learning on a small boat teach me to sail a larger boat?

Any advice much appreciated.