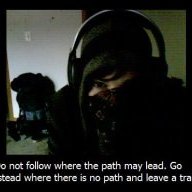 I'm a d-bag and got banned.
Banned
Joined

Aug 22, 2009
Messages

187
Location
Seriously. final realization in the jist of all this bullshit, if I dont leave, and go
hitchhiking
, and being that and what not, and return to my old lifestyle, im gonna die of stress. If i dont leave this ladyfriend, and hit the road im gonan straight up die of stress. like i mean i know it. the shit ive been through with her. i mean not just like relationship but the fact that we are both homeless. hardly can live. etc. man ive gone through my lifes fill of drama with her. honestly, im stressed out to the max. overfill. she has warped my mind man, kinda fueled my hatred for the city even more, and i just wanna leave. i dont wanna talk to no body. jjust go. get out. now.
see with me ive been trying to leave straight up for like ....... a year and a half now, almost 2 years. and so many family and friends have tried to stop me you know, what friends and family i have being a hobo basically. i mean ive pretty much became that. excuse me not a hobo, just homeless. all the jobs i get i end up quitting. i cant help it. im not trying to be a dent on society, i just have extreme wanderlust. i wanna travel like a mosquito wants to suck blood. <.<
and everytime i get my shit ready to go someone gets in my way. my dad has been a huge problem. my family in general. i dont really talk to them much. phone calls once in awhile. but i used to live with them so i mean i severed and fucked up a lot of shit, by leavin, my parents didnt take it right. and friends you know, people are just asses in ks.
and now this woman, i met her at the raves we go to here. they are decent raves actually. not bad for ks anyways. and one day i went to her place to chill and never went home. of course thats hardcore fucked up everything for my dad. tore him up. bc u know u gotta understand whats its like to have your son constantly moving in and out. and ive beenw ith her now for like 6 months....and its jsut gotten worse and worse. i mean she dont like it that i wanna leave obviously. shit who would. im not a dumbass i know few woman would travel with me, if any. im not crazy, i just really love traveling and nature and the outdoors and camping and hiking. im that guy. and fishing. and being free from the city. but its just gone on for so long with this lady and me trying to leave. so many stories about shit ive pulled trying to get out of here, not with her, but like before i met her.
but see i know ill die of stress if i stay here. not necessarily her, but just mani hate the city. i hate the traffic and the buzz and go of cars and trucks and semis and people and traffic lights flashing and dick head cops and jampacked parking lots and the news and the constant drama and bullshit and people freaking out and about this and that and the rapture and jesus and ballsack and i dont care. man. im sick and tired of all this crap. just wanna leave. travel b4 i cant. aint no rulebook of life that says i cant. aint no book of life that says i gotta do what every one else does.
see finally got to a place where people leave me alone. now its just this chick. she wont come with me. unless we go to jersey shore, she said it jokingly though. because i was hella down for it. i hate jersey shore, but hey it would get me out on the road. and see i work now and i got money, so at any point i could buy the shit i need and leave.
but sometimes i cant even fathom doing that to this woman. im not even gonna attempt to explain how much she means to me. but at the same time hitchhiking, means the same amount to me. i know that sounds possibly fucked up, but it was there b4 her, and ive always been a hitchhiker. when i was 13 i used to walk 30 miles down the road from home to the countryside and walk around in the smalls towns, and ride bikes out there. like ive always been like this. i know that area like the back of my hand. its got so many memories. so many nooks and crannys and hidden rivers and woodland forests and fields and shit to chill in. and shes here for 6 months and impacting my heart so much just because of the riduculous shit weve gone through. man you could make a movie. a book. honestly. but ive realised a few times already.... when it comes down to it
...am i gonna be able to be happy with her for the next 50 years, in a city?
NO. i cant. i stare out the windows every chance i get longing to be outside. wishing i could leave. being outside is like waiting on the doorstep constantly to get inside heaven.