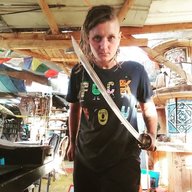 Chaos Magician
Jambo Organizer
Joined

Sep 25, 2015
Messages

297
Current Location
I picked up a hitch hiker in southern BC this evening slightly after sunset. He said his name is Nick, he's from the UK and that he had hitchhiked there from South America. He was carrying what appeared to be no gear aside from a small- no shit- Jansport school style backpack and a pair of skis along with his regular clothes and a jacket and boots. It's like, 30 degrees. He's heading to Alaska too.

I asked if he wanted to ride up with me, and he asked how long I was going to keep driving and I said I don't know, I have a few hours of energy left. He never really answered the question. At some point, I said "I might start looking for a place to chill for the night, you're welcome to crash on my bench here if you don't want to go wandering around in the dark and rain." He still never made a clear answer. I stopped to get diesel and maybe crash for the night and he's like, "I'll just head out here." We're in Williams Lake. I told him I'd pick him up if I saw him again. He said "Legend."

My questions are thus; what is this guy's deal? Where is his gear and what the hell is he doing?
Is he a super rich kid that's gotten lucky he's not dead yet, or is he some kind of wizard?
Last edited: