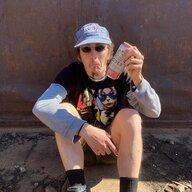 Joined

Apr 23, 2020
Messages

24
Reaction score

31
Homebase
Hello, I am Poe.
I am a student for transfer Fall 2021, so I do most of I travel in the Summers and between Autumn and Spring semester. I have sent most of my travels up and down the 5 FWY between LA and PDX... or rather traveling parallel to the 5 FWY if you catch my drift.

In the first few weeks of June when COVID dies down I am planning to travel to Northern Califonia. If you are interested I will post a thread sometime in May, also leave a comment if you are looking to meet up for some nice CLEAN fun.

I like;
Long hauls
Provoking works of art/literature
Intellectual conversations
to draw
to paint
to write
to read (currently reading Ragtime by EL Doctorow)
cool dips in the water

my Vices (This entire community is for those who live life in Vice);
Junk food
Moniker writing (graffiti)
rarely or on occasion cigarettes and weed


I feel comfortable in my own presence and I push myself to live a life of true desire and intention. When I feel lowly, I make art, read, or get out of my physical space and walk (or bike) until those thoughts have subsided. If this is something you also struggle with feel free to leave me a message and we can talk about my process of motivate and self love.