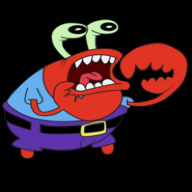 Joined

Mar 7, 2019
Messages

2
Reaction score

5
Location
Howdy y'all! I'm Burger, and I'm a bumbling idiot. Here's a really long post about me, because I'm conceited or whatever.
ABOUT ME: HOBBIES N' PASSIONS N' SHIT

As an internet rule of thumb, you can't make a generic intro post without sharing every single one of your interests! On that note, some of my hobbies include drawing 'toons, playing the ukulele, cooking, playing "the Nintendo", loitering around my city because all there is to do besides that is light shit on fire and/or dine at one of the millions of subpar fast food burger joints, and also taking long walks in the park
.

I'm also a big people person, despite being both socially awkward and socially anxious. I have experience working with youth with mental disabilities, caring for the elderly, and doing lots of other people-oriented volunteer work. Working with people is what I was live for, y'know? Creating a better world starts by bettering your local community(ies), I think.



WHAT THE REST OF MY 2019 IS LOOKING LIKE (not that anyone asked)

I'm a high school senior set to graduate May 30th. After I've finished public schooling, I'm planning on getting some shitty summer job and putting away travel money. As in, all of my energy will be put into either working like a dog for a job that's underpaying me, rereading Matt's book over and over again until I wanna puke, or doing volunteer work. After that, I'm packing my bags in September and hitchhiking southwest for the chilly season. I probably won't make it to Slabs in time for Jambo, but that would be real neato!
If I ever get tired of hitching, I guess I'll just go back to MI and get another job. I'm pretty sure I'll be out on the road for a while though. Ill just be moseying my way through life, spreading as much happiness as I can and being the best person I can possibly be.
Anyway, thanks for putting up with me. Hopefully I can make a few internet friends on here, or maybe even meet some of y'all on the road. Until we meet again.
SOCIAL MEDIA/CONTACT ME

If you wanna talk, here are the best ways to reach me:

Kik: @BorgerKong
Telegram: BorgerKong
Discord: BorgerKong#3199

(All BorgerKong, just formatted differently.) ::joyful::