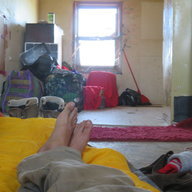 Joined

May 11, 2015
Messages

7
Location
I signed up for StP a while ago, was all packed and ready to hit the road, and then forgot about it when i met a girl at the last minute and decided to stay in my hometown for her.

Obviously it didn't work out, since I'm on the road now.

Anyway, I'm from Texas, been traveling for about eight months now. Started out rubbertramping, shit with the car went south, my road dog (who owned the car) split, then i got stuck in a shitty squat in SD for a month and some change.

Was finally able to get out of the squat and back on the road, a family member bought me a bus ticket to Colorado, and i took it. Score, right?

Nah, the bus line lost my bag and all my shit i haven't been able to recover it, just been surfing couches through CO trying to get my shit back.

I'm gearing back up to hit the road again soon, but soon can't come soon enough.

Anyway, how's everyone else doing? Any good stories from the past week or so? I can't get outta town just yet, so I've been living vicariously off of other people's stories to keep me motivated.