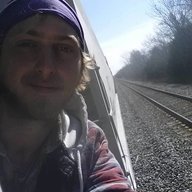 Joined

Nov 24, 2016
Messages

7
Reaction score

22
Location
I'm new here, so I thought maybe I'd share a story! This one is about how I was planning to go to NOLA for the first time, but then accidentally went to Florida!
So it starts out I was in Pelham, AL. I spent a couple days camped out in a state park nearby, but I began running low on supplies so I decided my time in this town had best come to an end. While walking the mile-or-so it took to get to an on-ramp, I was trying to decide where I wanted to go. I knew I had a friend down in New Orleans, and although he may not be there by the time I showed up, I thought it worth the chance to go down and surprise him. At the very least, if he wasn't there, I could just meet new people and goof off for a while.
So now I'm sitting on an on-ramp, and maybe an hour goes by, but no one is picking me up. It seemed like I was in the "upscale" area of Alabama where everyone looks at me like I'm a
Hitchhiking
-Drug addicted-Rapist-Serial Killer... Gotta love those places.
Now, I'm sitting on the on-ramp. Directly to my left is a small hill, and sitting at the bottom of that hill are a couple train tracks. One being the main line, the other being a siding. Nothing special, right? But as I'm sitting there with my thumb out, out of pure luck, a train pulls in to the siding and STOPS! Wow! I thought to myself, "Why waste such a beautiful opportunity?" So I walk/trip/roll (I fell...) down the hill, find a rideable grainer, and hop on. Not 2 minutes later a train passes us and we take off!
Now, here's the reason I even considered getting on this train: I'm trying to hitch south. The train that pulled up was indeed facing south. I did the 2+2=4 in my head and decided that this train would take me south! I was wrong.... Maybe 30 seconds after we start moving, the train takes an immediate left! The rail gods had other plans for me.
I check the gps on my phone and look at a few maps, and I take the guess that I'm going to Atlanta, GA.
It stormed pretty much the entire time I was on this train. Eventually I got so wet that it wasn't even worth it trying to cover up anymore... I did, however, get to ride straight through the middle of the Talladega National Forest! And oh man, what a sight! The tracks pretty much follow a river the entire time (it was storming, so the river was raging!). The trees are tall and beautiful and seemingly endless when you're right in the middle of them.
We stopped a lot, I guess my train had low priority. I saw a few weird things in the middle of that forest... At one point I saw 3 small hills lined up beside eachother (maybe 5 feet tall, each), and it's like these hills were hollowed out with small windows on the side so you could see in. And inside each hill a fire was burning. As far as I could tell there was no one around for who knows how far... Another time we stopped and there was a cabin in front of me. Maybe a few hundred feet from the tracks. There was a light on, and I could see a shadow of a person inside. At one point the light went off, and I hear a door slam shut (I mean SLAM shut!). Then I see the silhouette of a person walk away from the cabin (walking parallel to the tracks). This person just stopped and stood in one single spot for maybe a half hour until my train took off again. I mean, this guy wasn't moving a muscle. Creepy.
After exiting the forest, I went to sleep. I must have slept through Atlanta, because when I woke up I was right on the border of Florida. Don't remember the name of the town, I think somewhere near Voldosta, GA? I decided I might as well go and explore Florida! Haha!
Anyways, what I initially thought would be a few hour trip turned in to a 2 day ride. All in all it was a fun trip! I'd do it again if I could!