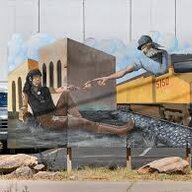 Mastering the Art of Houselessness
Staff member
Moderator
Top Poster of the Month
Joined

Dec 12, 2014
Messages

1,968
Age

31
Hometown
Website
Alrighty!!
I was up near Price, UT for some Wildland Firefighting training, and decided to hang out 6 miles north up in Helper, due to the fact it has a (used to be) major train yard and an awesome historic district.
"Positively"
I ended up finding a couple abandoned buildings that i had scouted on the drive in, looks like they had already been destroyed for the most part by the local kids, but I did find aome rider tags, and a few nice rooms on the property. There were multiple buildings. I'd stay there.
This is a tunnel under the road leading to the tracks from the squat. These limestone bricks were hand made to make this bridge. Back when natural resource engineering was at its prime. Imagine the work that went into this tiny bridge!!
Old restored Sinclair station.
One of the pedestrian bridges over the Price River.
SO many abandoned buildings in this beautiful setting.
Thumbs up for Jesus!!
"Big John" made as a tribute to the coal miners, in this energy producing area of Southern Utah. Named after the famous Country sign from the 60's (this statue is huge!)
Looks as though the art scene has moved into this otherwise forgotten town, after the energy boom subsided after the 1980s
Help Union Pacific Yard. This was, at one time, a MAJOR line/yard, with all of the lines around. Pretty quiet these days, trains don't even CC here anymore...however I did have a significant stop here on one of my rides, one of the reasons I decided to come back and check it out.
The town has a pretty awesome, and substantial Raidroad and Energy museum.
I HAD to leave something behind for the town to remember me by....
Old restored Conoco Station.
As night creeped in, so did I, into the depths of the 20 track Helper yard. Its sad when every car you trace comes back as "Held for Reassignment"......
Got into one of the waiting units in the yard, didn't even know these red lights inside the cabin existed...UP uses DPUs to push trains over Soldiers Summit into Provo.
I obviously didn't read the signs....
Last edited: