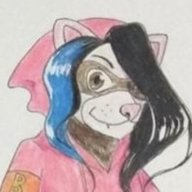 Joined

Nov 3, 2018
Messages

28
Age

20
Location
Website
Hiya! C: My name is Robert (aka Pokebert) and I'm 18 years old. I live in Los Angeles, CA and moved here from the Bay Area where I was born and raised. I use medical cannabis and kratom to treat my myriad of conditions - I have Ehlers-Danlos Syndrome, a genetically inherited connective tissue disorder. I also have OCD, DP/DR, C-PTSD and well, anxiety in general. But I'm fighting to stay healthy, and heal from my trauma, always!

I have a… really crazy life story, to say the least, and I've been through and overcome a lot. I came out as bisexual to my religious and conservative family at age 13, and it didn't go well. They very much rejected me (except for my much more liberal dad, but at first he still had trouble) and I was forced to keep it a secret from family members. It's also during this time of self-discovery and immense growth through hardship that I discovered God. Though I do not associate with any religion, I am a big fan of New Testament (specifically, the words of Jesus) as well as The Kybalion and teachings about angels and metaphysics. I believe God/the Universe/the Creator is found in many belief systems over many millennia. My beliefs can be conveyed as - I believe in Love, I believe in Christ, and I believe in Love, Hope and Faith. Later on in June 2015, I met my partner Carolina through the Internet and since then we have staunchly stayed together, two twin flames fighting for Freedom and taking care of each other. My dream is to one day lead the biggest societal revolution the world has seen.

In the following years, I encountered very much abuse and unhealthy treatment at home, mostly in the form of emotional and verbal abuse but also neglect and sometimes physical abuse. My father sunk our family into tens of thousands of dollars of debt due to his hidden opiate addiction. He was always in and out of rehab, and in the 9 month period that I was always attempting to run away/was sent to mental hospitals, he was also homeless or living with another addict in Redding. After my third runaway attempt, I was browsing /r/SuicideWatch and, by the world's craziest coincidence, found his suicide post.
My mom is emotionally abusive and picked up narcissistic traits from my grandparents. They kicked me out twice, first to my grandma's and the second time to Job Corps.
Last edited: