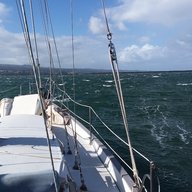 Joined

Feb 3, 2019
Messages

14
Location
Website
The state is making a few changes this year that will affect minimalist sailors, like myself.

Liability insurance of 500K is now a requirement even for temporary permits. DLNR has to be listed as additional insured.

There is also now an inspection for a temporary permit. I just had mine last month and besides the usual safety stuff, they will require you to move the boat out to the harbor limit and back in while they watch. Holding tank requirement can be met with a porta potti.

Also there is a meeting on March 7th for a proposed 300 percent increase in harbor fees. Right now I am paying about a $1.50 a foot a month to anchor with my own gear which is the cheapest way to do it. It will go up but probably not three times.

Good news is, if you haven't been here recently, they increased the time limit per harbor from 90 days to 120 per calendar year.

Even with these new changes, it is a decent deal.