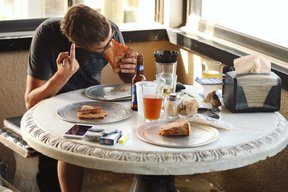 Joined

Jul 21, 2017
Messages

24
Location
hey, everyone. New here. Been traveling for about 7 months now, with my girl and two dogs in an old Honda CR-V, that I ripped the back seats from and build a plywood riser so we could sleep. We left South Florida in August, with the express intent of traveling until we couldn't anymore, and then trying to find a better place for us to live (our town was killing us).

Our trip took us up to Savannah, GA (ironically, the first place we stopped still reigns as my favorite), where we had a wonderful time filling our heads with mushrooms and bouncing around the city. If anybody there meets an older, blind, black fella on the street named Lonnie, tell him his buddies with the joint and the dogs say hi! We had such a wonderful experience. Slept right on the river on the benches with no issue. If we settle again I'd love for it to be there.

From there we headed into South Carolina, all of which can pretty much fuck itself, then into Tennessee. The main qualifier for our campsites was that they be close to water. We have been toting two 10 ft kayaks and I had wonderful visions of catching dinner along the road. dinner never found my lures, but having the boats was still amazing, and allowed us to really be able to explore the places we stopped at on a new level. I wish I had pictures of us trying our best to row upriver, each of us with a 70 pound dog at the bow, weighing it all down and loving every second of it...

We wanted to stay where we were, but we had decided at the outset to hit the west coast. Jasmin had never seen the Pacific, and, as much as she loves the ocean, I thought that was definitely a worthwhile thing to try to do. So, with that in mind, we headed west, through Tennessee, into Arkansas and Missouri (the first time the car broke), and finally up into Iowa and South Dakota.

Crossing the widest point of the Missouri River in southeast South Dakota at dusk in 50 mph crosswinds in a tiny car that could die at any second,with two boats haphazardly strapped to the top, is not something I would wish on anyone, and not something I plan to do again. But we made it. And damn if it wasn't worth it for the scenery.

Money running out, so we went ahead and made a beeline to California, where an old friend had one of those special farms that harvests in the fall. Planned on working two weeks; stayed two months. One of my dogs had never seen horses or chickens before, so that's probably the highlight of this trip for him.

We finished up at the farm near Yosemite, then headed North, into the Triangle, to see if we could find work blind and earn a little more, because we knew the car was gonna need some serious love if it was going to be able to keep helping us. We found work immediately and spent another two months alone on an isolated farm in Humboldt county, tending a product that apparently nobody but us gave half a shit for. Seriously, owner paid all this money for legal permit, then let the whole product go to shit.

Just my girl, my dogs and I on ten acres along the Eel River. Couldn't have asked for a better landing. Really felt like we didn't deserve it.

This is where Pumba (the car) decided he had had enough. Lot of time tinkering, more time fidgeting, and most money I've ever spent on anything ever. Long and short: we got him running right again, at the expense of pretty much all of what we had earned, and no thanks to the shops in Eureka, CA (fair warning: if ever in eureka with car trouble, grant Antich Automotive a wide berth, they'll take you for everything you've got if you allow them).

Quick summation: I'm writing this in a flea motel in eureka. Car is finally done and we are ready to strike out again. Plan is to head for Portland,OR, to try to find more work and possibly settle down for a while, but we will see. would love to meet up with anyone in Oregon who is interested in traveling to hang out, bounce some ideas, or possibly even make some plans.

I'm tired of the driving. Trains look incredible and I've always wanted to see the world that way, but walking is still honest too.. not ready to stop moving.

Note: if the photos are in any order, I would call it mixed-reverse.
Last edited: