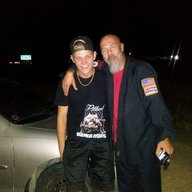 Joined

Jun 5, 2019
Messages

179
Age

43
Current Location
I'm from North Idaho, about half an hour from Ruby Ridge, so I definitely do not hold any delusions of fighting off the government.

But I do think police, military, and corporate abuse could possibly be a little more rampant if the threat of person to person resistance or the occasional person snapping wasn't a thing. I'm also worrying about a snowball effect. Like barely anyone needs a gun, so why not just let the government take those in the name of safety? If they were to ban assault rifles, 2 deaths would start feeling like 22 deaths in a generation or two, and people would logically be re-evaluation whether guns are worth it (like we are now).

The relationships between the local police and citizens in countries where neither carry guns around seems fairly good. Historically though, nations where the police and military are the only ones armed are abusive awful situations. I find it to be an understandable concern that gun control could be lead us in that direction. Something to think about.
Not saying I do or don't support it though.
My dad lives in Spirit Lake. I spent the end of summer there when they killed Sammy and Vicky Weaver.