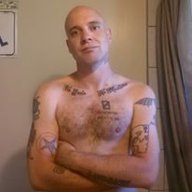 Joined

Nov 1, 2015
Messages

3
Location
I've always felt rather out of place in this world. The things that most people concern themselves with; getting a high-paying career, house, family, car, etc. never seemed like a worthwhile goal to me. The only time when life has ever really made much sense to me was when I was traveling, whether by foot, car or freight.

I tried to do what is expected of everyone, I put forth my best effort. All in vain. I put myself in great debt to go to college. I graduated and received a degree which has done nothing for me. I fell in love. I got engaged. I had my heart torn out. I have now lost my job and in a matter of days will be losing my apartment. But at least I have a sleeping bag, warm clothes, tent, fishing pole, durable pack, guitar, laptop and a phone. I don't know where I will be headed but there has to be a better place than the place I am in and the places I have been.

Anyway, this seems like a good site for me to be a part of.