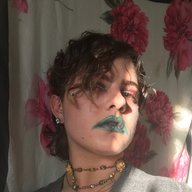 Joined

Jun 4, 2019
Messages

5
Location
hiyaa

my name is henry.

i've been on stp on and off for years, but never introduced myself because i am a bit shy and/or self conscious.

i've traveled before, rubber-tramping, a bit of hitching, and (un-fucking-fortunately) on many a greyhound.

after years of pining when circumstances and my own inhibitions barred me from traveling, i road my first train a few weeks ago with someone experienced.

i am now trying to get from philly to richmond, and due to circumstances i'll be catching out alone. i would love to get more acquainted with the community here, and i would also be incredibly grateful for any information offered about the csx yard in philly & specifics re: getting to richmond from there. i have done a bunch of research, but that can only take me so far, and i don't own a ccg so people are my only real source of helpful specific info at this point.

also also: if anyone wants to meet up/hang out in either philly or richmond (especially any fellow gays!) that would be awesome.

idk what else to say other than hit me up! i'm down to chat and stuff!