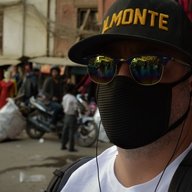 Joined

Jan 4, 2009
Messages

1,621
Location
As cool as technology is getting, all I can see is how big brother is going to use this stuff to keep an ever greater hand over us.
http://uk.businessinsider.com/google-soli-finger-control-technology-2015-5
Google's new finger control technology is straight out of a science fiction movie
MAY 29, 2015, 7:57 PM
77,133
The days of swiping a finger against a glass screen might soon seem as antiquated as dialing numbers on a rotary telephone. If Google has its way you won't need to touch a screen at all anymore.
The company's lab for advanced projects showed off new technology on Friday that lets users move their fingers in the air to control objects in the virtual world.
It's called Project Soli, and it uses radar waves to detect precise finger movements or finger "micromotions."
The result is something that looks like it's from a science-fiction movie such as Minority Report or
Her
, in which characters manipulated virtual objects by gracefully moving their hands or fingers in the air.
http://video.uk.businessinsider.com/85abfb7e-2f2c-451f-b377-2382f41cfff0.mp4
At Google, the project is the work of the Advanced Technology and Projects lab, the company's research lab focused on futuristic technology led by Regina Dugan (and which is separate from the Google X labs that's developing self-driving cars and internet beaming balloons).
Google showcased an early prototype of the Soli technology on stage with impressive results. Google showed how precise, fine motor skills, such as pinching the thumb and index finger, or rubbing them together at different speeds, could be used to control all sorts of things without actually touching them.

In one demo, the founder of Google's Project Soli, Ivan Poupyrev, kicked a virtual soccer ball by flicking at the screen. In another, he changed the hours on a clock by turning an imaginary dial with his fingers, and then changed the minutes by raising his hands further away from the screen and doing it again.
Google said that after 10 months of work it has already shrunk the technology to enable Soli into a small fingernail-sized chip. The idea is that a chip this small could be integrated into electronic devices, such as smartwatches with cramped screens not well-suited to traditional input methods like finger-swiping or styluses.

As wearable devices become more popular and as screens get smaller, it becomes tougher to click different elements, explained Google's Dugan.
Soli technology could also play a big role in virtual reality by providing a way for people to interact with the digital objects they encounter in virtual worlds. Facebook, which acquired VR headset maker Oculus for $2 billion in 2014, has previously discussed the importance of similar advancements.

Google did not say whether it planned to make the chips itself that will provide this capability or whether it views Soli as more of a technology standard that it hopes other companies will use to build products.

Here's a video showing how it works: