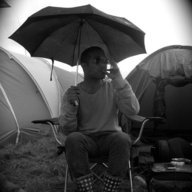 Joined

Jul 31, 2015
Messages

2
Location
Website
Hey guys planning a big trip US
Mexico
Panama - indefinite ending - just cruzing playing music.
As such I'm looking for a trusty steed in the shape of a banged up van. Iv been looking into the whole class B vs Class C thing and seeing as I'm gonna be living in the thing pretty much full time I have been leaning towards a small class C 20 foot or under. The extra head room and bed over the cab is what's appealing for me. I recently found this little beaut! its an 'Airstream B190' Class B van 19 foot, bed over cab. This particular find is 1992 Ford E350 Van. And has 135,290 miles on the clock which seems like a lot!?
Now the guys looking for $10k listed at $12.9k NADA pricelist gives it an average retail of $6k but then gives it a list price of like $39k (not sure how that all works) I really don't wanna be spending much more $7k in total.
Anyhows was just hoping for some advice from some seasoned RV'ers? has anyone driven owned on of these how'd they find it? How many miles do you rec there good for? what about price? anyone done any work? how much would it cost to rebuild engine ect.
Cheers guys any help is always appreciated.