My traveling background is mostly
backpack
ing. That is, bumming around with a pack, usually staying at pensions (
Europe
), motels (North America) or cheap hotels (
Asia
). Worst case i overnight in a bus terminal, train station or airport. There's still a lot of walking involved, but it's not really the same as sleeping rough.
I thought it might be interesting to detail what i had in my pack for the last 8 years or so, and what i have switched out to prepare for my
bike tour
.
First up: bags.
I had a ~55L internal frame pack with detachable ~10L daypack, which i left the shitty daypack somewhere years ago and replaced it with a sturdier ~20L that i wore as a frontpack. None of these were waterproof so i used a ton of ziplock bags and shopping bags to try keep everything dry. My passport still got soaked one day and customs guys have given me grief about it ever since. Hot tip: if you're hauling your gear through a tropical storm, double-ziplock your passport.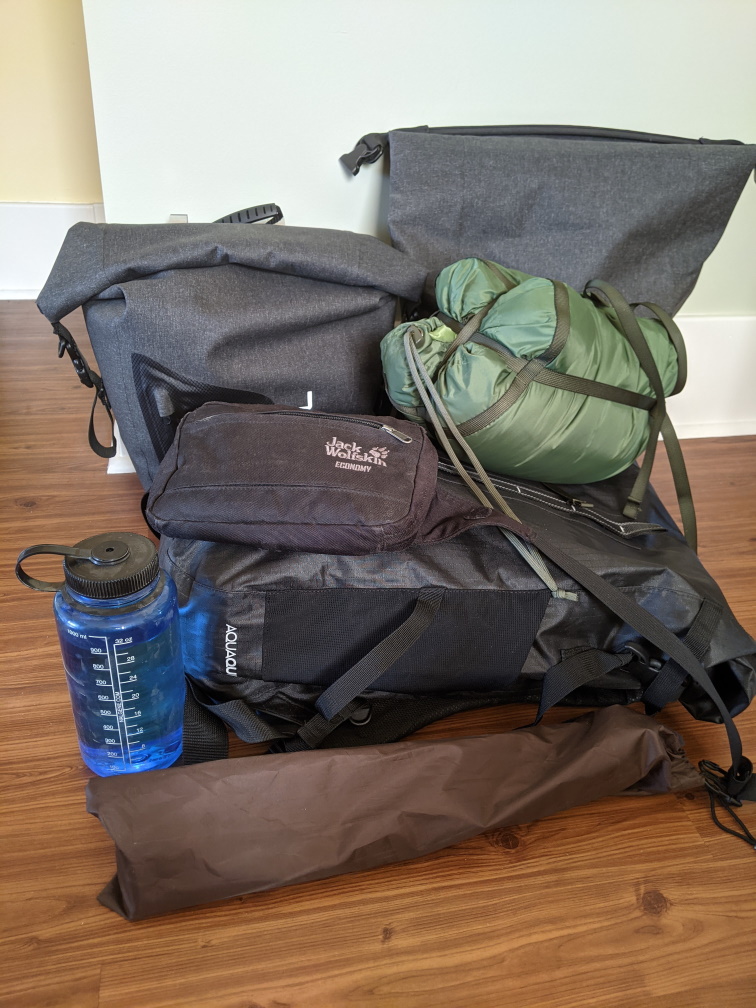 I replaced my ~55L pack with a set of waterproof panniers (35L), and my ~20L daypack with a 30L waterproof pack. Keeping a fanny pack. Eagle-eyed readers might notice that 55+20 is more than 35+30. Yeah. I'm getting rid of some stuff too.
Here's the list. Note that it's dry, i will also have food, soap, toothpaste etc.
Clothes kept:
jeans
shorts
underwear (6)
socks (6)
bra (2)
tank top (6)
bandana (2)
shoes
belt
longjohns
Clothes dropped:
backup pair of shoes
flip-flops
Clothes replaced:
light hoodie → merino longsleeve
fleece hoodie → puffy jacket
Clothes added:
Tools
kept:
water bottles (2)
carabiners (4)
head lamp
musician earplugs
phone
tablet
harmonica
sunglasses
prescription glasses
contact lenses
toothbrush
nail clippers
tweezers
hair ties
lighter
chopsticks
Tools dropped:
e-reader
second phone (for China)
computer mouse (for gaming)
French press (for making coffee where there is none)
washing line/paracord
foreign currency
paperwork from 40+ years of being a law-abiding citizen
book of poetry
measuring tape
hair brush
needle and thread
pens
paper
Tools replaced:
Leatherman multitool → fixed blade knife
10000mAh battery pack → 20000mAh battery pack
Tools added:
knife/fork/spoon
stand-to-pee device
water filter
2L water bag
Shelter added:
1 person tent and undersheet
30F synthetic sleeping bag
foam sleeping pad (chopped in half)
Plus, obviously, i added a bike and a bunch of shit that goes with the bike, but i'll talk about that in a different thread.
The main learning i have is that paperwork is really fucking heavy and takes up a ton of room in your pack. I can fit a tent (less poles) in the space my paperwork took up. Still not sure what i am going to do with the originals, but i scanned most of them (see
where to store your paperwork while traveling
). Also very heavy and totally useless after you leave a country: foreign coins. I will be sending those to charity.
My question for all y'all who've been living the outdoor life for a while is... Did i get everything? Will i die out there? Do i need rain gear? Do i need bear spray? Do i need some first aid stuff? What one item do you think would be worth adding? What one item do you think would be worth taking away? Is it dumb to drop the flip-flops? Is drinking cold instant coffee going to suck? My main problem at the moment is less the space and more the weight.
I will be leaving in August so if there's anything critical i am missing that i need to order online, now is the time. I don't plan to rough it all the way, i will be using motels when i need, but i want to be prepared in case that doesn't pan out for whatever reason.