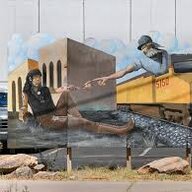 Make America Freight Again
Staff member
Moderator
Joined

Dec 12, 2014
Messages

2,402
Age

32
Location
Website
1997 Ford E250 5.4 Triton V8, 130,000 miles
Hey all, van has been having issues recently, rough idle, stalling, obvious air/fuel mixture issues.
I was getting codes for 'too lean', '02 sensor switch', '02 sensor connection'.
After spending WAY too much money on new 02 sensors, and generally freaking the fuck out about what I was going to do, I started hearing obvious sounds of a vacuum leak (hissing, high pitched sounds) near the interior firewall.
I did a quick search on YT and found this video:
Appearently this is a VERY common issue with these engines.
If you pull you interior firewall access panel, look dead center at the top of the engine, and there should be a vacuum hose with a 90 degree connector going into the engine block, check to see if there is a hole/gap in that connector. I found the issue right away, and solved the problem immediately. ~$10 fix, just buy a new connector.